A travel guide for where to stay in Liechtenstein, what to do, and all the best hiking trails for any Liechtenstein itinerary.
The Principality of Liechtenstein is one of the smallest countries not just in Europe, but in the world.
This little country literally seems to live up to the saying "Small but Powerful": in only a few years, the principality went from an agricultural state to one of the richest countries on this planet.
Despite its reduced size, this micro state ranks in the top positions of many international rankings. Economically, Liechtenstein has one of the highest gross domestic products per person in the world.
The unemployment rate is one of the lowest in the world at 1.5%.
But Liechtenstein is not only strong in numbers but also an attractive travel destination. Indeed it will be hard to choose among all the things to do in Liechtenstein.
Especially if you enjoy breathtaking mountain panoramas and outdoor sports in the Alps.
Anyone looking to travel Liechtenstein will be impressed by how much this cute little country of only 160 square kilometers has to offer! I hope this travel guide helps you discover the best of Liechtenstein's things to do and see.
This post contains affiliate links. If you buy through them, I will earn a small commission that will help me run this travel blog. All opinions are always mine. Thanks a lot!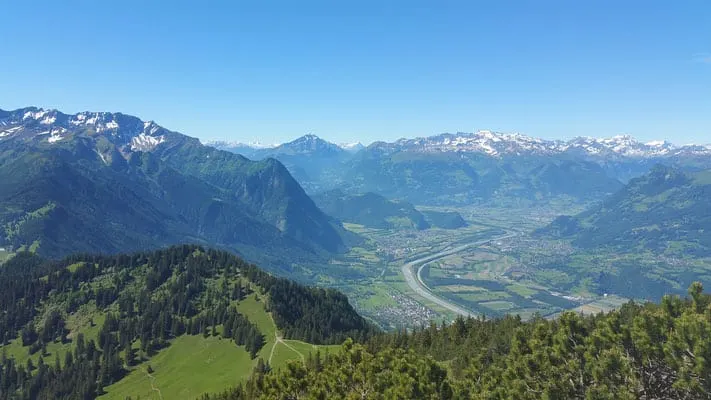 Practical Travel Information for Visiting Liechtenstein
✈ Book cheap flights to Zürich airport with Skyscanner

Book buses and trains to Liechtenstein with Omio

Find the best hotels in Liechtenstein with Trivago

✔ Best tours and activities in Liechtenstein with Viator

❖ Rent a car with the best discounts at DiscoverCars

Get all the best hiking shoes and outdoor gear (outlet) at REI.com

✎ Never leave without travel insurance. I get mine at SafetyWing.
Where to stay in Liechtenstein
1. Visit Vaduz, Capital of Liechtenstein
Vaduz, the capital of Liechtenstein is probably the quietest capital I've ever visited. But maybe the one with the prettiest natural setting.
Situated along the Rhine river, this town with only 5000 inhabitants is surrounded by mountains of 2400 m and higher.
It is the perfect place to begin any Liechtenstein trip.
Although your first impression might be "There's nothing to do here!", a short walk in the pedestrian streets of Vaduz will quickly convince you otherwise.
There are plenty of things to see in Liechtenstein's quaint capital.
To better understand the city and country's history, book a free Lichtenstein walking tour here.
If you're wondering where to go in Liechtenstein's capital, of course, the most attractive sight is the castle of Vaduz. It is home to the Prince of Liechtenstein.
You'll see it already from far away when you are approaching Vaduz. Perched atop a steep hill, it literally enthrones its realm. A short hike of only 20 minutes will lead you straight from the capital to the home of the princely family.
Take your time to enjoy the breath-taking almost royal panorama.
Another reason why you should visit Vaduz are its numerous museums. I bet this city has a museum for every taste! First there's the National Art Gallery (Kunstmuseum Liechtenstein) holding modern and contemporary art.
The Liechtenstein National Museum (Landesmuseum) will give you an intriguing insight to the pulsating natural and cultural history of this versatile country. There's even museums for those that are into stamps or winter sports.
I truly enjoyed the Hilti Art Foundation, in cooperation with the National Art Gallery which displays paintings from Gauguin, Boccioni, Picasso, Magritte and Kirchner.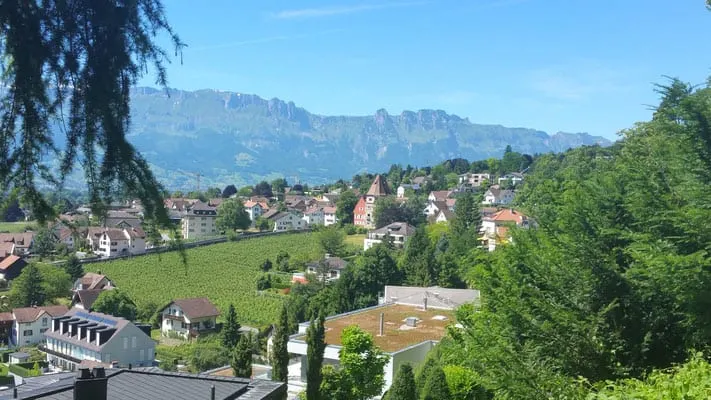 You can't travel to Lichtenstein and miss the architecture of Vaduz's government district. It's so bright in colors and it seemed all new to me.
Indeed the square, called Peter Kaiser Platz, was renovated and redesigned in 2008. The government and the parliament building form a fascinating contrast that perfectly resumes Liechtenstein's blend between new & old.
But still, the worst you could do would be to limit your Liechtenstein itinerary only to Vaduz. This quaint tiny country has so much more to offer and there are a surprising amount of things to see in Lichtenstein.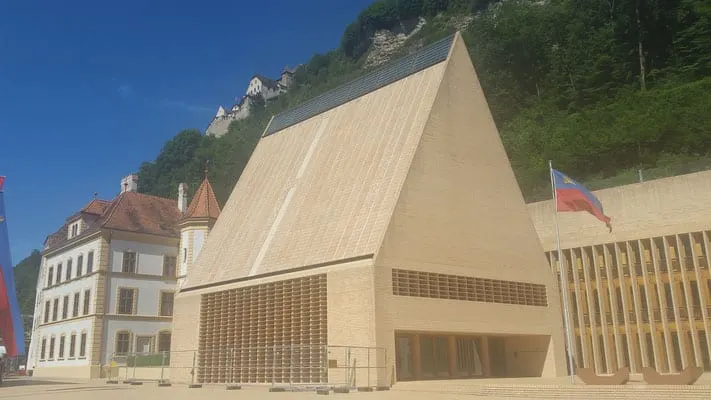 2. Hiking: The Princess Gina Trail
Difficulty: Medium – Some steep parts but secured with ropes – Duration: 12km (5h min)
Liechtenstein has 2 advantages that make it stand out against other hiking destinations:
1. It's located in the heart of the Alps
2. It's relatively unknown. Thus you'll mainly meet local trekkers or be almost alone on the trails.
The Fürstin Gina Weg (Princess Gina Trail) is one of the most popular hikes in Liechtenstein.
It is evident that the principality should not only be famous for its financial center or its tax system but for its spectacular mountainous setting after all.
Buy here my favorite hiking shoes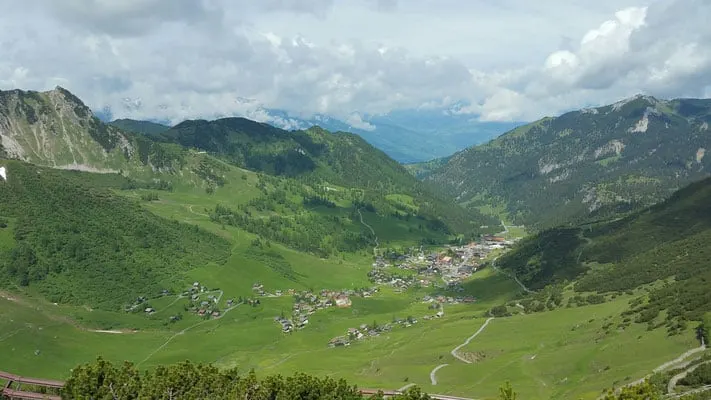 It's particularly picturesque due to the unique flowers that can be found all along the mountain ridge.
The trail starts in Malbun where you can take the chairlift to get up to Sareis.
From here the Princess Gina trail will lead you up to the highest point of the tour: the Augstenberg mountain (2359m).
From here you'll enjoy a jaw-dropping panorama over the Alps of Liechtenstein and Austria with Malbun village in the valley. I am pretty sure that after this climb you'll want a cold drink.
At Pfälzerhütte, about 1h hike away from Augstenberg, you'll not only be served a cold drink but also local delicacies. From Pfälzerhütte it's about a 3h hike back to Malbun passing along mountain pastures and pines.
Even if you wouldn't qualify yourself as a proficient hiker, I can recommend the Princess Gina trail to everyone, after all, there is a reason it is one of the top things to do in Liechtenstein.
There are some difficult and steep parts, but the views will be worth it all. Especially with a long and tasty pit stop at a mountain hut.
Buy here my favorite hiking gear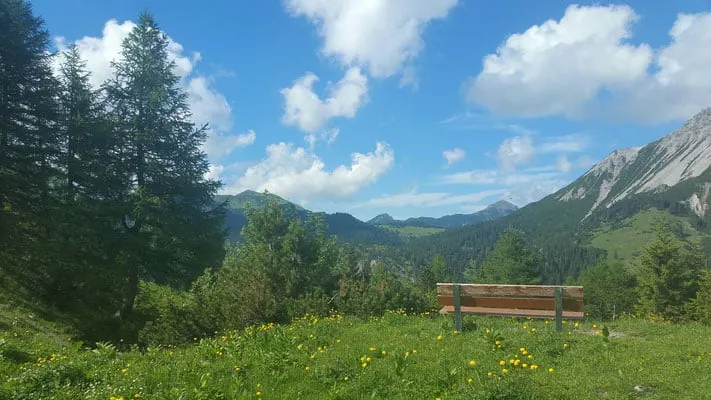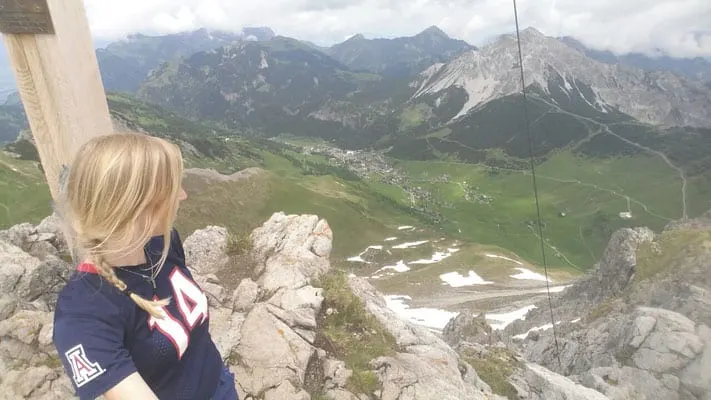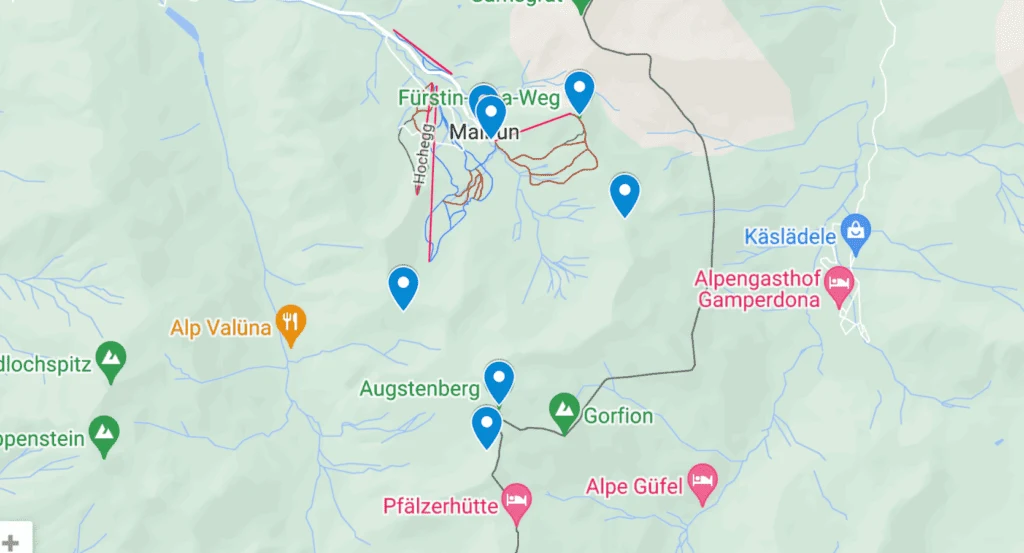 3. Meet the Locals
Regular readers of this travel blog, know that wherever I travel, I always try to get in touch with the local population. What is a travel destination without its people?
To my mind, they give a place this special feeling, a certain warmth that will make you wanna come back to a place.
As I only stayed a long weekend, I was glad that the Liechtenstein Tourist Office provided me with several opportunities to meet local Liechtensteiners as it made visiting Liechtenstein more meaningful.
How many can claim that they got to know a REAL Liechtensteiner?!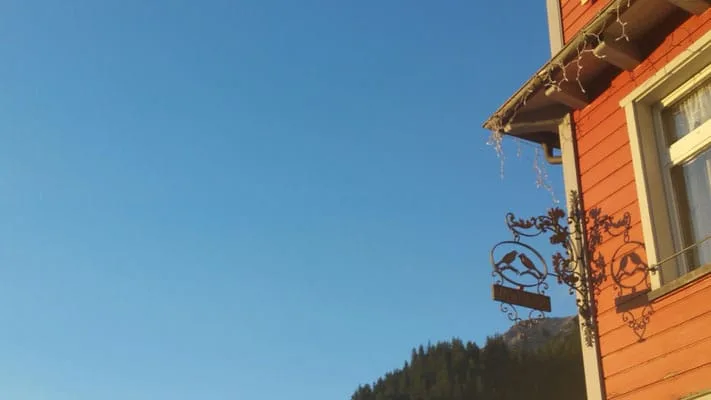 I admit that at first, it might be difficult to get in touch with the population of Liechtenstein.
They seem to be a bit reserved and keep to themselves. You should be ready to make the first step.
But once you break the ice, they turn out to be friendly people with dry, even ironic humor.
Getting to know locals made it feel less like tourism in Liechtenstein and more like I had friends I was visiting Liechtenstein.
I loved their sereneness and their unique link to nature.
The Alp mountains have a defining role in the Liechtenstein self-concept. Every person in the principality seems to be an exceptionally gifted hiker.
A good way to meet "real Liechtenstein people" is at the local festivities, a top thing to do in Liechtenstein. Here are only a few:
National Holiday (15 August)
"Funkensonntag" (Bonfire Sunday) is celebrated on Sunday after Ash Wednesday
Carnival
Donkey Festival in Malbun
4. Hiking the Princes' Way Trail (Fürstensteig)
Difficulty: Medium/Difficult – Duration: 3h – 6km
Being able to do the Fürstensteig Trail (The Prince's Way) is definitely a highlight of every Liechtenstein itinerary. Unless you are not good with heights.
The trail isn't very long, but it might be difficult for those who are afraid of heights.
The trail starts in a scenic forest, but then the real spectacle of the Prince's Way will open up in front of you. During several hundred meters, the trail is extremely exposed.
Below you, the steep slope drops down several hundred meters. But the view from Prince's Way, Liechtenstein is worth it!
Buy here my favorite hiking shoes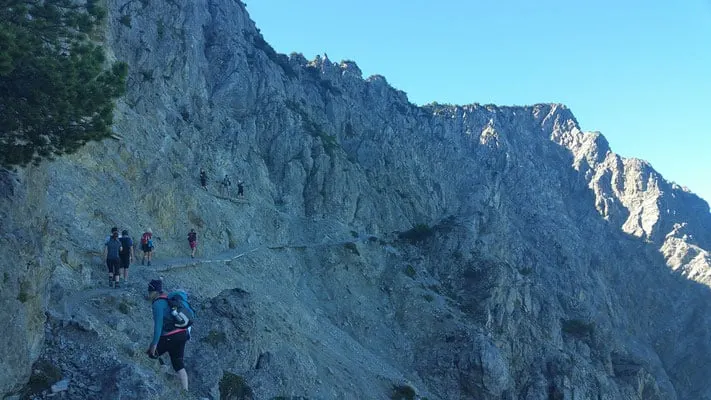 As already said, it is not for those who are afraid of heights.
Fortunately, there are fixed wire ropes to which you can hold on. But still I had to do some parts of the trail on four paws. 🙂
But all the work will pay off: when you arrive at the peak (called Chemi) you'll have a gorgeous view of the Austrian Alps and a lush green valley.
For those who still want more outdoor things to do in Liechtenstein, I recommend climbing the Alpspitz peak (1943 m) or the Drei Schwester (Three Sisters) peak (2053 m) which forms the natural border between Liechtenstein and Austria.
My ultimate tip for the Prince's Way Hike, Liechtenstein: Don't. Look. Down.
A more detailed post on the Fürstensteig Trail is in preparation. In the meanwhile, have a look at this page.
Buy here my favorite hiking gear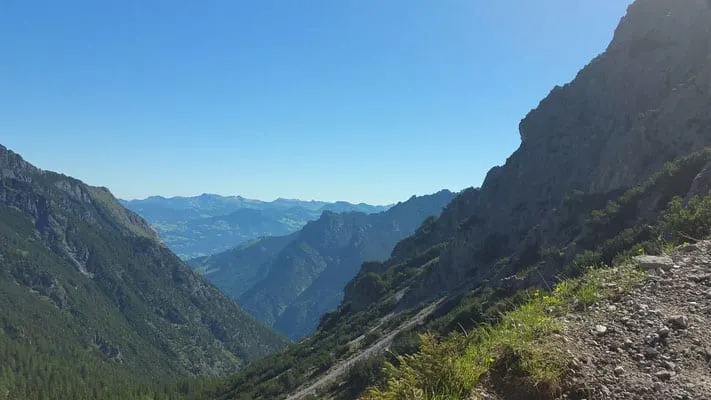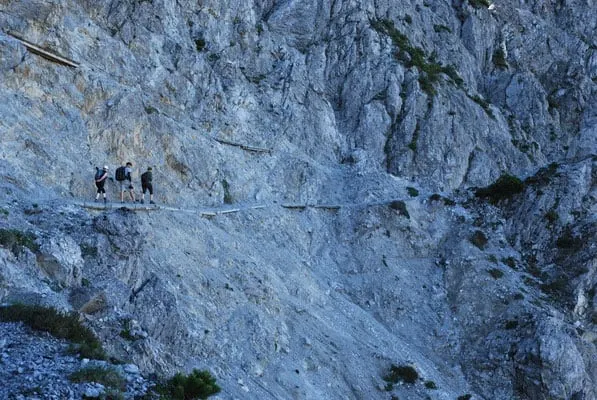 5. Paragliding in Liechtenstein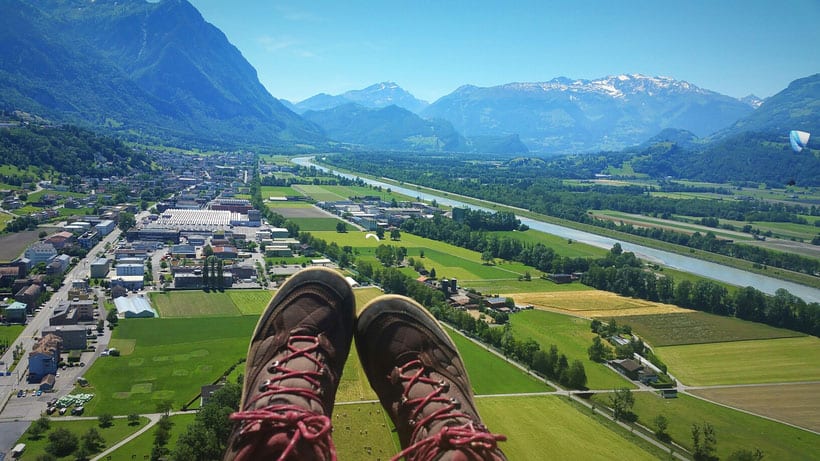 Any adventure tourists wondering what to do in Liechtenstein will love the idea of paragliding. But I would recommend it as one of the top things to do in Liechtenstein for almost everyone.
Against the general belief, Paragliding is not an extreme sport. Sure, it's not meant for those who expect a relaxed city tour in a carriage, holding a glass of wine.
But still, it is a good mix of discovering the area in a more uncommon way and a certain adventure. It was definitely one of my favorite things to do in Liechtenstein.
There are several providers who offer paragliding services above the breathtaking panorama of Liechtenstein. In this context, I can recommend Paragliding Arosa.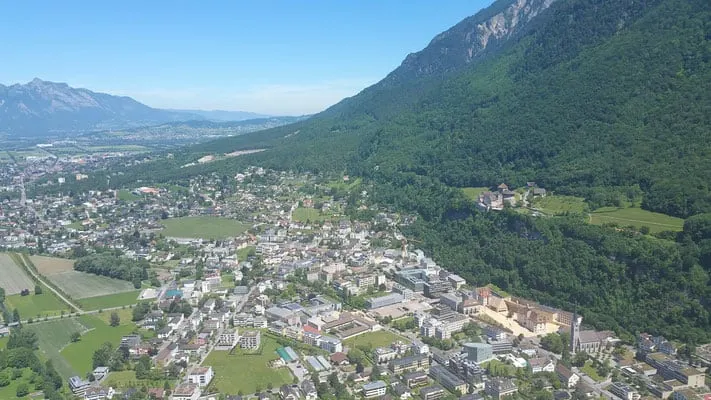 Not only was Jogi, my pilot, very patient (even though I was not a newbie), he even helped me to get the best pictures of the ride.
The only thing you have to do is settle back and listen to the explanations of your pilot.
He'll provide you with worthy information about flying and the natural landscapes of the Alps.
You'll never see 3 countries and the blue Rhine from such a perspective.
Just sit back and enjoy feeling free like a bird.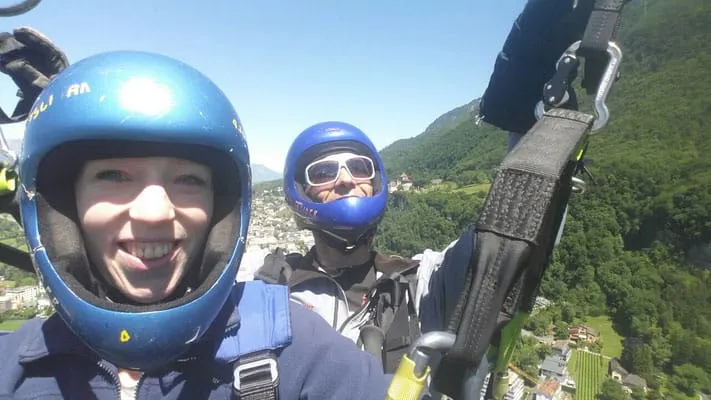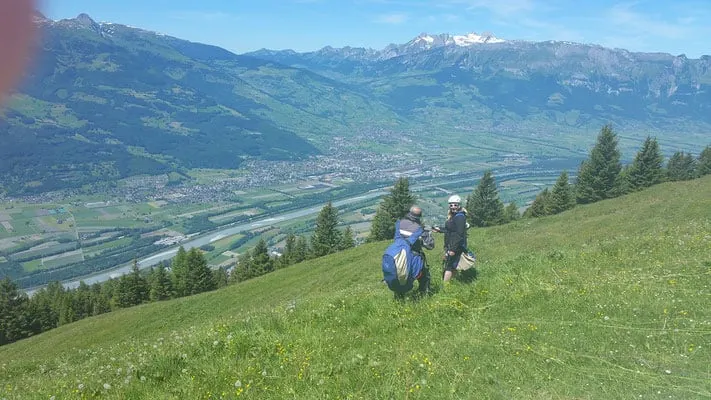 6. Try the Local Food
Traveling is not only about pretty landscapes and their people. But also about food. For some, traveling's mostly about food (myself included!).
Although Liechtenstein has many restaurants offering international dishes like Italian pizza (Amarone) or Sushi (CAFE im kunstmuseum), you shouldn't miss the local delicacies.
The authentic cuisine of Liechtenstein has a strong influence from Switzerland, Austria, and Germany.
In real terms, this means hearty dishes like jugged venison or a doughy pasta-style cheese dish served with apple sauce, called "Käsknöpfle mit Apfelmus".
I can especially recommend the food served in mountain huts.
Your lunch simply tastes 3-times better with a jaw-dropping mountain panorama like in Sücka Berggasthaus, Pfaelzerhuette or Bergrestaurant Sareis.
Those locations might be a bit more pricey, but the quality and the views are outstanding.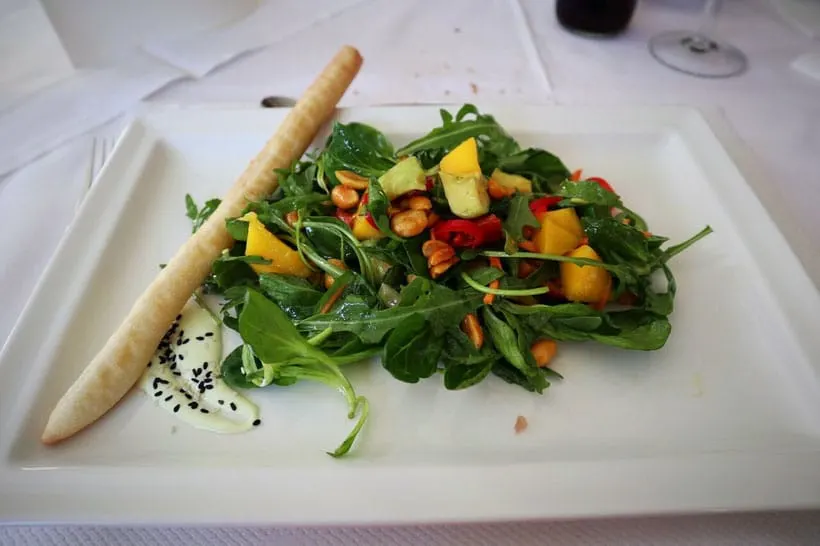 7. Falcon Show at Galina Falconry Centre
If you are looking for what to do in Lichtenstein that is really different, you must visit the Galina Falconry Centre.
Assisting the falcon, eagle and owl show of the Hotel Falklnerei Galina *** is a unique experience that will fascinate not only children.
The show hits its peak when you're invited to stretch out your arm so that the eagle can sit down on it.
You might think that these, oh so poor birds just stay at the falconry because they're caged and get fed all day long. But that's not the case. As soon as they reach the age of 5, they make decisions autonomously.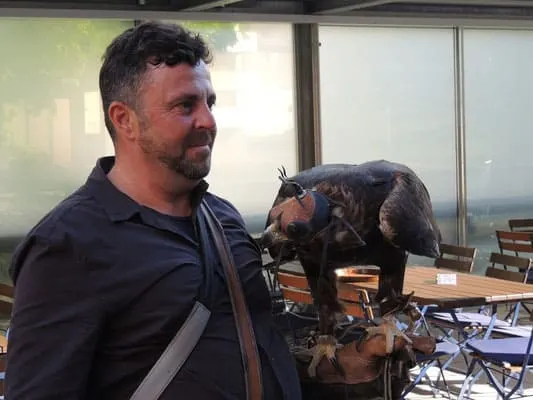 They decide if they want to return back to their cage or if they rather fly away during one of the daily shows.
The protagonist of the show is definitely falconer Norman Vögeli.
Their relationship with his birds and his knowledge is fascinating.
I am sure he will captivate you with his passionate storytelling. He is one of the very few falconers who achieved that "his" eagle named "Taiga" comes back voluntarily.
Not only does he do a show with "his" birds, but his eagle "Taiga" also joins the Eagle Experience Walk he organizes. Everybody is invited to participate and get to know more about these fascinating creatures.
In case I'd get to go back to Liechtenstein, I'll definitely take a hike with these impressive creatures.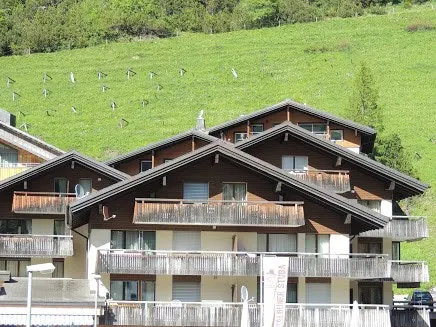 8. Cycling in the Alps
Liechtenstein is a perfect destination for cyclists as well.
Whether you prefer short picturesque routes along the Rhine river or more adventurous trails for mountain biking: there will be your perfect trail!
Liechtenstein's cycling network is fully developed all over the country and well signposted.
You'll have the hard choice of whether you want " 5 castles" or "2 countries" to be the main theme of your excursion.
Also, mountain bikers looking for a new challenge will enjoy themselves in Liechtenstein. You'll be spoilt for choice, just have a look at this site: Mountainbiking in Liechtenstein.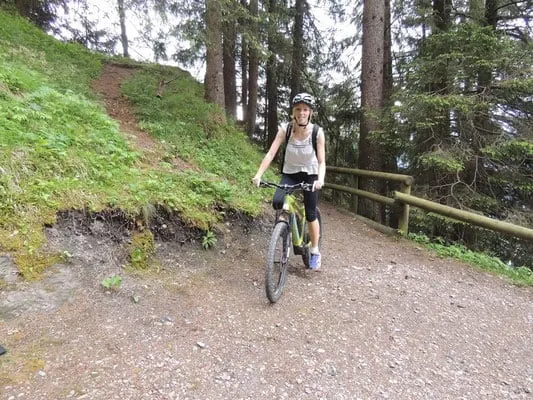 If you don't want to forgo the tremendous views while climbing the Alps by mountain biking but you're not 100% sure whether you have the physical condition, I recommend renting an E-Mountainbike at the BikeGarage managed by humorous Gerald Bartel.
I promise that you'll feel as if you'd be ready to participate in the Tour de France, that's how easy it was to cycle up the Alps.
A lovely route for E-Mountainbiking I can recommend is the trail that leads from Triesen Säga over the Triesenberg along the Alte Landstrasse – Wiaga Strasse through the Röfiwald and the "Old Tunnel".
After a short descent, you'll reach Sücka Berggasthaus where you can get a revitalizing refreshment with glorious views over the Malbun valley.
The circular trail will lead you back to your departing point in Triesen Säga along the Sückastrasse through the "New Tunnel" along the Rizlina and Bergstrasse.
Cycling is definitely one of the best things to do when you travel to Liechtenstein.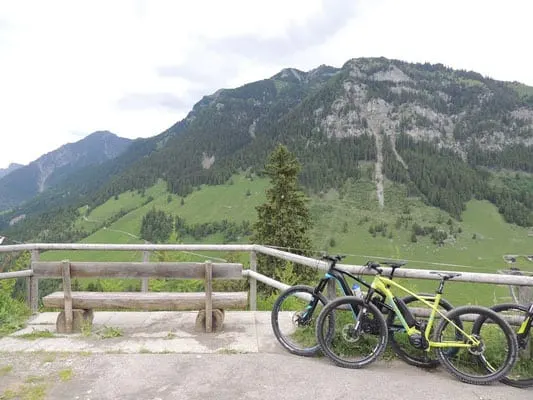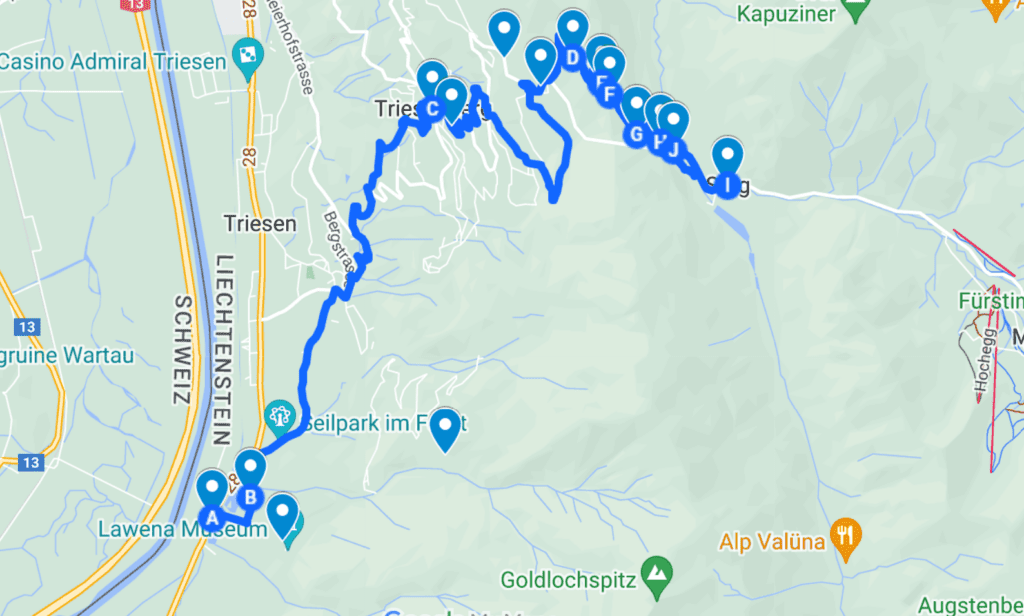 9. Make Visiting Liechtenstein Memorable
When you visit Liechtenstein, you have to keep in mind that you are visiting one of the world's smallest and richest countries.
Especially for those wanting to tick off their travel bucket lists, a visit to Liechtenstein and its capital Vaduz is mandatory.
So you better make your stay memorable in case you want to do a little show-off with your Liechtenstein visit.
There is no better way to make your visit unforgettable than by getting the official Liechtenstein stamp on your passport.
With the "Museum and Adventure Pass" by the Liechtenstein Tourism Board you'll save the 3€ of the stamp and get it for free.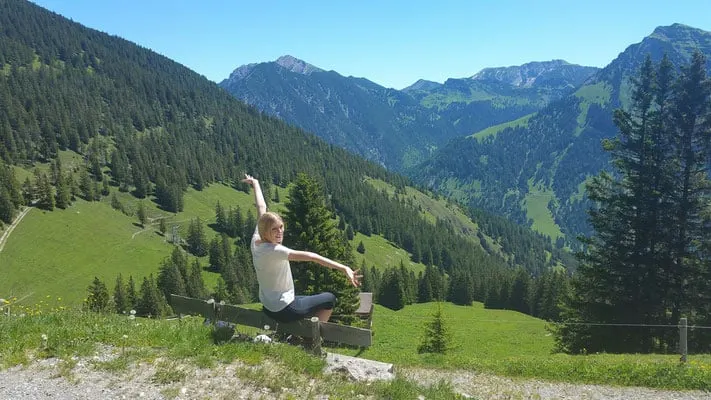 Another mandatory thing to do is to the bridge that marks the border to Switzerland. A photo with the Liechtenstein border sign might be a touristy thing to do, but it will be a fun souvenir of your Liechtenstein trip.
For those of you who are into postage stamps, you'll want to get some of the highly coveted Liechtenstein postage stamps at one of the several tourist shops in Vaduz.
Another fun way to experience the tininess of the principality is doing the "Three-Countries-Cycle tour" from Liechtenstein via Switzerland and Austria.
Where else can you cycle through 3 countries in 1 day? (Unless in Luxembourg!)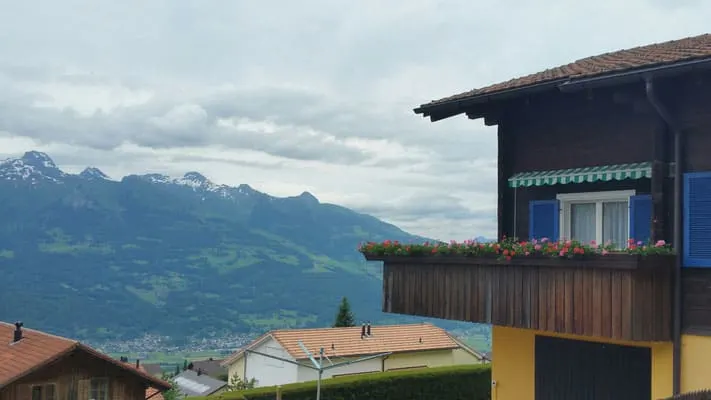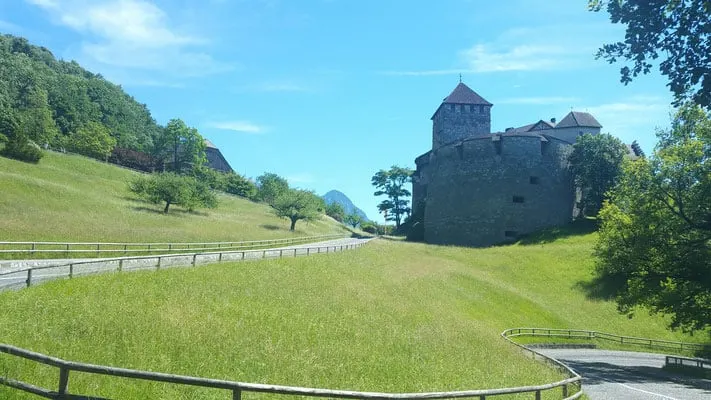 10. Lama and Alpaca Trekking
Who else is a big animal lover? Although I wasn't able to do the Alpaca and Lama Tour, it's now my main reason to book another Liechtenstein trip.
I can't imagine anything more picturesque and fun than walking with those cute animals on Liechtenstein's breathtaking Alp panorama.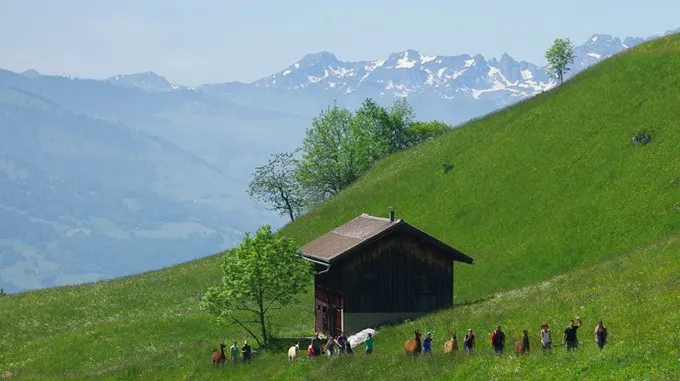 The hiking trail is not only a highlight for children but also for those who are seeking a more unusual trekking tour.
All the treks are joined by a professional Lama grower who will provide you with useful information about these peaceful animals.
They even include a stop-off at a nearby cheesemaker. I am sure you get why I am absolutely crazy to do a Liechtenstein walking tour with Lamas and Alpacas!
Read more about these lovely experiences here.
11. Go Skiing in Malbun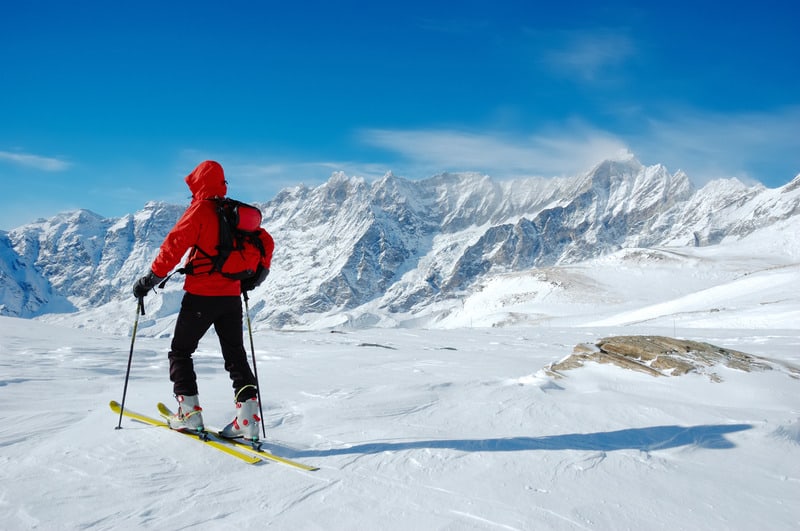 For those visiting in winter and wondering where to go in Liechtenstein, head to Malbun for some skiing or snowboarding.
Malbun Ski Resort is open to visitors from December to April and has 23 km of slopes.
Liechtenstein winters are cold, but just in case, Malbun has a snow-maker to guarantee snow cover so you won't be disappointed. You can stay at the resort, which is friendly.
Malbun is the perfect winter weekend getaway for anyone visiting Liechtenstein in the colder months.
12. Discover the Calculator and Typewriter Museum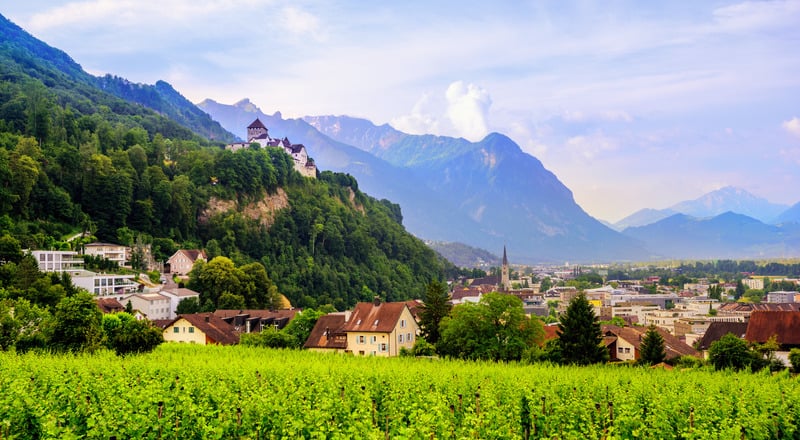 If you visit Schaan, be sure to check out the Calculator and Typewriter Museum. This quirky, interactive museum is one of the top things to see in Liechtenstein.
Even if it sounds boring, I promise it is worth the trip. Many of the exhibits are over 150 years old and all tell an important part of the country's history.
Can you really travel to Liechtenstein and not see the smallest calculator in the world? After all, it was made there!
13. Wine Tasting at the Prince of Liechtenstein Winery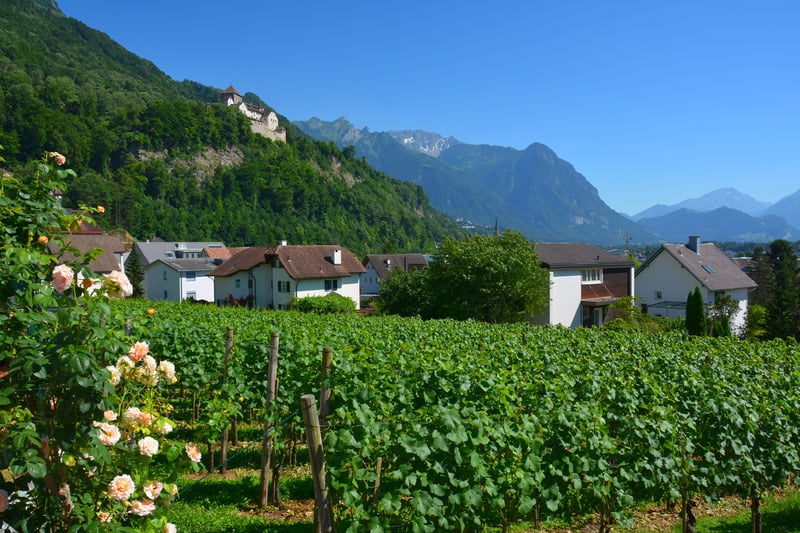 No Liechtenstein itinerary is complete without a visit to the Prince of Liechtenstein Winery and Herawingert Vineyards.
This is the prince's personal winery, so it should come as no surprise that Herawingert Vineyards is known to make some of the best wines in the Rhine Valley.
Although it is a royal vineyard, the public is welcome to visit.
The is where to go in Liechtenstein for any wine enthusiasts hoping to visit this quaint country. Make sure to book a visit first.
READ: 11 Magical Things To Do in the Mosel Valley, Germany
14. Visit the Largest Municipality: Schaan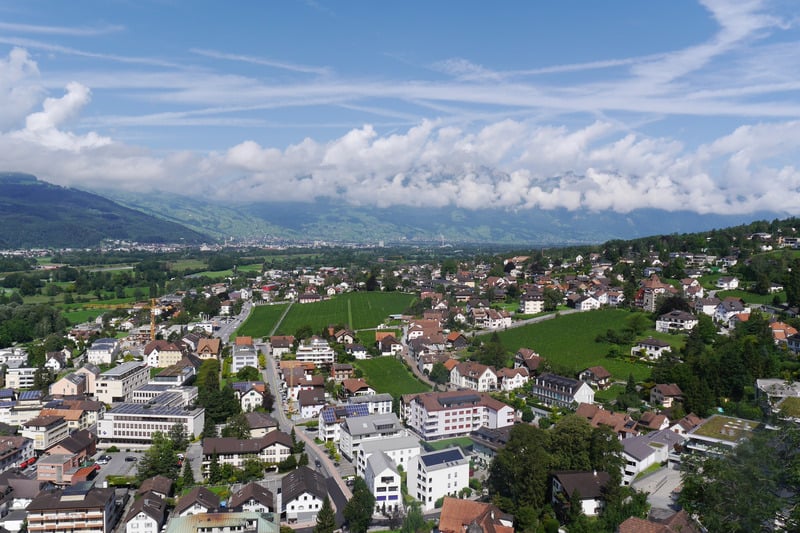 Visit Schaan for old-fashioned Liechtensteiner charm! Schaan is the biggest municipality in Liechtenstein with a population of just over 6,000.
In addition to the Calculator and Typewriter Museum, the main site is the Roman Catholic Church, near the train station. If you enjoy baked goods, stop in Café Wanger for fresh bread or delicious specialty chocolates.
Schaan has also been inhabited for over 6000 years, and there are archaeological ruins just outside of the city. – Book here guided tours
15. Visit the Traditional Farmhouse Museum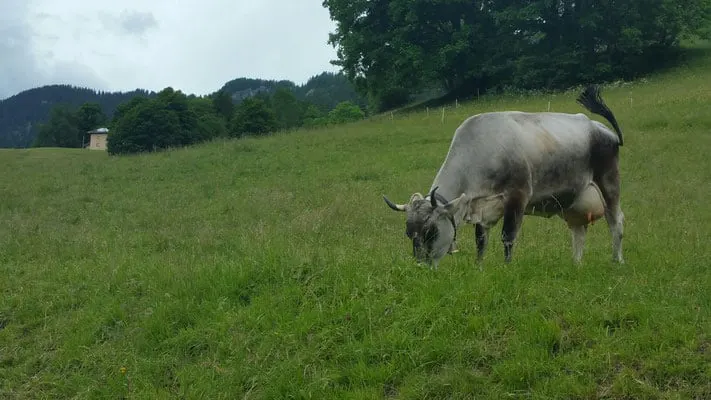 Come see what life was like for farmers living in Liechtenstein in the 1500s.
Visiting the traditional farmhouse museum is one of the top things to do in Liechtenstein for anyone who loves unique museums.
This museum shows what life was like when this farm was built in 1518. It also teaches how farming techniques have evolved since.
The traditional Farmhouse Museum is located in Schellenberg.
---
General Info for travel to Liechtenstein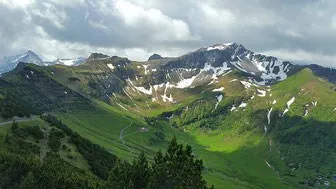 Geographic situation: Sandwiched between Switzerland and Austria
Size: 6th smallest country in the world (25 km long and 12 km wide)
Language: German
Form of Government: Principality (the Liechtenstein dynasty reaches back to the 12th century)
Currency: Swiss franc – CHF (but € are widely accepted as well)
How to get there: No international airport, but very easy to get to Liechtenstein by train. If coming from Switzerland, get off at Buchs or Sargans, and if coming from Austria, get off at Feldkirch. "Vaduz Post" is the main bus stop, situated directly in the capital's center.
Make your life easy and book here a day trip from Zurich to Liechtenstein.
Inhabitants: Liechtensteiner (only 2/3 of the population are native)
I hope this Lichtenstein travel blog has encouraged you to visit this beautiful country. In order to get more information on tourism in Liechtenstein, I recommend the site of Tourism Board of Liechtenstein.
---
Short FAQ
How many days in Liechtenstein?
Because Liechtenstein is one of the smallest countries, you can fit in almost everything in a long weekend.
How to visit Liechtenstein?
There is no international airport in Liechtenstein, so the quickest way to arrive is by train via Switzerland.
What to do in Liechtenstein in 1 day?
Cycle through three different countries! The "Three-Countries-Cycle tour" takes you through Liechtenstein, Switzerland and Austria!
---
Disclaimer: I have been a guest of the Tourism Board of Liechtenstein. All my opinions, as always, are my own. This posts contains affiliate links. In case you purchase one of the items, I'll receive a small commission. The price remains the same for you.
---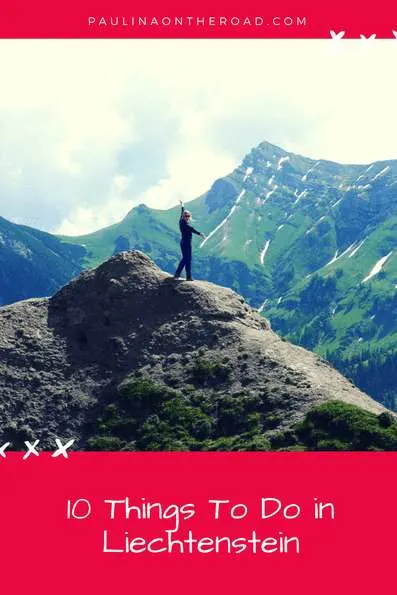 ---
Hola! I am Paulina, a fervent travelette who crossed the Atlantic Ocean by Boat HitchHiking. On my blog, you'll find all the tips to make the most of your holiday. Get ready to enjoy outdoor and sustainable travel like hiking, cycling or sailing. Let's hit the road together!