If you love to travel, chances are you've encountered the dilemma of needing to bring shoes that suit both form and function – stylish enough for a night out, comfortable enough for roaming around a new city.
That's precisely why I put Fuchsia Shoes, a sustainable fashion brand, to the test! I reviewed one of their beautiful artisan pairs to see if these fashion-forward kicks could pass our long-haul traveler checklist.
Keep reading my Fuchsia shoes review if you want to learn more about what makes them ideal for explorers on the go!
This blog is supported by you, dear reader. If you purchase through a link, I earn a small commission. As an Amazon Affiliate, I earn from qualifying purchases.
Overview: Best Fuchsia Shoes varieties
| Fuchsia Shoes | "Best For" | Shoe Design and Materials | Style |
| --- | --- | --- | --- |
| Wool slippers | Providing comfort & warm feet | Made with heavy wool overall that comforts painful feet. | |
| Fuchsia Printed flats | Summer dresses | Classy prints to comprehend floral dresses. | |
| The Bridgerton | For the royal look | Elegant intricate designs made by artisans | |
| Vegan Ballet Flats | Vegan option | Leather textured design for a classy look. | |
| Fuchsia Slides | Stylish home wear | Artisan embossed patterns on flats. | |
| Embroidered Flats | Exquisite Desi attires | Handmade shoes with crafty woolen patterns. | |
| Fuchsia Bridal Wear | Bridal/Party Wear | Sparkling to compliment bridal dresses or party outfits. | |
| Ribbon Flats | Getting a good grip on your footwear | Simple design with tightening buckles for a firm grip. | |
II. Design and Materials
Opening the box of my Sun Moon flats by Fuchsia, the first thing one notices is the material quality and craftsmanship. These are two key pillars that are significant for every ethical shoe brand and Fuchsia shoes excel in this regard.
Fuchsia homemade shoes are designed by a team of skillful craftsmen using the finest quality materials. The raw material needed for shoe-making is locally sourced leather.
The local-sourced leather is obtained via natural resources which then proceeds through a thorough cleaning process by hand.
Soon after being cleaned, the leather receives a refining treatment cured with salt.
Next, the leather is left in natural sunlight to dry and preserve its delicate, subtle texture. It is the natural leather texture that makes every Fuchsia pair exceptional.
Manufacturing and Sustainable Craftsmanship
Fuchsia remains committed to the centuries-old traditions of only using the finest materials processed by time-honed experienced craftsmen in Pakistan.
A remote Pakistani area called The Sangla Hills is the hometown of Fuchsia shoes. The town has a long history of producing the finest quality shoes from the time of Alexander the Great.
Yes, the original Fuchsia history goes way back to the elders.
No wonder why each pair of Fuchsia flats is handcrafted with perfection.
There exist multiple traditional workshops in Sangla Hills where the group of profound artisans uses their precessional skills to create shoes.
Fuchsia commits to treating the artisans with well-deserved respect, luxury, and dignity, Fuchsia manufactures affordable and environment-friendly homemade shoe designs for everyone.
III. Comfort and Fit
The luxurious artisan shoes by Fuchsia are simply stunning with their unique intricate designs. Respecting the handy craftsmanship, the shoes are handmade to provide comfort and easy fit for all.
From obtaining raw materials to leather-cutting to making detailed embroidery, every aspect of shoemaking requires a high level of skills.
The Fuchsia artisans craft each shoe by hand, using naturally-sourced quality materials to support the regional economy. That's why it is one of my favorite sustainable shoe brands.
Each Fuchsia pair is melded into its one-of-a-kind comfortable structure that fits perfectly to the feet. The current shoe form is made using the same valuable traditions of the Silk Road incorporating cutting-edge comfort for the audience.
The resulting shoe pairs are quite remarkable in quality as well as style. Once you get a taste of the exceptional shoe comfort, you'll be amazed by the soothing softest touch of wearing the most desirable Fuchsia ballet flats.
Each and every shoe pair is made to support your feet and provide you with a comfortable easy walk.
IV. Versatility and Style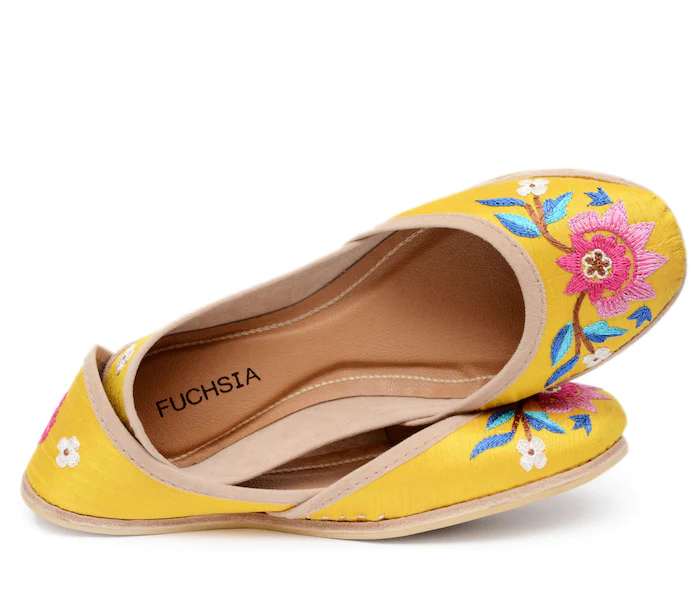 I often feel lost checking out the Fuchsia shoe website because there are so many different choices. Fuchsia shoes low heel, Fuchsia shoes, Fuchsia shoes wedding, Fuchsia ballet flats, Fuchsia dress shoes,…
Every shoe pair can make a perfect sustainable Christmas gift if you find the right outfit match for it.
The perfect way to choose a new Fuchsia shoe pair is to know when you're planning to wear it. This means understanding your Fuchsia shoe's versatility. You must know which outfits would go perfectly with your new Fuchsia pair.
Let me give you some quick styling tips in this Fuchsia shoes review for choosing matching shoes and outfits:
Fuchsia flats look super cute with sundresses
The Bridgerton shoes are premium for elevating your look
Simple Vegan Fuchsia shoes are perfect for everyday wear
Fuchsia slides look exquisite with desi attire
V. Price and Value
The overall price of Fuchsia shoes ranges between $60 to $120.
Summarizing the pricing in the Fuchsia shoes review, every pair is justly being sold to the customers as per their requirements.
Each and every shoe pair goes through strict quality-checking criteria. So that you only get the best quality shoes when you're buying a pair of Fuchsia ballet flats or Fuchsia dress shoes.
The homemade shoes are ethically designed and made with care to provide comfort to the people.
The one-of-a-kind luxury shoes are very valuable for providing multiple choices of shoes.
You can buy and wear your favorite comfy shoes at easily affordable costs from the Fuchsia website.
Find your favorite Fuchsia shoes here
VI. Customer Reviews and Feedback
With a resounding 5-star rating, Fuchsia shoes have scored more than 878 positive reviews from such amazing happy customers. Each Fuchsia shoe review explains how the pair has changed the customer's life.
Many people find it the most comfortable shoes they've ever bought while others are obsessing over the intricate homemade design.
I have written this Fuchsia shoes review as a means to help all my dearest shoe lovers pick the best shoe pair.
So, when you're buying new Fuchsia shoes, you'll know what features you need and you can be sure that you're getting the right pair.
In the hopes of helping someone who's been suffering from a lot of foot aches, I'd recommend replacing your uncomfortable shoes with Fuchsia flats.
VII. My Verdict
Everyone has their favorite pair but most customers are going crazy over the Sun Moon flats. So, I thought to give them a try myself, and OH BOY! I AM AMAZED.
Giving my honest Fuchsia shoes review, the way these shoes fit my feet is just surprisingly satisfying.
You might find it weird how the shoes don't have a 'Right' or 'Left' piece. Rather you get a blank pair that can be worn by either of the two feet.
It was a bit shocking for me at first and honestly, a little bit disappointing too. So, I took the liberty to mark my shoes for my right and left feet.
But soon after I started wearing the shoes, they kind of melted to fit my feet and that's so satisfying and feels very comfy.
Now, it seems like each shoe is custom-made for my feet and this was the best shoe experience I've ever had.
I quickly ordered a few more cute and comfy Fuchsia shoes and I am grateful for their unique custom-fitting tactics.
The shoes are designed to shape themselves according to the owner. If you don't believe me, go ahead to buy a pair and see for yourself how comfortable and satisfactory Fuchsia flats are.
Hola! I am Paulina, a fervent travelette who crossed the Atlantic Ocean by Boat HitchHiking. On my blog, you'll find all the tips to make the most of your holiday. Get ready to enjoy outdoor and sustainable travel like hiking, cycling or sailing. Let's hit the road together!