Sete Cidades, Sao Miguel: a hike to an Abandoned Hotel

Sete Cidades is a paradise for hikers: great panorama views, abundant nature and a little scary factor!
The lake is composed by two different lagoons: the Blue Lagoon and the Green Lagoon, all set in the crater of a dormant volcano. The legend behind can be read HERE. Many hiking routes are waiting for you: circumvent the crater laker, hike to Santiago Lagoa or a hike to the panorama viewpoint Vista do Rei.
Hiking Around the Lake
My aim of the day was Vista do Rei: a viewpoint situated on top of the crater with gorgeous views on the lagoons, the Sete Cidades village and even the Atlantic Ocean! But that plan was easier said than done!
Upon arrival in Sete Cidades, I was unable to spot any trail signs. Wherewith the only direction I had for Vista do Rei was: UP! Up on top of the mountain! After crossing the village, I must have missed the trail entrance and so I did most of it on an asphalted street accompanied by the typical moody Azorian weather conditions.
But the views were worth it all! You just have to keep telling yourself that on any forest track, you'd never have THESE views!!
The abandoned hotel
After 4 hours of hiking and almost getting killed by passing cars, I finally reached Vista do Rei! But instead of the expected speechlessness, a big grey concrete building captured my attention: an abandoned former 5* hotel! The Monte Palace hotel was built in the eighties and had to close because of its remote location.
Today the hotel ruins invite courageous tourists for a scary discovery tour. Just muster all your courage! HERE you can fin more pictures and descriptions of Monte Palace Hotel.
And still today the public transportation to Ponta Delgada is catastrophic, I decided to get back by my favourite Azorian hobby: hitchhiking! After a short time, a nice Swedish couple took me back to the capital of São Miguel.
What else can you do on São Miguel, Azores? Here the 6 Must Dos!
Sete Cidades es un paraíso para los amantes del senderismo: bellas vistas panorámicas, naturaleza abundante e incluso un ligero factor tétrico! El lago está compuesto por dos lagunas: la Laguna Azul y la Laguna Verde. Ambos están situados en el cráter de un enorme volcán durmiente. Podéis leer la leyenda de su creación AQUI.
Muchas rutas os esperan: podéis rodear las lagunas, caminar hasta laLagoa Santiago o hacer la ruta hasta el mirador Vista do Rei. Mi objetivo del día era Vista do Rei: un mirador situado en la cima del cráter con vistas a las lagunas, el pueblo Sete Cidades e incluso el Atlántico. Pero esto era más fácil decir que de hacer!
La Lagoa de Sete Cidades
Al llegar a Sete Cidades, no podía encontrar ningún señalamiento de las rutas. Con lo cual la única dirección que tenía para llegar a Vista do Rei era: ARRIBA! Arriba a la cima de la montaña! Tras cruzar todo el pueblo, tengo que haber perdido la entrada a la ruta con lo cual tenía que hacer casi toda la ruta en carretera asfaltada acompañada por el caprichoso tiempo azoriano.
Pero las vistas valían 100% la pena! Sólo os tenéis que seguir repitiendo que en cualquier camino forestal, nunca hubieráis podido tener ESTAS vistas!!
El Hotel Abandonado
Tras caminar 4 horas y casi matarme por los coches pasando, llegué finalmente a Vista do Rei! En vez de quedarme sin aliento delante las vistas espectaculares, un enorme edificio gris capturó mi atención: un hotel 5* abandonado! El hotel Monte Palace fue construido en los años ochenta y tenía que cerrar debido a su locación remota. Hoy el hotel invita a turistas valientes a un recorrido tétrico.
Armados de coraje y lanzados! En este video podéis encontrar una descripción sobre el Hotel Monte Palace.
Dado que la conexión Sete Cidades – Ponta Delgada todavía sigue fatal, decidí volver a la capital con mi pasatiempo favorito: el autostop! Después de un breve tiempo de espera, una pareja sueca me llevó a Ponta Delgada.
Sin ellos nunca hubiera podido volver!
Que más se puede hacer en São Miguel, Azores? Aqui los 6 imprescindibles!
A room with a view – Una habitación con vistas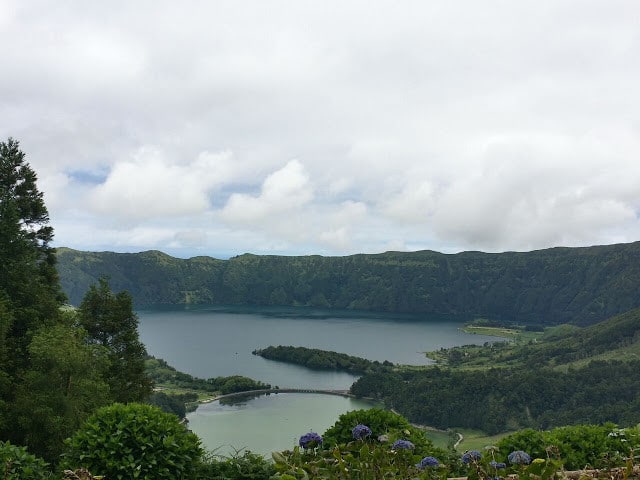 ---
For more information on tourism in São Miguel, I recommend the following webpage: Tourism in São Miguel, Azores.
Para más información sobre turismo en São Miguel, os recomiendo la siguiente página: Turismo en São Miguel, Azores.
***
---