Enjoy Travel Discounts
Today I bring you a special post, which will help you to save money and travel cheaper.
Just to make sure that you can travel a bit longer. And who doesn't like to save a few $ or € or £??
Get 10% Discount on Booking.com
Booking.com is the largest hotel search engine in the world. They offer a huge selection of incredible places to stay – including apartments, vacation homes, and family-run B&Bs, to 5-star luxury resorts, tree houses, and even igloos.
I mostly use Booking.com for booking my hotels as I love their app and personalized service. On top, their customer service was very helpful when I had major issues with an hotel.
Conditions:
Valid for registered and non-registered travellers
Limited to 1 discount per account
Get your refund 2-3 days after finalizing your booking
Read here the rest of Terms & Conditions
Get up to 20% on RentalCars
Who else loves road trips? As I don't own a car, I prefer to rent one if I can't make it to my destination by public transportation.
Don't you think that renting a car occasionally is another way of sustainable travel? Instead of owning one?
Conditions:
There are no applicable conditions. Discounts depend on the rental company and can be up to 20%.
Get 30€ Discount on AirBnB
I love to check out deals on AirBnB! Staying in an AirBnB allows me to enjoy a destination like a local.
I mainly use AirBnB to book apartments when I travel with friends.
Conditions:
Only valid for new users
Discount only applicable for bookings over 65€
You'll see the discount before payment
Get -10% Discount on Lonely Planet Guides
I love preparing my trips with Lonely Planet guides. When at the destination, they always cover your back whether it comes to hidden gems, cultural & historical information or the newest restaurants in town.
The Lonely Planet Shop offers more than only guide books! Their Art&Inspiration shop has the best gifts for travellers.
Conditions:
Use Code "PAULINA10" during checkout by clicking the "Add Code" link next to Discount.
No limit on how many times it can be redeemed!
Shop site: shop.lonelyplanet.com
Get 5% Discount on Travel Insurance
Never travel without a reliable travel insurance, because you never know what could happen.
I trust World Nomads Travel Insurance who helped many travelers around the world in need. They offer 24hrs worldwide assistance.
Conditions:
Use the code "ONROAD5"
Get up to 70% Discount on Outdoor brands
REI.com sells quality gear, clothing and footwear for outdoor recreation. All products are backed by a 100% guarantee. You'll enjoy free shipping to any of REI's 138+ stores.
I buy the best assortment of brand-name outdoor clothing and gear at REI Outlet. It offers discounts of 20% to 70%.
Conditions:
None
Get 50% Discount on eco-friendly sportswear
Sundried sells eco-friendly sports and active wear. Indeed, their workout clothes are made with the only biodegradable polyamide yarn on the planet. The innovative fabric formula allows it to quickly decompose after being properly disposed of in a landfill.
Clothing made from this fabric will take only 3 years to be eliminated from the planet,
Conditions:
Add "PAULINA" discount code at check-out in the shop
Get 15% Discount on Your Hiking Bottle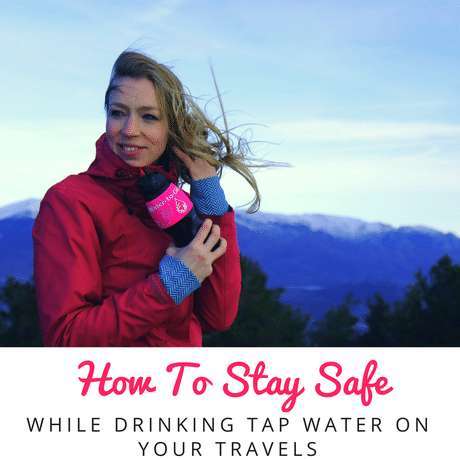 For hiking, I love to take my Water-To-Go bottle whose nano filter technology keeps me safely hydrated, no matter what the adventure.
Their avant-garde technology allows you to purify water from rivers, waterfalls and much more.
Conditions:
You'll see the discount before payment
I hope you enjoy these travel discounts and I wish you loads of fun while being on the road. Safe travels dear readers!