What To Do in Plovdiv According to a Local
There are many cities in the world with a long history and rich culture. Usually, such cities offer a lot of things to do, many places to see, and a unique and special atmosphere to feel. Some of them are very famous, attracting millions of tourists every year. Others are hidden gems, not so well known, underrated and keeping a lot of secrets. One of them is Plovdiv- the second largest city in Bulgaria. In this post you'll discover what to do in Plovdiv, according to a local.
There is something that makes Plovdiv really unique and special- it is recognized as the oldest living city in Europe, and the 6th oldest in the world! It means that when Plovdiv was founded, there was no Rome, no Athens, not any other famous historic cities in the continent, but maybe only some ancient settlements, which don't exist anymore now.
It means also that Plovdiv has passed through many ages, civilizations, kingdoms, and empires, which remained their cultural traces in the city.
So, as you may assume, there must be a lot of things to see and do in Plovdiv. Not only things related to history, but also many other big and small attractions, related to art, music, entertainment, sport, leisure or food and drink. By the way, Bulgaria is a gorgeous country to by explored by backpacking.
Some basic facts about Plovdiv
Plovdiv is located in the southern part of Bulgaria, in the Upper Thracian plain. It is built in a special place in this area- on and around a few hills, standing like few islands over the surface of the plain. Three of the hills are joined as one massif, and the other three are higher and separated. Maybe this is the reason why this place has been chosen by the ancient people to build this city here.
During its long history, Plovdiv has inherited many cultures: Thracian, Greek, Roman, Byzantine, old Bulgarian, Ottoman and modern. There are also cultural traces of the local ethnic groups living in the city- Bulgarians, Armenians, Turks, Jews, and Gypsies.
Another interesting thing is that since Plovdiv has passed through a lot of destruction and rebuilding, and the people were building the new city over the ruins of the old, the historical and archaeological remains are layered.
The most ancient of them can be found at around 10 m underground, the Roman remains- 6-7 m, the Byzantine and old Bulgarian- at around 3-4 m, until the modern days. And this is how the historic spots in the city are situated.
As a result of all this, Plovdiv has developed a rich culture and art spirit, which can be felt almost everywhere. And it is real- for this reason, the city has been chosen to be the European Capital of Culture for 2019.
Most of the sights recommended in this post can be seen in one day in Plovdiv or as a day trip from Sofia. If you travel by car, please make sure to read these driving tips for Bulgaria.
Book here your day trip from Sofia to Plovdiv
If you visit Plovdiv from Sofia, don't forget to read about these amazing things to do in Sofia or a 1 day Sofia itinerary
In case you fancy another day trip, have a look at the gorgeous pink lakes in Burgas.
Top 15 Things To Do in PlovdivOld Town Plovdiv
If you come to visit Plovdiv, you will have a really well filled time with the things that you can do- in the morning, at noon, in the evening and in the night. And the good thing is that most of the things to do and places to see are concentrated in the center of the city, so once you arrive there, you can explore them just on foot.
That's why I recommend booking a hotel in Plovdiv city center.
Best Hotels in Plovdiv:
[fusion_table fusion_table_type="1″ hide_on_mobile="small-visibility,medium-visibility,large-visibility" class="" id="" animation_type="" animation_direction="left" animation_speed="0.3″ animation_offset=""]
These things and places are really a lot, but here I list my favorite, which are essential for a good experience of this unique city.
1. Explore the Old town
There are many "Old towns" in the world. And most of them are full of tourists, street vendors, crowds and noise. But Plovdiv's Old town is different. It really brings you back to the old times, not only by its beautiful traditional Revival Age houses but also by the tranquil silence in its narrow stone streets.
Plovdiv Old town is built on three linked hills. And there are many buildings, mainly from the 19th century, most of which are real architectural masterpieces. Some of them are museums, presenting life from more than 150 years ago. Some are turned into art galleries or concert halls. And some are local restaurants, offering traditional meals.
Book here your activities in Plovdiv
You can walk around the old town, take photos and enjoy the beautiful cityscape of the old times. But there are a few houses which I really recommend to enter and explore:
The Ethnographic Museum
This is the most emblematic of the Old townhouses. Turned into a beautiful museum, it presents the life in Plovdiv and the area around it during the Bulgarian National Revival times (19th century)- art, clothes, daily life, tools, music, and just a full picture of that age. This is a must of every walking tour in Plovdiv city center.
Entrance fee: 5 BGN
Balaban and Hindliyan Houses
These two houses share a common yard, separated by a lower building in traditional Revival style too. They used to belong to rich families who lived there more than 100 years ago and offer an excellent presentation of the higher class life.
Entrance fee: 5 BGN for every house (free walk only in the yard).
Nedkovich House
It is another beautiful house of a rich merchant from the 19th century. It presents outstanding decorations of carpets, woodcarving, and traditional furniture.
Entrance fee: 5 BGN.
Lamartin House
This house also presents the life of the higher class from the 19th century. Its name comes from the visit of the French politician Lamartin in 1833, who was a guest there.
Entrance fee: 5 BGN.
Other houses
There are many other houses, worth to visit in the Old town. Among them, I can mention Danov House, which is now a museum of the Bulgarian typography, Hypocrat pharmacy, Veren Stambolyan and many other.
Their entrance fees are all 5 BGN for every house.
Book here your Plovdiv Walking Tour
2. Nebet Tepe
Enjoy the View!
Besides the houses, there are many other significant constructions in the Old town, some of which dating from much older ages, from the time of the old Bulgarian kingdom, Roman Empire or the Thracian times. There are few of them, which you really must visit.
Nebet Tepe is the highest point of the Old town, where you can see the most ancient remains of Plovdiv, as well as one of the best panoramic views of the city. Entrance fee: free.
That's another reason why you should visit Plovdiv: it's a great cheap destination in Europe!
3. The Ancient Roman Theater
The theatre hosts many events in summer
Built on the southern slope of the Old town's three hills, it is one of the best preserved ancient theaters in Europe, and now is one of the symbols of Plovdiv. Plovdiv Roman theatre is definitely one of the highlights of every visit.
Entrance fee: 5 BGN.
Book here your Plovdiv Walking Tour
4. Hisar Kapiya
This is an ancient arc-shaped gate in one of the old Plovdiv wall's remains. Now it is a famous symbol of the Old town, great for photos. There is no entrance fee.
5. St Constantin and Elena Church
Church in Plovdiv
This is the oldest active church in Plovdiv, presenting excellent Orthodox style art and decoration (No entrance fee).
Finally, when you finish your walk around the Old town, you can go down to the southern foot of its three hills, and walk on Maria Louisa Boulevard to the center.
On this route you will pass a chain of ancient ruins: The Small Basilica (entrance fee: 5 BGN), The Great Basilica with the ancient Synagogue (currently under renovation) and the Catholic Church St. Ludovic beside it, then Trakart Museum (an ancient noble house from 2-4th century, entrance fee: 5 BGN), and finally, the Odeon and the Forum (free).
There is a traditional route, connecting all these places in the Old town. It normally starts from Dzhumaya Square on the Main Street, goes to Nebet Tepe, then back south to the Ancient Roman Theater and finally goes down to Maria Louisa ancient spots and the center of the city. The Roman ruins are some of the best maintained in the area.
Entrance fees tip: You can buy a combined ticket for 15 BGN from the Tourist Information Centers (In Central Square and in the Old town) for 5 places with entrance fees to visit. You can buy such tickets from most of these places too.
Book here your Plovdiv Walking Tour
6. Enjoy nightlife in Plovdiv: Kapana neighborhood
Enjoy long walks
Kapana neighborhood is a small area, located between the Main Street and the Old town's northwest side. Its name means "The Trap", and comes from its network of streets- they are very short and arranged like a maze, in which you can "get lost", or "trapped". Its buildings are more modern than the houses of the Old town, mainly in the style of the 30s and 40s of the 20th century.
In the daytime, you can walk on its streets and enjoy the multiple shops with art souvenirs, as well as its cafes and rich outdoor decorations. And when the evening comes, you can find some of the best restaurants, bars and night clubs in Kapana.
I would especially mention the following:
Nailona (Art club Nylon): a well-known night club, one of the best in Plovdiv
Terzo Mondo: one of the best cocktail bars in Kapana
Club Marmalad: a great bar & dinner place
Club Void: a night club, best known for its live music performances
Tigan: there you can enjoy some of the best pancakes
Multi Culti: a restaurant, presenting food from every corner of the world
Veggic: one of the best restaurants for vegans
Brickhouse: a great place for cocktails and burgers with friends
Cat and Mouse (Kotka i Mishka): a great bar, especially for the beer lovers
Barabana (The Drum): another cocktail bar with a taste of music
And these are not all the places of the nightlife and food in Kapana. You can imagine what Kapana looks like, being such a small area with such more places.
7. Try the best Bulgarian wine
Bulgarian wine is a must when in Plovdiv
Plovdiv is located in the Upper Thracian Plain, between Rhodope and Balkan mountains. And the foots of the mountains have excellent conditions for vineyards developing. As a result, you can find some of the best grape sorts, not only in Bulgaria but in the whole world. The most significant of them is Mavrud.
Book here your wine tour from Plovdiv
And for those who are interested in wine degustation, there are some excellent places where you can not only try but also enjoy the best Bulgarian wine. Here are some of them:
Vino Culture: an excellent winery bar, located very near to Dzhumaya Square
Enoteca Regional Wine: it is located in the Old town and focuses more on the local wine in Plovdiv region
DeGustoStation: a cozy winery in Kapana neighborhood
Glass of Wine: another winery in Kapana, with unique art atmosphere
Vinopoly: a great winery bar in Markovo Tepe Mall
8. Join a performance in the Ancient Roman Theater
An event in the Roman theatre is a highlight!
The Ancient Roman Theater is not only an important and must visit landmark of Plovdiv. It is also a great place for various kinds of performances. In the last 10-15 years, this famous place remembers a lot of events, played not only by Bulgarian, but world-famous artists and music stars as well.
Book here your Plovdiv Walking Tour
Among the popular events set in the Ancient Roman Theater, I can mention the following:
Opera: there are a lot of opera performances, some of them with famous artists, from Bulgaria and abroad.
Folklore: the Ancient Roman Theater is the scene of some great folklore shows, from which the best is the Annual Folklore Festival.
Symphonic concerts: there are a lot of symphonic concerts, including performances by some of the best artists in the world.
Pop-Rock live: this place has been a scene of some of the world-famous pop and rock stars. Among them, I can mention Sting, and the metal bands Accept, Paradise Lost and many others.
9. Shopping on the Main Street: the longest pedestrian street in Europe
Shopping in Main Street Plovdiv
The Main Street of Plovdiv is the most popular and favorite place for a walk, not only for the local people but also for the visitors. With its 1,8 km length, it is the longest pedestrian street in Europe. It starts from Central Square, passes through two more attractive squares and ends with the covered bridge on Maritza River.
There are many spots on Main Street, some of them just places for shopping, as well as many cafes and a few restaurants. But there are some other spots, which are really unique.
Start your walk from the Central Square. Some of the first things you can see nearby are the ancient remains of the Forum and the Odeon. Then proceed to "Kopchetata" (The Buttons) Square (it is not the official name of this square, but everybody knows it with this name). In the summer, you can often see a scene with folklore performances there.
Book here your Plovdiv Walking Tour
Walk for 200 m more and you will see stairs, leading to Sahat Tepe hill. This place is good for photos, but one of its attractions is a statue of a man with his hand on his ear. This is Milyo- a real person with brain sickness, who lived in Plovdiv some 40-50 years ago. He was known as an extremely romantic man, spending his time on Main Street. Then, after his death, someone made a decision to commemorate him, making him one of the Main Street's emblems.
But the deepest secret of the Main Street is something that lies below it, approximately 6-7 meters underground. Actually, Main Street and the area around it, are built over the long Roman Stadium. Now only its northern end is exposed in Dzhumaya Square.
When you arrive at this square, take the lift or just go down to the stadium's semicircle. There you can not only explore this ancient construction, but also can watch a movie about it (it is 6 BGN, but can be also added to an Old town combined ticket for 5 places and the movie for 19 BGN).
There are also some shops with glass "windows" on the floor, from which you can see some glimpse of the Stadium's ruins.
10. Hike Bunardzhika and Dzhendem Tepe to watch Plovdiv from above
Well worth the hike!
Bunardzhika and Dzhendem Tepe are the highest hills of Plovdiv. In fact, when you approach the city from Sofia or another far place, you can see Plovdiv from almost 60 or more kilometers far. Not the city itself, but its highest hills, rising like its natural flag on the Upper Thracian plain.
These two hills are not exactly in the center, but still on walkable distance from it. Bunardzhika is well known with another emblem of Plovdiv- the large Soviet soldier Alyosha statue. Although its existence is a little controversial, since it is related with Bulgaria's too recent history- the communist period, but history is history, no matter if its events have happened 40 or 4000 years ago.
Book here your Plovdiv Walking Tour
So, you can hike to the top of the Bunardzhika and enjoy the stunning panorama from its terrace.
Then proceed to the neighboring Dzhendem Tepe hill. This hill is the highest, and since it is the furthest from the center, a large part of the panorama from its top is to the surrounding plain and the mountains behind it.
Finally, there is a nice attraction on Dzhendem Tepe's foot, the Children Railway: a small, but real railway, with a real train and real railway stations, which runs around the hill, from its southern to its western side.
11. Visit the Art Galleries and Museums of Plovdiv
Colors of Plovdiv
Being a significant cultural center, Plovdiv has a lot of galleries and museums, exhibiting artifacts of various topics: art, history, archaeology, crafts and natural science. Most of these exhibition places are located in the center.
Book here your Plovdiv Walking Tour
Among them the most significant and must-see are:
Ethnographical Museum: as I already mentioned, it is one of the landmarks of the Old town. Entrance fee: 5 BGN.
Archaeological Museum: it is located in Saedinenie Square and presents a lot of information and artifacts of the ancient history of Plovdiv. Entrance fee: 5 BGN.
The Museum of Natural Science (Natural History Museum): it is one of the best natural science museums in Bulgaria. Entrance fee: 5 BGN.
Historic Museum: Presents a lot of historical artifacts from Plovdiv and the region. Established in three branches. Entrance fee: 4 BGN.
Museum-Gallery Philippopolis: being in a Revival traditional house in the Old town, it presents masterpieces of classical Bulgarian artists. Entrance fee: 5 BGN.
City Artistic Gallery in five thematic branches: this is the main art gallery in Plovdiv, presenting current and constant exhibitions of artists from various historical periods. Its branches are located mainly in the Old town. Entrance fee: 5 BGN.
Gallery L'Union: it is focused mainly on modern art. Entrance fee: free
A+Gallery: its theme is mainly an exhibition of art pieces of young artists. It is located in Kapana. Entrance fee: free.
Turkish bath Chifte: it is another Modern Art center, located in an old Ottoman bath building, which creates a really mystic feeling inside. Entrance fee: free.
All the museums can be combined within a free walking tour through Plovdiv old town.
12. Where To Eat in Plovdiv
Healthy Meal in Plovdiv
Among everything else, Plovdiv is also a culinary paradise. Here you can find some really outstanding restaurants, offering both Bulgarian and world cuisines. Here are some of the best of them, which are really worth to try:
Hebros: an excellent restaurant, located in the Old town, part of Slow food movement.
Pavaj: as I mentioned- one of the best restaurants in Kapana, offering some real food masterpieces.
Salt and Pepper: another great place for food treasures, both Bulgarian and world.
Odeon: a classical restaurant, with an art atmosphere.
Atlas: a high class restaurant in a special artistic style.
Gluharcheto: a restaurant, offering well-known recipes in a surprisingly unique way
13. Make a bike trip in the Rowing Base Park
The Rowing Base Park (called "Grebnata Baza" in Bulgarian) is the largest park in Plovdiv, and the most favorite one for the local people. It is located in Plovdiv's northwestern suburb, along Maritza River. Its most important attraction is the long Rowing Canal (2,2 km length), the largest on the Balkans and place for many sports events, some of which with worldwide significance.
You can go to Grebnata Baza by bus 37 or by taxi (for around 5 BGN). Then walk to the Rowing Canal and you will see the bikes there. You can rent a bike for 20 BGN for 48 hours (and 20 BGN deposit). Then you can ride around the lake, or on the coastal path along Maritza River.
And of course, for such a long period of time, you can explore the whole city, including its another large park- Lauta.
14. Watch the Singing Fountains in the evening
One of the Plovdiv's emblems is located in Central Park- the main city park in the center, another favorite place for walking. Its main landmark is the Central Park lake with its Singing Fountains. During the warm seasons, most of the evenings, after sunset, nice music starts to fill the atmosphere of the park. And the water starts its dance in various colors.
This is a great place for relaxing, watching the Singing Fountains. There is a cafe-restaurant called Morado on the lake coast, where you can enjoy the Fountains show with friends in a cocktail or dinner.
These 10 things to do are not the only things you can do in this unique city. You can also go to a barbecue in Lauta Park, visit a jazz jam session in some of the jazz clubs in the city. You can also go shopping in the few big malls or you can go swimming in some of the swimming complexes.
But after everything said above, I would add another, "15th thing to do", and it is exclusively for 2019…
15. Plovdiv- the European Capital of Culture for 2019
Beautiful Old Town Plovdiv
This year, 2019, Plovdiv is more special than ever. There is a rich schedule of events, most of which are unique and maybe would be never repeated again. So, one of the things that you can do is to open the program here.
Then you choose the events that you would really like and plan your trip to Plovdiv accordingly. Come to Plovdiv and try of everything that you can, of the things that this city can offer. And you will have an unforgettable experience, after which Plovdiv can remain as one of your favorite cities in the world.
---

Like it? Pin it!
---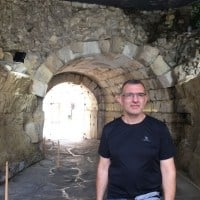 KRASEN JELYAZKOV is a traveler from Bulgaria. He has visited countries in the Balkans, Middle East, Middle Asia, East and Southeast Asia. Currently, he is living in China with his wife and travel mate Ying Ying and his children, and currently working as an English teacher. This year they started a new travel blog, called Journey beyond the Horizon. The main idea of the blog is to share and give valuable information about the geographical and historical side of destinations, lands, and also to provide travel tips, related to the exploratory type of travel.
Along with the blog, they are planning long distance on land route trips, such as crossing continents from west to east, from north to south, as well as many other, mainly off the beaten track destinations. Follow his adventures on Instagram, Twitter, and Facebook.
---
---