As I am writing this, I am driving back home to
Luxembourg
after an intensive cultural immersion in a country about I hardly knew anything before visiting. With only a few tidbits of information about its tumultuous past,
I traveled to Kosovo.
This article shares the best places to visit in Kosovo for 3 days.
Although this time I couldn't follow my lead of traveling slow, I feel confident to claim that I made the most out of it. 3 cities starting with P (Pristina, Prizren, and Peja) in 3 days, 6 hours of public transportation, including (too) many beers with local Kosovars, some of the most warm-hearted and generous people I met in a long time.
The idea of traveling to Kosovo arouse rather spontaneously when I decided to visit a good friend who worked in Kosovo for 1 week in development aid. When if not now, would I get an opportunity to discover with my childhood friend a country that still is a blank spot on many traveler's maps?
After my visit to Tuzla, Bosnia provided me a fascinating insight into the very typical perplexities of Balkan countries, I was curious to discover what Kosovo was all about. So far I only associated it with a former country at war and emigration but there are at least 25 Reasons why you should travel the Balkans.
But soon I realized that Kosovo is yet another hidden gem in Eastern Europe.
One jump ahead, the social and cultural statuses of each Balkan country differ a lot. As far as I could reason from the conversation with locals from Bosnia and Kosovo, the fundamental difference between Bosnia and Kosovo would be that in Bosnia, 1 family could have mixed Muslim, Orthodox and Turkish origins.
However Kosovo's society is rather split into 2 communities: Kosovo Albanians can be Christians and Orthodox, but generally, Albanian-speaking Muslims and Serbian-Croatian speaking Christian orthodox. They generally don't interfere too much.
Words are probably not enough to describe my experience of the stunning nature of Kosovo, its impressive history and the most generous and politically conscious people. Are you wondering what to see in Kosovo? Read on! 🙂
In case you want to visit Kosovo for a longer period, I recommend the 5-Day Discover Kosovo Tour.
Find all locations in a map at the end of the post!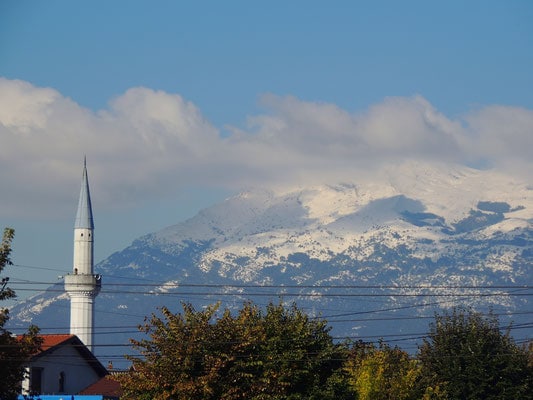 Geographic situation: Kosovo is landlocked in the central Balkan Peninsula. Strategic position in the Balkans and an important link in the connection between central and southern Europe, the Adriatic Sea, and the Black Sea.
Language: Albanian and Serbian. Regional languages include Bosnian, Turkish, Gorani and Romani. English is widely spoken.
Currency: EUR
How to get there:
Activities: Kosovo is a transition economy. Economic development has taken place in trade, retail, and construction. Kosovo is highly dependent on remittances from the Diaspora. 53% of the nation's area is agricultural land. The wine industry has been growing. Check here the best things to do in Kosovo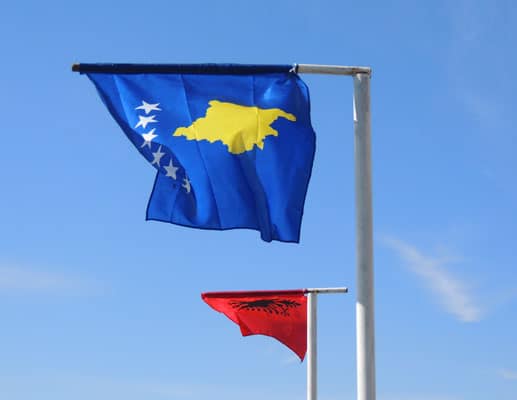 Good to know before traveling to Kosovo
Basics:
Kosovo became an independent country only in

2008

. Still today, almost 10 years after its "creation", it is not recognized by several countries even within the EU. Kosovo is only recognized by 114 countries.
Yes, it is

safe to travel

. Also for girls traveling solo.
Read about what happened during the

Kosovo war

. The country cannot be understood without some cultural and historical background knowledge.
The largest issue is that Serbia still sees Kosovo as a part of Serbia. This withholds that many countries hesitate to considerate Kosovo as a country. In consequence, the passport of Kosovo is one of the "worst" passports to travel with. Read more about the struggles of traveling with a

Kosovarian passport

at Lavdi's travel blog KosovoGirlTravels.
Practical Info:
Payment in

Euro

Don't confound

Serbians and Albanians

. They differ religiously, linguistically, ethnically and culturally.
Cities often have

2 names,

one in Serbian and one in Albanian.
Please check your

visa requirements

before traveling to Kosovo
You can't go directly

from Kosovo to Serbia

since Serbia will not acknowledge the Kosovo stamp in your passport. However, you can easily cross the border from Serbia to Kosovo. (!)
Good to Know:
Kosovo, as we know it today, was born in

2008

Kosovar People are very generous people.

Hospitality

is a fundamental concept in Kosovo.
It's very likely that you'll be invited. Accept

invitations

, but return the favor always if you can
Don't start talking about politics and the

war

. Wait until your interlocutor does the first step in this matter

Cover

yourself when visiting mosques
Kosovo has a large

diaspora

living all over Europe (mostly Germany) whose financial contributions are vital for Kosovo's economy. A lot of Kosovo's current richness comes from the money transferred from the diaspora
The people we met had excellent

English

speaking skills and many of them even spoke German.

German

and

American

people are highly regarded in Kosovo. So many people we met spoke German or have family in German-speaking countries. American flags were fluttering everywhere. The popularity of stars & stripes is mostly due to the role of the US in the Kosovo conflict in the nineties.
Streets, shops, and sights are covered with Albanian and Kosovo flags. Whereas the Kosovo flag was introduced in collaboration with the UN, the

Albanian flag

expresses the cultural sense of belonging to Albania.
Kosovo is a country still

in process

: politics, trends, projects etc change quickly and it was a fascinating and eye-opening experience to live the political awareness of young Kosovar people like Lavdi from KosovoGirlTravels.
I am also very looking forward to seeing where Kosovo will go in the future: there is so much potential, so many options but on the other hand so many interests, so much history and innumerable cultural/ ethnic discussions that interfere with the constitutional process of a nation. But mostly I am wishing for peace in the region.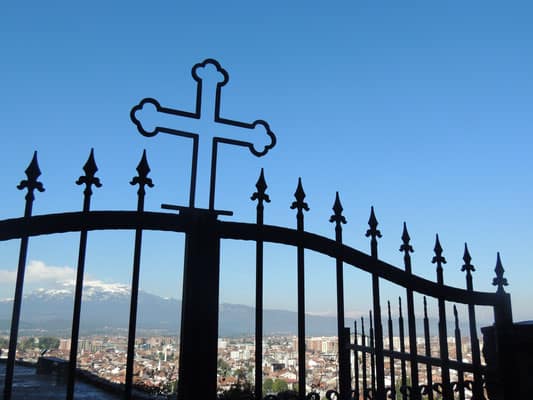 Day 1 – Best Places to Visit in Kosovo: Pristina
Where to stay: Hotel Kika
What to do: Pristina Half-Day Walking Tour or Pristina Full-Day Walking Tour
As it was raining cats and dogs in Pristina with rather chilly temperatures, we had to make a selection of the things that we absolutely wanted to see in Pristina. Pristina can easily be seen in 1 day and all the sights are in walking distance.
Whereas the city may not be the prettiest, it still holds several monuments that have fundamental importance for the becoming and self-conception of Kosovo as a nation. Pristina also has a vibrant nightlife and is there a better way to immerse culturally than by sharing a couple of beers with locals?
Newborn Monument
The Newborn Monument next to the youth stadium, symbol to Kosovo's statement of independence, quickly became one of Pristina's most visited sights. It's nowadays considered one of the best places to visit in Kosovo.
Its design changes every Independence Day (February 17th)
During my visit, the "N" and "W" lay down as acronyms of No Walls. Today, it is also the main ticket selling point for basketball games, probably the most popular sport in Kosovo.
The National Library of Kosovo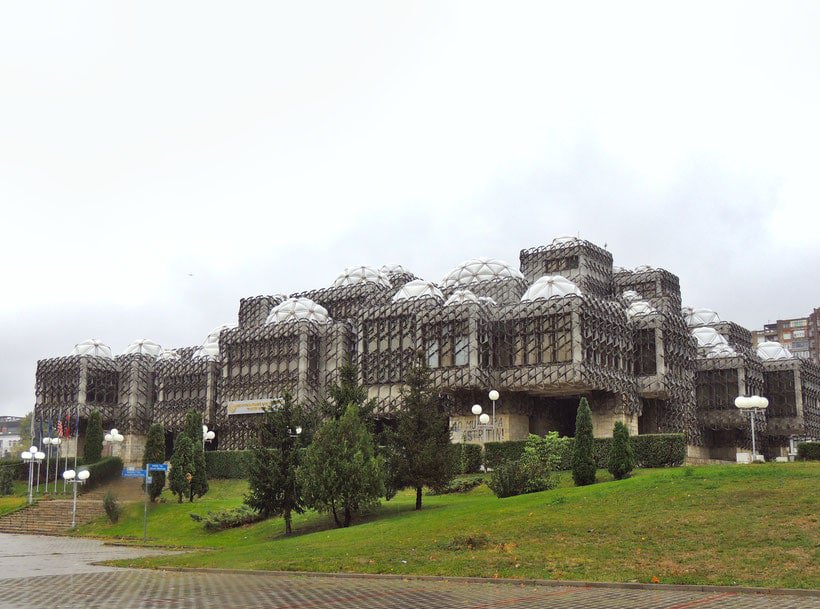 The building of the National Library of Kosovo is probably the most disputed one I have visited for a long time. Whereas some might consider it as an architectural chef-d'oeuvre (like my friend). Others put it on the list of the world's most ugly buildings or ask themselves whether the Croatian architect Andrija Mutnjakovic was on LSD while designing it.
While I am still hesitating between the 2 positions, I can only recommend having a look insight. It's probably when visiting the interior of the Library that you ll acknowledge that architect Andrija Mutnjakovic was a bit more of a genius as you might have initially thought.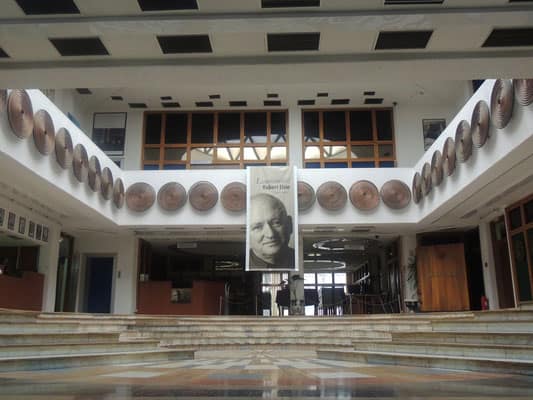 The National Library was inaugurated in 1982 and its space consists of 16.500 square meters with 99 domes of different sizes. It is entirely covered by a metal fishing net.
My favorite part was the lobby of the library. It consists of a unique work of diverse mosaic marbles stones and has a lot of light. If you only have 3 days in Kosovo, this is one of the top places to see in Kosovo.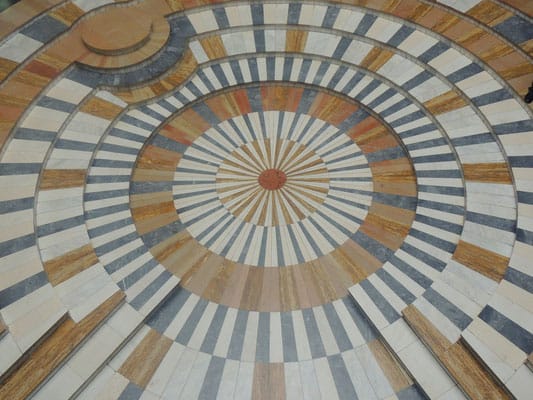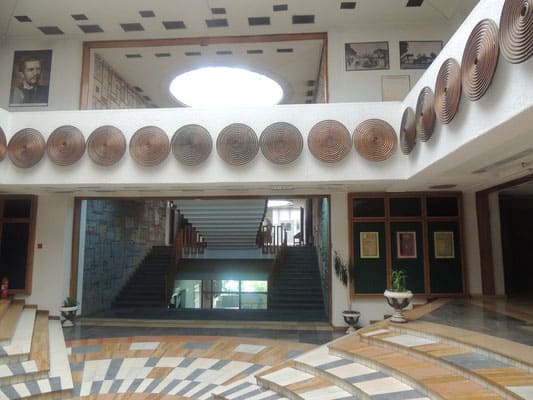 Cathedral of Christ the Saviour
Right next to the National Library of Kosovo you have the Cathedral of Christ the Saviour. The Serbian Orthodox church was started in the '90s but never finished as it was seen as a symbol of the Serbian rule under Milosevic.
It was supposed to be finished in 1999 but the Kosovo War interfered the construction process.
Today there are rumors that the church will be demolished as it is frequently seen as an invasion of the Serbian rule on the ground of Pristina's University.
Cathedral of Saint Mother Teresa
Another 5 minutes' walk from the library, you'll find the impressive Cathedral of Saint Mother Teresa. It is dedicated to the Blessed Mother Teresa, the Albanian Roman Catholic nun, and missionary who later got the Indian citizenship.
The construction of the church was debated by the majoritarian Muslim population in Kosovo as the building seemed too large and outsized for the relatively small Catholic community of Pristina.
It was finally inaugurated in 2010 and the cathedral is now one of Pristina's tallest buildings.
Disregarding the political debate, I found the cathedral a gorgeous attraction to be visited. This site is one of the top places to visit in in Kosovo.
Bazaar of Pristina
By chance, I stumbled upon the bazaar of Pristina. It was probably one of my favorite places that I visited that day in Pristina and I consider it one of the best places to visit in Kosovo.
Despite the pouring rain, market life was quite busy. Here you can get all types of fresh food and vegetables. And man, they really do like peppers here. I've never seen so many peppers in my life!
But on the market you can get much more than only food: you can get countless types of spices, (fake) Adidas, Louis Vuitton or Gucci items, knuckle-dusters and a few Albanian souvenirs.
The atmosphere of Pristina's market is definitely unique and bubbly. It's probably one of the best places to get an insight in Pristina's daily grind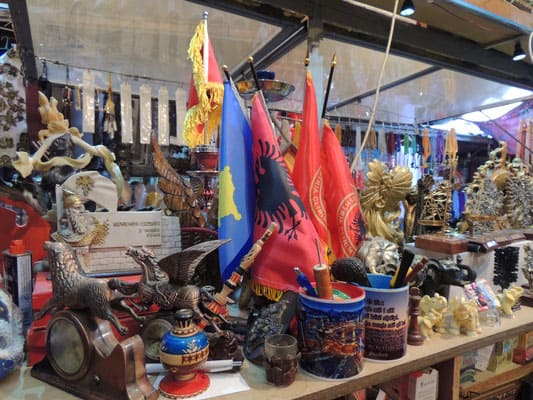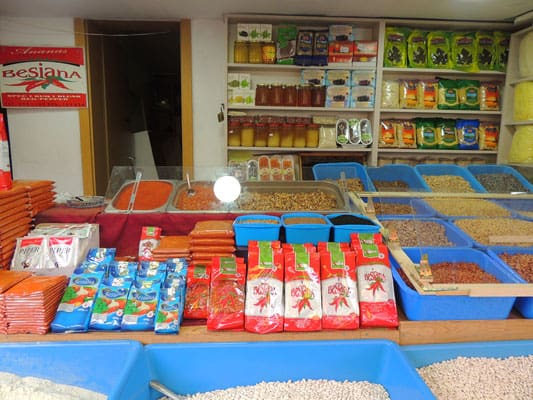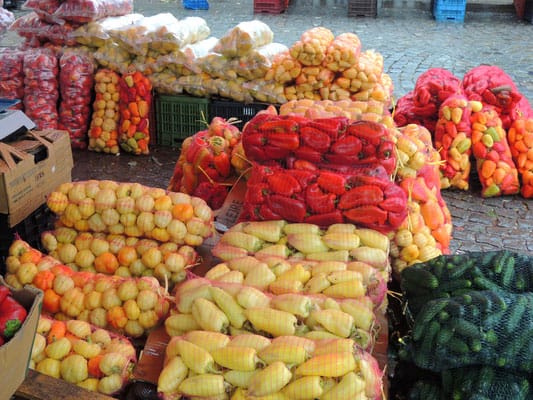 The Imperial Mosque of Pristina
The Imperial Mosque of Pristina is located only a 5 min walk away from the market. It was one of the largest and most eye-catching mosques we've seen in Pristina. And maybe on the entire 3-day trip (except the one in Prizren).
It was built in 1461 by Sultan Mehmet II Fatih and was declared as an exceptional monument of culture.
Whereas I didn't enter, I mostly stood in awe below its beautifully blue painted roof. It was so intricate and I'd love to have a clothing item like a scarf with the same gorgeous motives. If you have 3 days in Kosovo, this is one of the best places to visit in Pristina.
Bill Clinton Statue & Hillary Shop
The Bill Clinton statue located at the Bulevardi Bill Klinton became after the Newborn monument one of the most visited and photographed monuments in Pristina.
The statue is pretty huge and the funniest thing was the "Hillary" fashion store right next to the statue. I just wondered where Monica's lingerie shop is? 😉
Due to Bill Clinton's role in the Kosovo war, he became kind of a national hero in Kosovo where many streets all over the country still have his name. But the 11-foot tall brass statue is definitely the highest monument in Kosovo for the former President of the United States.
Mother Teresa Boulevard
The Mother Teresa Boulevard is the main pedestrian street of Pristina and it is full of restaurants, hotels, and cafés. Walking under the pouring rain, we could only imagine how lively the terraces must be in summer and spring.
It is the best place to watch people and have one of the fabulous Kosovar coffee. It is definitely the place to observe local life.
The Mother Teresa Boulevard has some statues that represent great citizens of the past and other buildings that are essential to the Kosovar self-conception as a nation. Statues include the personalities of Mother Teresa, the most cherished saint in Kosovo and Ibrahim Rugova, first President of the young Kosovar nation.
Shopping in Pristina, Kosovo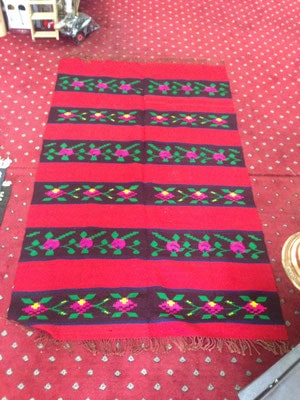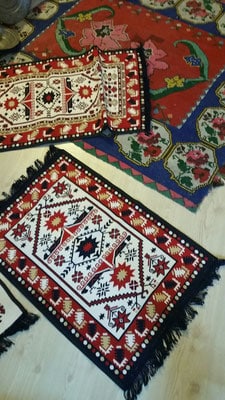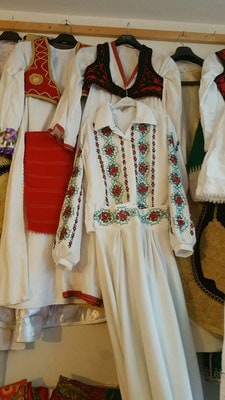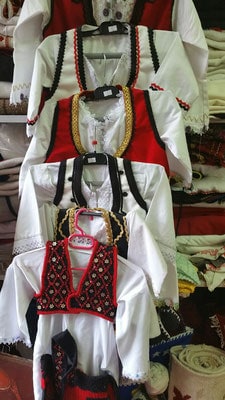 When you are a fan of bright colors and ethnic motives, you'll love to souvenir shopping in Pristina.
Even though there are only a few souvenir shops, they sell great quality and the items are in most cases made in Kosovo or Albania.
My friend couldn't resist getting a carpet, whereas I had to get one of these colorful blouses and a scarf. But it's needless to say that I could have brought an entire suitcase full of artisan souvenirs from Kosovo.
If you are wondering what to do in Kosovo, artisan shopping is one of the best things to do during your 3 days in Kosovo.
Enjoy Pristina's Nightlife
In case you fancy a drink at night, I can recommend Soma with its very hipster and woody interior design and Dit e Nat (as of October 2017). Both bars are symbolic for the energy and vibrancy of the younger Kosovar generation.
Where to eat out in Pristina:
Vila Germia
Country House
Pishat

Bars to hang out in Pristina:
Dit' e Nat'
Cat Cafe
Hamam Bar

---
Day 2 – Best Places to visit in Kosovo: Prizren
Where to stay: Hotel Prizreni ***
How to get from Pristina to Prizren: Bus, 4 €, 2 h – Schedules here
What to do: Kosovo 5-Day Tour

Prizren was my absolute favorite of the 3 cities I visited. Unfortunately, I only stayed 1 night in Prizren, but you can easily extend your stay up to 2 nights or more. The city is absolutely adorable and has a very positive, lively vibe. On top, it is set in a breath-taking mountainous landscape, which makes it an ideal departure point for hikes.
It was definitely the most scenic town I visited during my 3 days in Kosovo.
Prizren is also known as the cultural capital of Kosovo and has the best-preserved historic town center in Kosovo. The town is nestled in the Sharr mountains, along the Bistrica River, and boasts several historical and cultural sights. The impressive Kaljaja fortress is towering above the town of Prizren.
When traveling to Prizen, you should definitely visit the following attractions:
Prizren Fortress (Kalaja)
The fortress is a 20-minutes uphill walk away from the city center of Prizren. The fortress dates back to the 6th century and is open 24 hours a day. It can be visited at no cost.
I really enjoyed the breathtaking views on the historic town of Prizren, its numerous minaret towers and the surrounding mountains.
Hammam of Prizren
The hammam of Prizren can only be visited from the outside. The building consists of several low brick domes built in the early Ottoman-era. It served as a hammam until 1944.
Nowadays, the hammam is a symbol for the cultural heritage of Prizren. It is now considered one of the best places to visit in Kosovo.
Sinan Pasha Mosque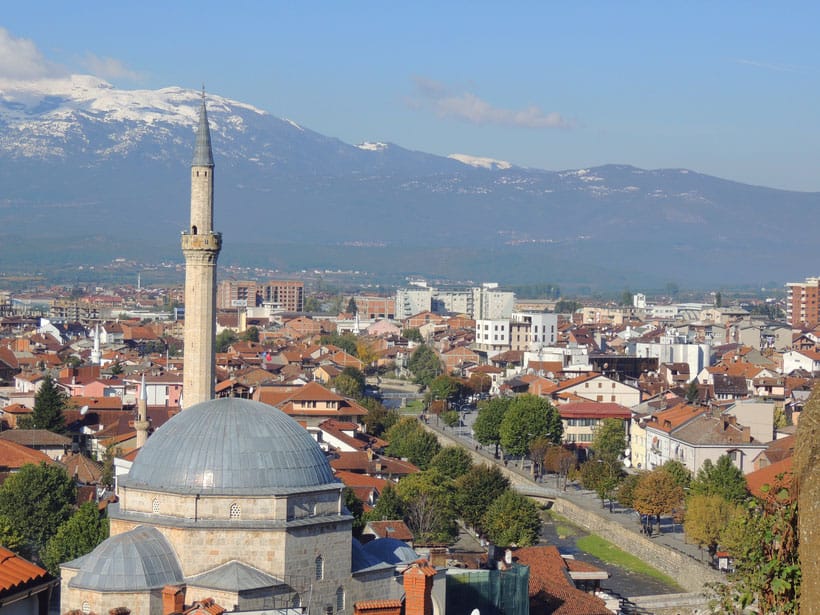 The largest mosque of Prizren is dominating the skyline of the city. The minaret tower is one of the highest buildings in town and the mosque boasts more than 50 windows.
The gorgeous interior will catch your breath as it's adorned by intricate floral paintings. In case you want to visit, please take care to wear appropriate clothes.
Church of Holy Savior
The church of the Holy Savior lies on the way up to the Prizren fortress. It is listed as a cultural monument of major importance.
Unfortunately, it is still closed to visitors as it has been heavily damaged during the 2004 riots.
(*edit: apparently it is now open to visitors and costs 2 €)
Lady of Ljevis
The Serbian Orthodox Church goes back to the 14th century. It was converted into a mosque under the Ottomans and reconverted in a church during the 20th century.
Declared a UNESCO World Heritage Site, it was set on fire during the riots in 2004. The church was still surrounded by a barbed wire during my visit.
Shadervan Square
Prizren's main square is the main center of the town. It's the place where people meet, chat and enjoy a coffee together. The square is surrounded by restaurants and bars.
Eat Out in Prizren
As on the rest of the Balkan, food in Prizren is all about meat! Prices are incredibly cheap and meals tend to be extremely filling. There are many restaurants and eateries in the city center of Prizren selling traditional Kosovarian food.
I decided to have a late lunch in a small eatery near Shadervan square, where they served huge platters with meat. I was lucky and the restaurant also had several vegetarian dishes. You should definitely try the burek as well, a flaky pastry filled with meat, cheese or spinach.
Best Burek: Sarajevo Bar and Aurora
Best Pizza: Vintage Bar
Best Turkish Coffee: Prince Coffee House
Breakfast & Baklava: Missini Sweets
Best Quebapa: Te Syla

Hang out with dogs
I don't really know whether this is a typical thing to do in Prizren, but I found a very loyal friend who followed me the entire day. I was so sad when he suddenly decided to leave me.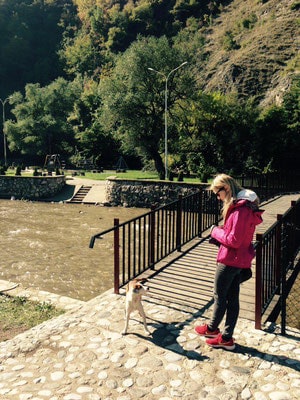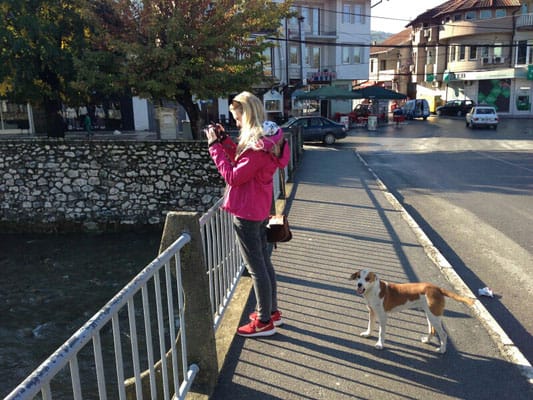 Enjoy Prizren's Nightlife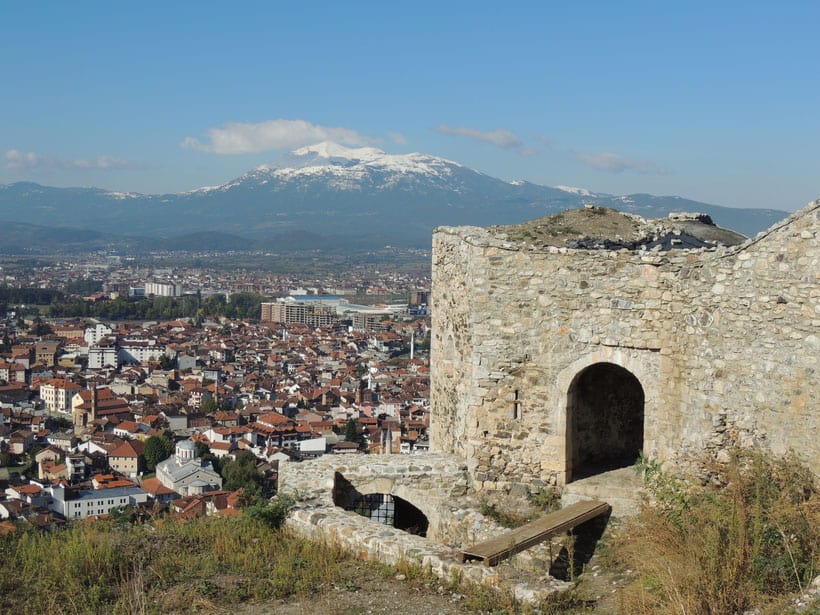 Prizren tends to be quite lively during weekends at night. Prizren's streets invite to stroll around and at night time you should definitely have a couple of beers in Bar Sindicata.
They have live music bands and it was such an enriching experience to mingle with Prizren's youngsters. Other popular bars are My Pub, Scobar or Qarshia.
When spending 3 days in Kosovo, enjoying the nightlife of Prizren is one of the best things to do in Kosovo.
Day 3 – Best Places to visit in Kosovo: Peja and Rugova
Where to stay: Hotel Dukagjini *****
How to get to Peja: By Bus from Pristina or Prizren each way 2h – 4€
Direct buses:
Pristina – 1.5-hour bus ride, €4
Prizren – around 2-hour bus ride
Where to eat: Art+Design (very quirky design)
Since I only had a short afternoon to visit Peja (Pec in Serbian), before getting the last bus back to Pristina, I made a very clear list of the things I wanted to see. Of course, this tight schedule gave me very little time to interact with local people thus I can't really describe Peja's vibe.
The first thing you'll notice is the breath-taking mountainous setting. From every corner in town, you'll admire the mountains which mark the departing point of the famous Rugova Canyon at the foot of Bjeshkët e Nemuna Mountain.
The city of Peja reflects the different styles which ruled Kosovo. The Serbs built some of the most important monasteries in the Orthodox church. Under the Ottoman rule, Peja took on a more oriental character with the construction of narrow streets, old-style Turkish houses, and mosques. There are even traces of the Austro-Hungarian Empire in the early 20th century with impressive buildings in the city center. Finally, you can also spot several massive socialist buildings and apartment blocks.
The majority of Peja's population is ethnic Albanian (90%) and the remaining 10% is comprised of Serbs, Bosniaks, Roma, Ashkali, and Montenegrins.
When visiting Peja, you can't skip the following attractions:
Peja Patriarchate
I absolutely wanted to see the Peja Patriarchate, which UNESCO World heritage. It can be reached by a short hike (30 min) or by taxi (8€ if he needs to wait for you at the monastery).
Although the Serbs are a minority in Peja, The Serbian Orthodox Monastery has been built in the 13th century and it was the spiritual seat and mausoleum of the Serbian Patriarchs and archbishops. Nowadays there are still living 13 nuns which you can see during your visit.
The visit is free, but I recommend to leave a donation for the church. At the entrance of the site, you need to show your passport to Kosovo Police. Until 2013 the area was protected by Kosovo Force.
For me, it was striking to see how protected the area was. It has to be related to the major importance the Monastery and mausoleum has for the Serbian community. It is the largest mausoleum of Serbian religious dignitaries.
The most appealing part of the monastery is its vibrant red church. It consists of 3 churches connected as one, making in 4 in total. This makes the monastery unique in Serbian medieval architecture without mentioning that its mural paintings are some of the most intriguing I've ever seen.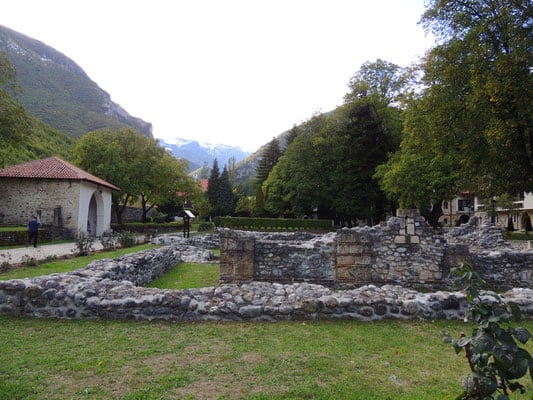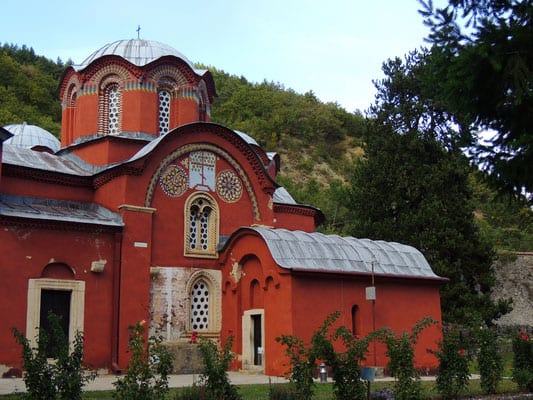 Peja City Center
My guide recommended the city center and its sumptuous pedestrian street as one of the prettiest in Kosovo. Whereas I am used to seeing fashion or souvenir shops in European pedestrian streets, this one was mainly constituted of bars and kebab restaurants.
I wish I would have had more time to relax on one of the numerous terraces. Apparently, in the summer months, the city center of Peja becomes extremely lively.
Old Bazaar of Peja
Peja is famous for its Old Bazaar which ends at the Bajrakli Mosque. The Bazaar contributed a lot to Peja's wealth. Built in the 18th century during the Ottoman Empire, it used to have about 900 craft shops.
Still today, the streets with its characteristic wooden structured houses invite to wander and get some artful souvenirs and local goods in one of the numerous shops.
Peja's historic importance is also marked by the numerous statues of Kosovo's heroes such as Haxhi Zeka.
Outdoor Activities in Rugova Valley
T
his lush natural setting surrounding Peja must be a paradise for adventure and outdoor lovers. Several companies in Peja offer guided hikes, caving, and mountain biking tours. In winter, you can even go skiing! Peja, please let my travel road pass along soon!
In case you plan to visit Peja, you should definitely foresee more than just an afternoon. I´m still regretting that I couldn't stay longer.
Nowadays, Rugova is considered one of the best places to visit in Kosovo as it is a natural outdoor paradise.
Book here your outdoor activity in Rugova Valley.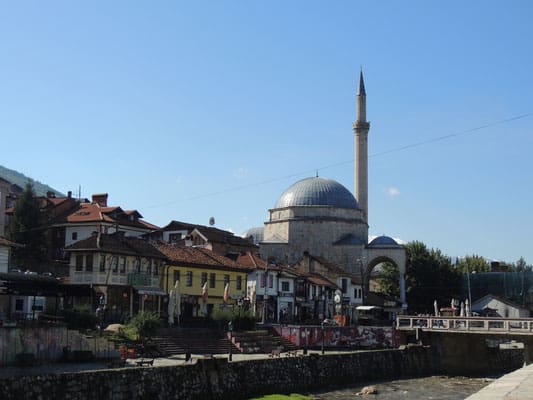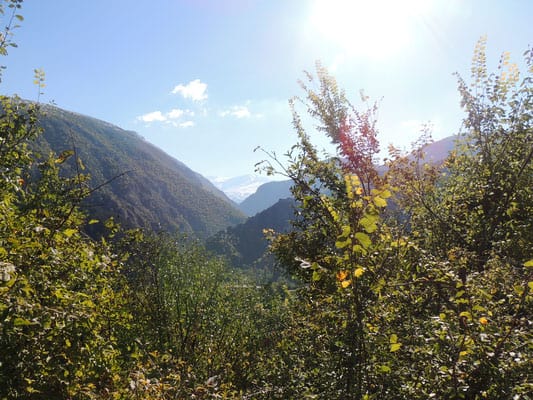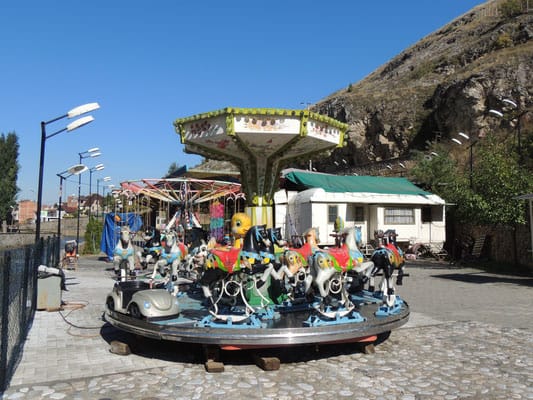 ---
I hope this guide gives you a quick overview of the things you should absolutely include in your 3 days in Kosovo. Of course, you can stay much longer (I totally encourage you to do so) in this beautiful country than only 3 days. In case you want to visit Kosovo for a longer period, I recommend the 5-Day Discover Kosovo Tour.
Kosovo will be a country that will definitely mark you. And once there, you won't get enough of its fascinating cultural, architectural and natural variety.
Have you been to Kosovo? What have been your favorites? What would you include in this 3-Day Itinerary? I can't wait to read your recommendations in the comment form.
---
Where to Stay in Kosovo
---
Map: Highlights of Kosovo Itinerary
---
---
what-to-do-in-kosovo-a-selection-of-best-things-to-do-and-places-to-visit-in-kosovo-in-a-3-day-travel-itinerary-including-pristina-peja-prizren-map-hotels-kosovo-pristina-balkan-prizren.png
what-to-do-in-kosovo-a-selection-of-best-things-to-do-and-places-to-visit-in-kosovo-in-a-3-day-travel-itinerary-including-pristina-peja-prizren-map-hotels-kosovo-pristina-balkan-prizren.png
---
Before You Go: Top Tips for your Trip
***
In order to get more information on tourism in Kosovo, I recommend the site of Kosovo-Info.
---