Visit Bosnia: Best Day Trips from Tuzla
After buying impulsively the cheapest ticket to wherever, I landed in
Tuzla, Bosnia.
Hooryah
, yet another unknown country to explore! …and a shiny new stamp in my passport. It was the last weekend before I started working full-time, thus I had no criteria where to head. All I wanted to do was go explore.
Thanks to low-cost airlines connecting the Balkans with Western Europe, traveling to Eastern Europe has become very affordable. Even though most travellers only fly to Tuzla airport to continue their journey to Mostar or Sarajevo,
I went for the slow-travel option and stayed 4 days in Tuzla, Bosnia.
After discovering the quaint city center and the only Salty Lakes in Europe, it was time to go on daytrips near Tuzla.
I hope you're ready for majestic castles and enchanting lakes!
Bosnia is one of the most promising travel destinations on the European continent. It has breathtaking nature, a incredibly rich history and some of the highest growth rates in tourism of the world. Thus definitely a travel destination that you should keep an eye on!
Of course, I got to hear the usual stuff that every girl must be used to hear when they announce that they are going to travel solo to the Balkans. Stuff ranging from "Why don't you just go and kill yourself directly?" to "They grab your organs and sell them on the black market!", or "Is Bosnia already out of war?" (I am not making up any of these!)
So first things first, I am back home safe. With all my organs.
Tuzla Airport Transfers
Most visitors fly to Tuzla airport due to the low airline fares and good public transport connections from Tuzla city to Sarajevo or the rest of the Balkans.
Despite reading in many forums and travel blogs that Tuzla can be seen in half an hour, I decided to give it a shot. Where else could you make a better first experience about traveling to Bosnia than in a small, non touristy town?
Let me share with you how you can make the most of your stay in Tuzla, Bosnia by organizing day trips. Some of these sites can be visited separately, however, you can also combine them and see some of them in 1 day.
It's thus totally worth to stay longer in Tuzla and explore the non-touristy side of Northeastern Bosnia.
Find all locations in a map at the end of the post!
---
General Info
Geographic situation: Tuzla is located in the northeastern part of Bosnia and is the third largest city of Bosnia and Herzegovina.
Language: Bosnian. Limited English is spoken.
Currency: BAM (convertible mark), EUR is accepted in most shops
How to get there:
Activities: Industrial sector, Bosnia's educational center, tourism
---
Where to stay in Tuzla, Bosnia
Where to eat in Tuzla, Bosnia
Eating Out in Tuzla, Bosnia
Limenka
Makedonka
Heartland
Cafeteria Intermezzo (for coffee & sweets)
What to eat in Tuzla, Bosnia
Cevapi (oblong-shaped kebabs from lamb and beef served in pita bread with raw onions + yoghurt)
Burek (flaky pastry with a meat, cheese, or spinach filling)
Baklava (treat made from sheets of filo pastry with nuts, syrup and honey)
Note on Traveling to Bosnia as Solo Female Traveller
All in all I really enjoyed my stay in Tuzla. Although you have to be careful who you trust and some will only see you as a wallet with 2 legs, my general opinion about the Bosnian people I met is extremely positive.
This opinion is based upon being fortunate to have a close Bosnian friend living in Tenerife who had already introduced me to the legendary Bosnian hospitality and coffee culture, and on the several interactions I had with with Bosnian people during my stay in Tuzla.
They were absolutely warm-hearted, so generous and passionate about showing foreigners their country and culture. I felt like a privileged guest during the entire stay in Tuzla, Bosnia.
---
Short History of Tuzla, Bosnia
Being the third largest city of Bosnia and Herzegovina and an administrative center, Tuzla has a long history.
The history of Tuzla goes back to the 9th century, but the modern part of Tuzla dates back to 1510 when the town became an important garrison under the Ottoman Empire.
During the Bosnian war, Tuzla was the only town that was not governed by nationalist authorities. After declaring its independence, the town was attacked by Serbian forces and was not spared the atrocities that characterized this war. On May 25th 1995, 71 people were killed and 200 injured people were injured during the Tuzla massacre. You can still see some traces of this brutal war while visiting the old town of Tuzla.
During the war, Tuzla managed to remain one of the most multicultural cities in Bosnia with Bosniaks, Serbs, Croats and Bosnian Jews living in Tuzla. Tuzla also developed an important touristic activity due to the 35.000 people visiting the only salty lakes on the European continent.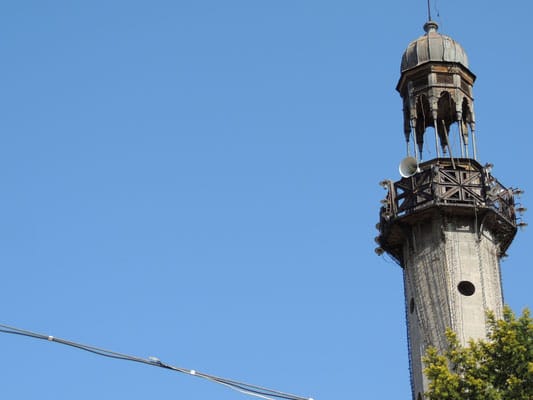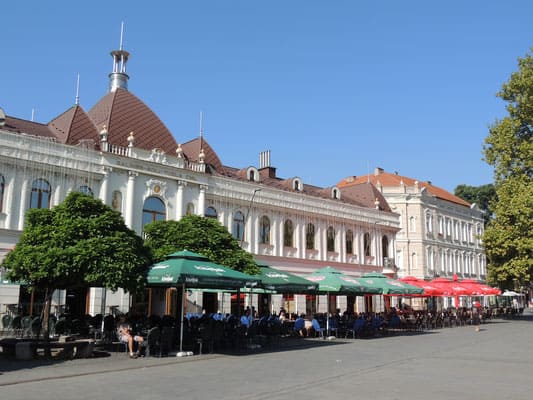 Day Trips from Tuzla, Bosnia
1. Srebrenik and Medieval Castle
Srebrenik is a little town located in the north of
Tuzla
. It's about a 30 min drive away. It's a scenic little town where you can witness remains of the
Ottoman and Austro-Hungarian rule.
The castle is a must on any
Balkan Tour
.
While the city center might not be too interesting, its prominent highlight can be found a 20 min drive away from the city center of Srebrenik: the majestic and dramatic Srebrenik Fortress (Stari Grad)
Bosnia's best-preserved medieval castle dates back to 1333 and was occupied by the first king of Bosnia and has been abandoned since 1378. The fortress is located on an isolated rock which made it well-fortified in the past. Today, visitors can access the castle by a bridge.
The setting is dramatic with breathtaking views over the countryside. And honestly, it looked like straight from a Games of Thrones episode…
When approaching the castle, make sure to stop from time to time in order to appreciate the beautiful views on the castle itself.
The entrance fee is 2km (1€) and totally worth for its panoramic views on the breathtaking mountain landscape.
There is no transport connection to the castle and I recommend to rent a car.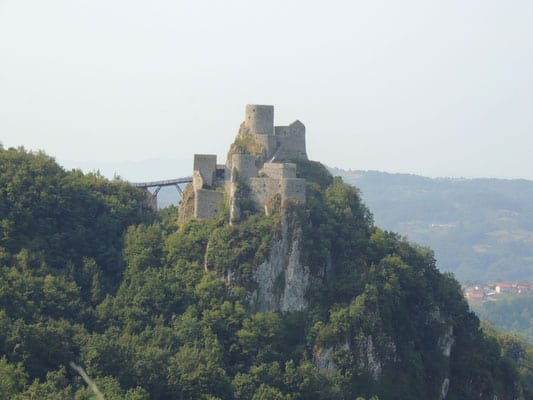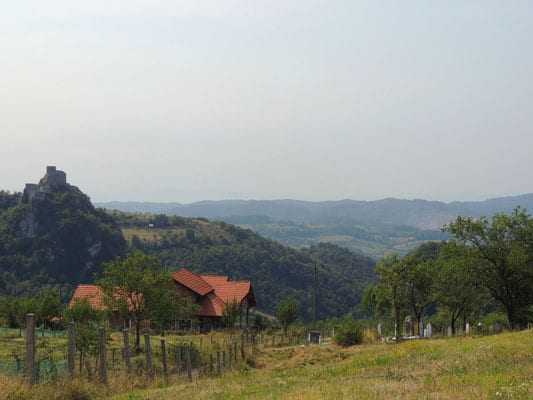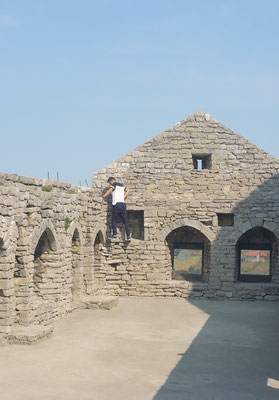 2. Gradacac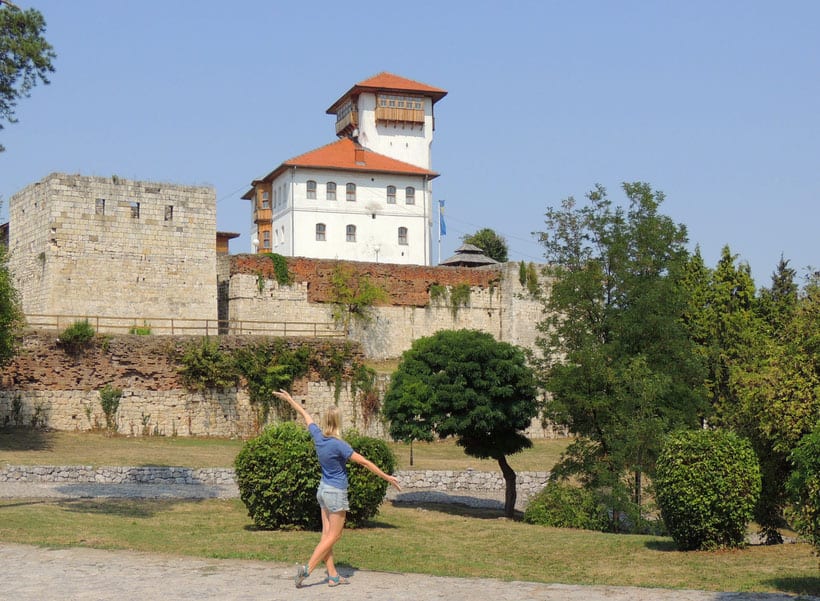 The beautiful town of Gradacac is about 30 min driving from Srebrenik. Also here, a majestic castle is the most eye-catching sight of this little town: the Gradacac castle.
The castle is surrounded by a 18m high fort built between 1765 and 1821, but its prominent white tower is the most eye-catching attraction. The town and the castle have a major importance for the Bosnian history as the general from Gradacac rallied the Bosnians against the Turkish occupation and drove the Ottomans out to Kosovo. That's how he assured Bosnia's soverignity for the coming year.
With its white house front, wooden balconies, an impressive fortification wall and a beautiful mosque right next to it, Gradacac fortress is an extremely popular motive for painters and photographers alike.
The castle is impeccably maintained and hosts a museum, a healthy, local snack bar with fresh juices and a small souvenir shop. The bar also serves coffee in the traditional Bosnian way.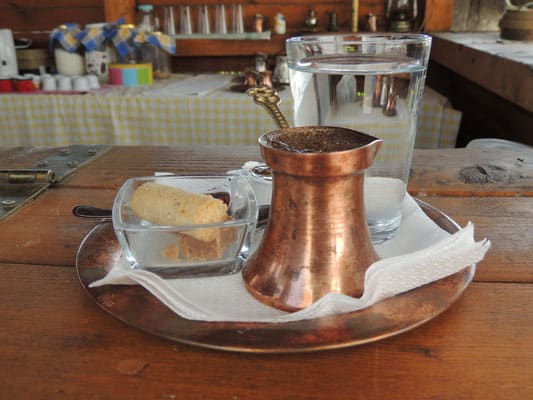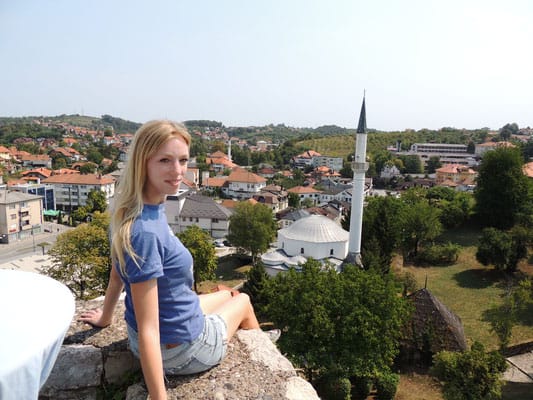 Drinking coffee is a real institution in Bosnia: taking a coffee can sometimes last an hour, even if the traditional mugs are not bigger than an eggcup. The souvenir shop of the fortress is one of the few pretty souvenir shops that I saw during my stay in Tuzla.
When you walk down the little paved way to the main city square, you'll end up in front of the grave of warrior Husein Kapetan Gradascevic who was ruling during Ottoman times and bargained for more autonomy, self-rule and land rights.
It's well worth to have a short walk through the little town, although it's mostly motivated by getting the best shot of the mosque and fortress together.
In case you're (still) not saturated with historic monuments, then head to the impressive monument to the victims of the Bosnian war which is right below of the fortress.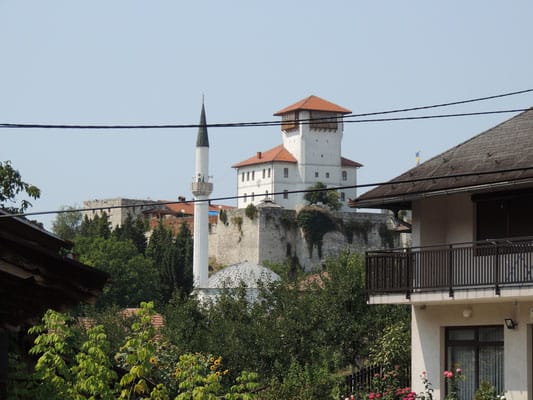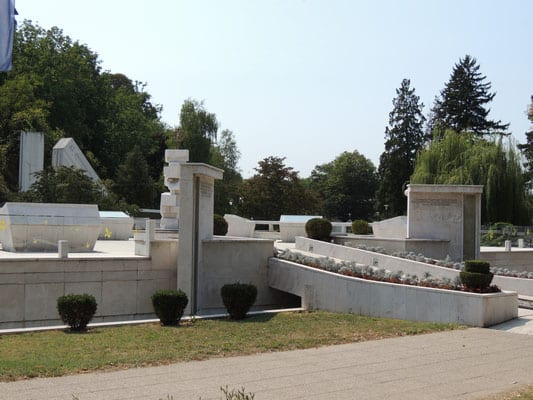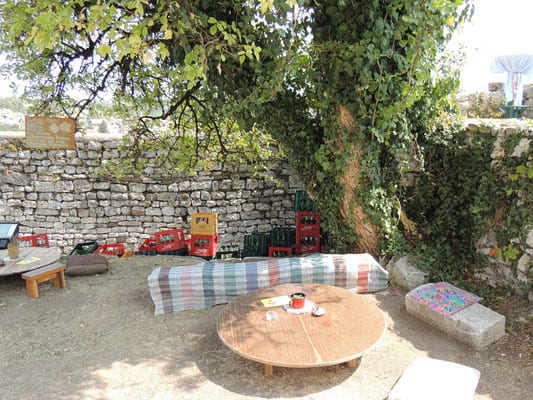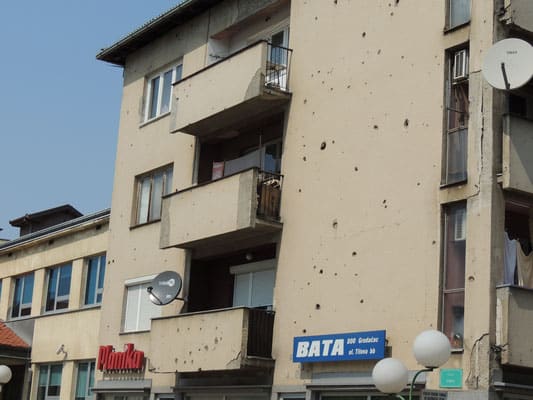 3. Kop Lakes
Kop Lake is a popular destination for weekenders and fishermen.
People from Tuzla and surroundings love to hang out here with friends and family listening to nostalgic Balkan music and preparing delicious barbecues.
Unfortunately you can't swim in it, but therefore you'll have some scenic vistas on the Bosnian landscape.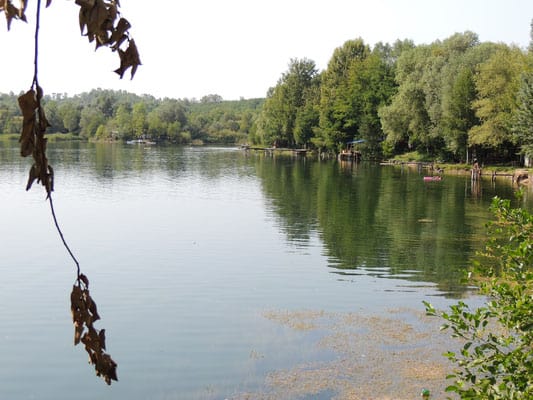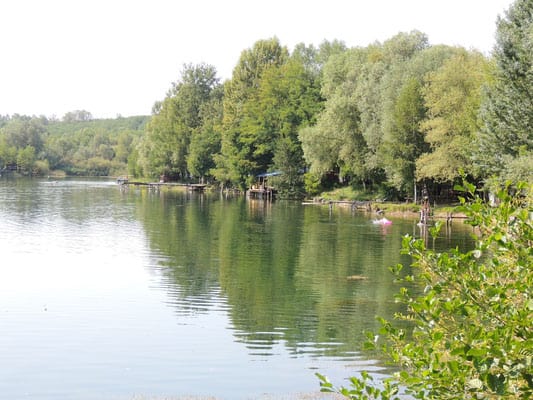 4. Modrac Lake
Another coveted weekend trip destination is the Modrac lake. This artificial lake is located close to the municipality of Lukavac.
As the lakes hosts many different kinds of fishes, it became a hotspot for fishermen.
For a long time Modrac Lake was used as a garbage deposit and after a bacterial pollution, I would no recommend to swim in the lake. However the natural surroundings are beautiful and I can only recommend to visit.
5. Sarajevo and Mostar
Tuzla Airport has become the gateway to travel the Western Balkan. Thanks to cheap flight rates, Bosnia has become a very affordable travel destination.
Sarajevo and Mostar are must-visits when traveling to Bosnia. Both cities can be easily reached from Tuzla.
Unfortunately I couldn't visit Sarajevo or Mostar. But after getting an idea of Bosnia's beauty, I can't wait to be back and explore Bosnia's more touristy side.
How to get to Mostar: Direct Transfer from Tuzla Airport to Mostar
How to get to Sarajevo: By Public Bus from Tuzla bus station – Book here your tour to Sarajevo.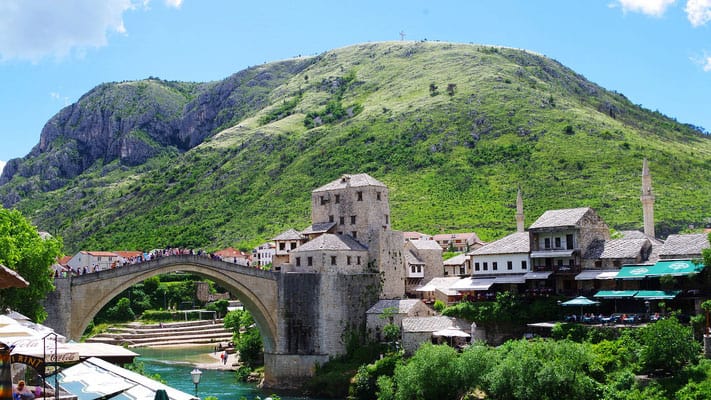 ---
I hope some of these, admittedly very personal, highlights of my visit to Tuzla, Bosnia and surroundings could convince you to include the beautiful north in your travel plans.
Have you been in Tuzla, Bosnia? Did you enjoy it? I would love to hear about the things you loved (or loved less) in the comment form.
---
Map: Day Trips from Tuzla, Bosnia
---
Before You Go: Top Tips for your Trip
***
In order to get more information on tourism in Tuzla, I recommend the site of BHTourism, Tuzla
---
---