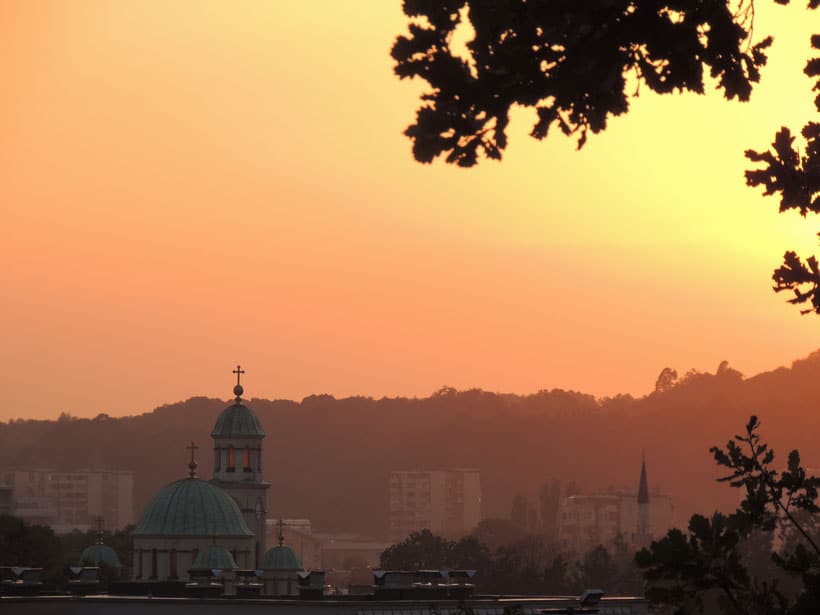 Shame on me: this post comes with more than 1 year of delay! In August 2017, I had to do it again: buy the cheapest flight ticket to wherever and
go explore.
This time it was the turn of
Tuzla in Bosnia
. Thanks to low-cost airlines connecting the Balkans with Western Europe, traveling to Eastern Europe has become very affordable.
As I was about to start working full-time again in September 2017, I wanted to make the most out of my "last" long weekend.
Of course, I got to hear the usual stuff that every girl must be used to hear when they announce that they are going to travel solo to the Balkans. Stuff ranging from "Why don't you just go and kill yourself directly?" to "They grab your organs and sell them on the black market!", or "Is Bosnia already out of war?" (I am not making up any of these!)
So first things first, I am back home safe. With all my organs.
And secondly, here's a full guide on what to see and what to do in Tuzla, Bosnia
Bosnia is one of the most promising travel destinations on the European continent. It has breathtaking nature, a incredibly rich history and some of the highest growth rates in tourism of the world. Thus definitely a travel destination that you should keep an eye on!
Most visitors fly to Tuzla airport due to the low airline fares and good public transport connections from Tuzla city to Sarajevo or the rest of the Balkans. As I am a big fan of traveling slow and only had 4 days to spend in Bosnia, I decided to stay the entire 4 days in Tuzla.
Despite reading in many forums and travel blogs that Tuzla can be seen in half an hour, I decided to give it a shot. Where else could you make a better first experience about traveling to Bosnia than in a small, non touristy town?
Let me share with you how you can make the most of your stay in Tuzla, Bosnia and why it's totally worth to stay more than only one day.
Check the best low cost flights to Tuzla
Find all locations in a map at the end of the post!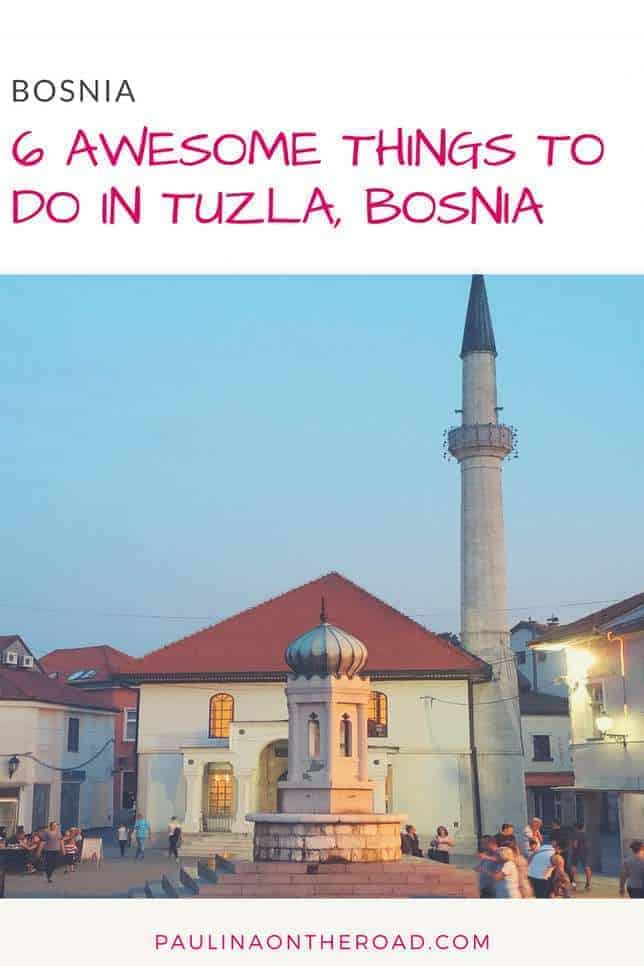 ---
General Info
Geographic situation: Tuzla is located in the northeastern part of Bosnia and is the third largest city of Bosnia and Herzegovina.
Language: Bosnian. Limited English is spoken.
Currency: BAM (convertible mark), EUR is accepted in most shops
How to get there:
Activities: Industrial sector, Bosnia's educational center, tourism
---
Best Hotels in Tuzla, Bosnia
Where to eat in Tuzla, Bosnia
Eating Out in Tuzla, Bosnia
Limenka
Makedonka
Heartland
Cafeteria Intermezzo (for coffee & sweets)
What to eat in Tuzla, Bosnia
Cevapi (oblong-shaped kebabs from lamb and beef served in pita bread with raw onions + yogurt)
Burek (flaky pastry with a meat, cheese, or spinach filling)
Baklava (a treat made from sheets of filo pastry with nuts, syrup and honey)
---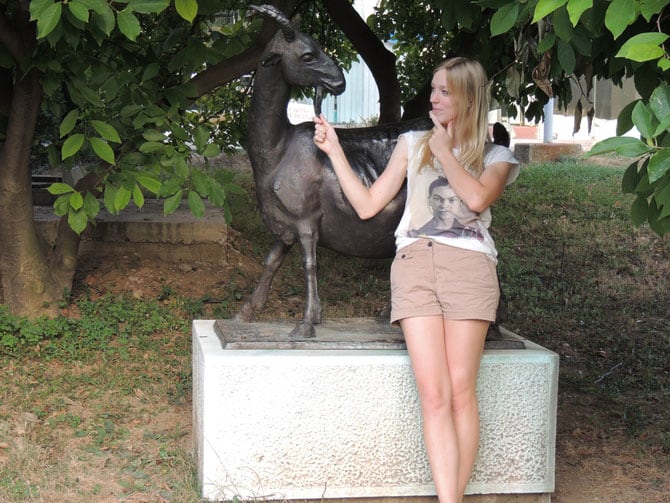 Note on Traveling to Bosnia as Solo Female Traveller
All in all I really enjoyed my stay in Tuzla. Although you have to be careful who you trust and some will only see you as a wallet with 2 legs, my general opinion about the Bosnian people I met is extremely positive.
This opinion is based upon being fortunate to have a close Bosnian friend living in Tenerife who had already introduced me to the legendary Bosnian hospitality and coffee culture, and on the several interactions I had with with Bosnian people during my stay in Tuzla. They were absolutely warm-hearted, so generous and passionate about showing foreigners their country and culture. I felt like a privileged guest during the entire stay in Tuzla, Bosnia.
---
Short History of Tuzla, Bosnia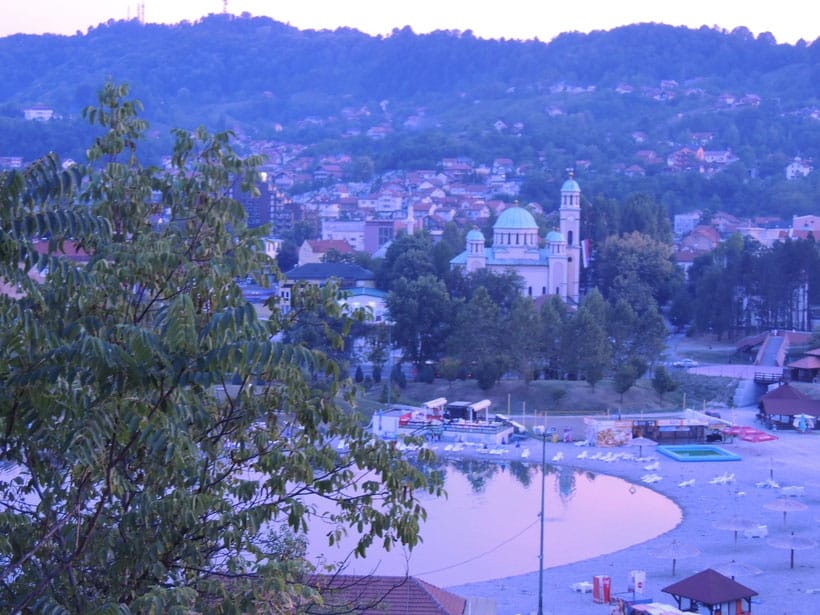 Tuzla has a long and agitated history. Tuzla is the third largest city of Bosnia and Herzegovina and the administrative center of Tuzla Canton of the Federation of Bosnia and Herzegovina.
The history of Tuzla goes back to the 9th century, but the modern part of Tuzla dates back to 1510 when the town became an important garrison under the Ottoman Empire.
During the Bosnian war, Tuzla was the only town that was not governed by nationalist authorities. After declaring its independence, the town was attacked by Serbian forces and was not spared the atrocities that characterized this war.
On May 25th 1995, 71 people were killed and 200 injured people were injured during the Tuzla massacre. You can still see some traces of this brutal war while visiting the old town of Tuzla.
During the war, Tuzla managed to remain one of the most multicultural cities in Bosnia with Bosniaks, Serbs, Croats and Bosnian Jews living in Tuzla. Tuzla also developed an important touristic activity due to the 35.000 people visiting the only salty lakes on the European continent.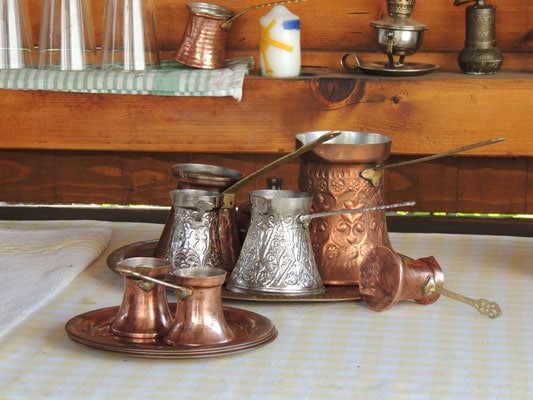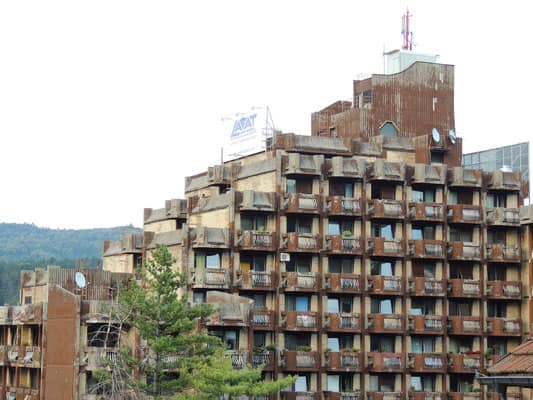 Things To Do in Tuzla, Bosnia
1. Tuzla Old Town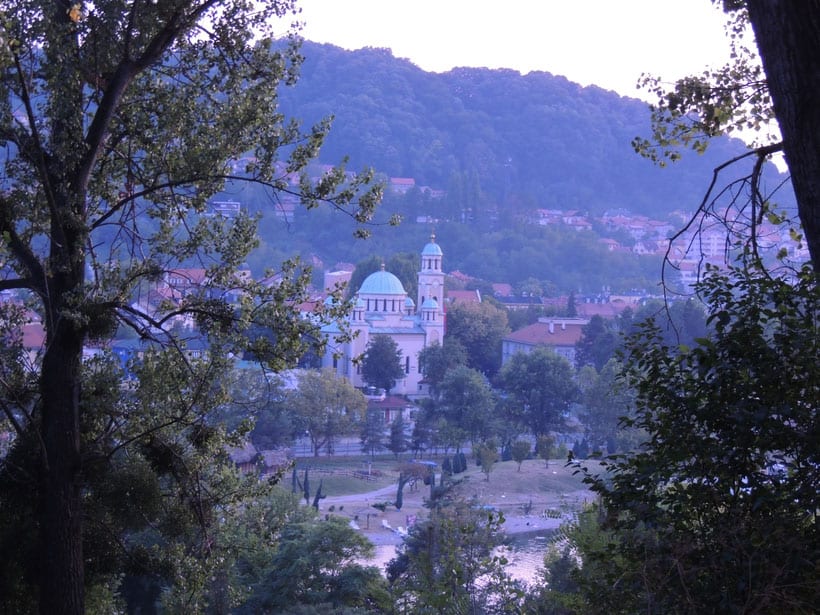 The city center of Tuzla is, along with the Pannonian Lakes, the prettiest area of Tuzla. You can explore it in 2-3 hours by strolling through its narrow streets.
The town has many quaint shops and not to mention that most things are very cheap for West European travellers. Beautiful Austro-Hungarian house fronts add a lot of pastel color to the old town
I also enjoyed Tuzla's numerous terraces which were almost full even in the early morning.
In the summer months, when temperatures cool down, the Freedom Square is the favorite meeting point for every generation. It is by the way one of the largest in entire Bosnia.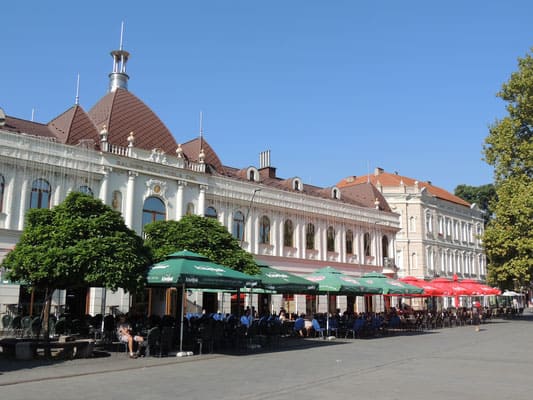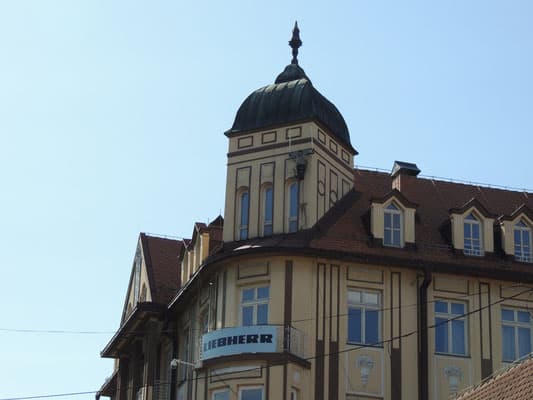 ---
---
2. Mosques of Tuzla, Bosnia
I developed a special affection for the mosques (džamija) of Tuzla. So far I have only visited 3 Muslim countries, but the mosques of Tuzla with in front of lush green nature were certainly a highlight. Tuzla is mostly Muslim but the cityscape is shaped by both orthodox churches and mosques.
Tuzla has about 45 mosques. You can differentiate 2 styles: the ones with a tall, narrow white tower and the ones with a wide, dark wooden tower.
The prayer (for me comparable to a chant) of the Muezzin gives Tuzla a very particular charm, which can certainly be found in many other Bosnian towns. As it was the first time for me, I was listening to the "chant" of the Muezzin which carried me away.
One of the most important mosques of Tuzla is the Turalibeg Mosque named after the urban development planner in the 16th century. With its stone minaret and pyramid-shaped roof, the mosque is unique in Bosnia and the Islamic world.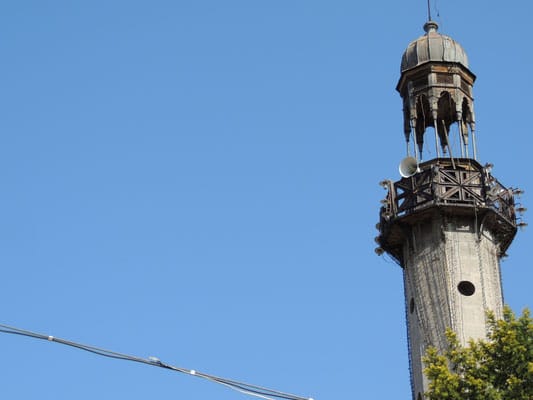 3. Pannonian Salty Lakes
The real highlight of Tuzla are the only salty lakes on the European continent.
The Salty Lakes are a refreshing place for people from Tuzla and its surroundings. It's extremely popular during the hot summer months. I was told that on weekends there can be up to 10.000 people looking to get an refreshment from the Balkanic heat.
Altogether there are 3 different lakes: the main lake, Pannonica has beaches and a series of cascades and swimming areas. There are restaurants and cafés closeby.
Salt water is said to have curative effects and I have to confirm that all my little scratches and minor eczemas healed very quickly after visiting the salty lakes of Tuzla.
The history of Tuzla has always been closely tied to its salt resources. Even the Greek were aware of the region's salt. However Tuzla received its name much later: the name is derived from the Turkish word Tuz, meaning salt. The first Ottoman document recording the exploitation of Tuzla's saltwater springs dates from 1548.
Useful Info
Entrance fee is 5km (2.50€) and be extremely careful with your belongings.
There are showers, bathrooms and restaurants for your convenience.
Opening Hours: 8am-8pm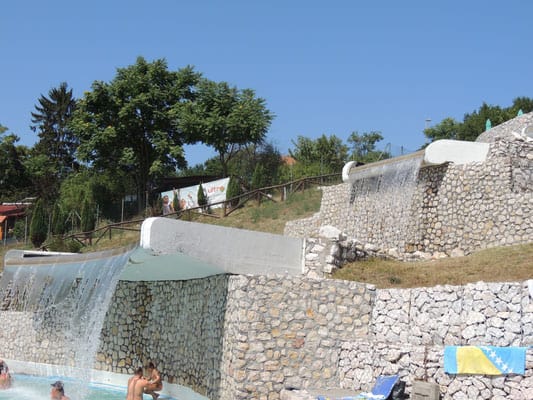 4. Bosnian War and Historic Memorials in Slana Banja Park
The Pannonian Lakes are located close to the Slana Banja park which is home to some of Tuzla's most important historical monuments. Nowadays it is one of the most important memorial complexes in Bosnia.
It was built in socialist times, initially as a memorial cemetery to fallen Second World War partisans. Lateron it was enriched with dozens of smaller and larger memorials.
The most prominent one is the memorial of massacre of 72 young Bosnian men from Tuzla in 1995. The initial burial site of the killed people was made into a memorial cemetery. Another memorial is dedicated to the fallen soldiers of Tuzla in the 1992-95 war.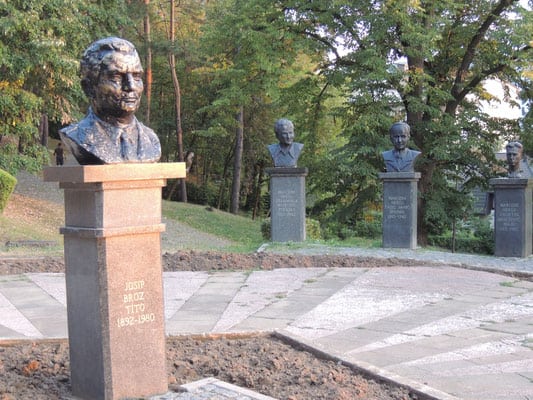 The May 1995 massacre was and still is the local community's most traumatic moment in recent history.
During my visit I unwillingly became a witness of a mid-aged couple crying on the tomb of their beloved one. It was a marking experience that exemplifies how traumatic the Bosnian war was and that war wounds still hurt many years after a war is over.
In its importance, the Bosnian war memorial is followed by the monument to Tito surrounded by statues of his most important partisans and socialist regime heroes.
Despite the serious historical importance of the Slana Banja heritage sites, the memorial complex became very pleasant environment for the recreation of Tuzla citizens and visitors.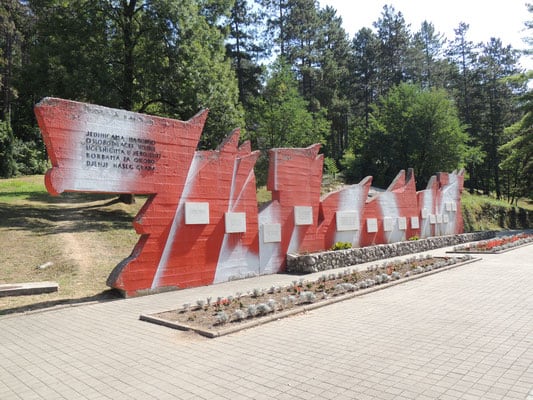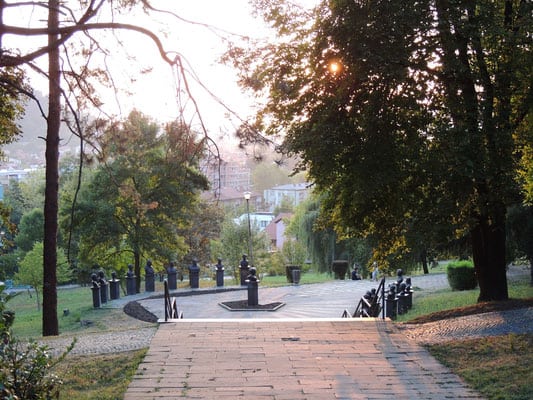 5. Community Center Kuca Plamena Mira
The Community Center Kuća plamena mira located in the heart of the Slana Banja memorial complex constitutes a positive and creative counterpart to all the historic monuments commemorating the tragic history of Bosnia.
The Community Center Kuća plamena mira is a place of the "new" Bosnia where creative youngsters are practising their instrument, festivals and expositions are held and much more.
Its colourful interior design and innovative architecture lure every visitor.
Make sure to have a glimpse inside of this eye-catching building as its mosaics are some of the most vibrant I've seen in a long time.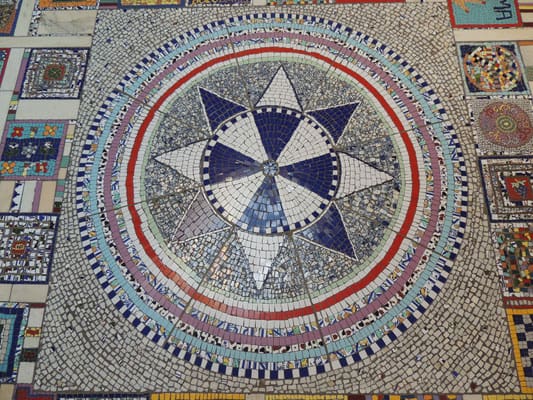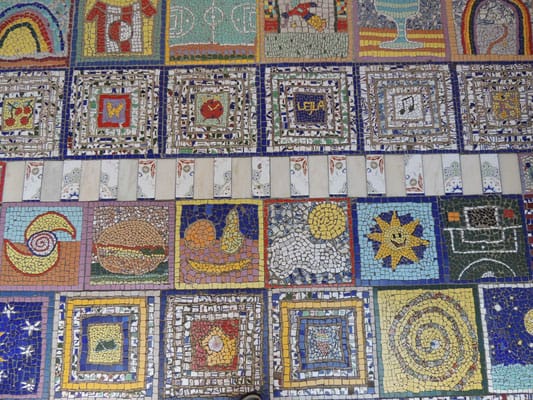 ---
---
6. Photo Tour Tuzla
I have to admit that after 1 day in Tuzla, I thought that I had seen it all. The outskirts of the city center didn't really call my attention. Fortunately my host Kenan from Pension Keny (Sobe Jana) convinced me to join him on a Photo Tour of Tuzla.
Through this tour I was allowed to see the hidden gems of Tuzla and really started appreciating a longer stay in this town. Some of these gems were the Saint George Serbian Orthodox Church, the river walk and the monument to the goat in front of Hotel Tuzla.
The goat is the symbol of Tuzla in the Middle Ages. There's an old saying that the whole Tuzla was being fed from cheese and milk from one goat and it saved the people of Tuzla from starvation.
Please let me share with you some of the most photogenic spots in Tuzla, Bosnia.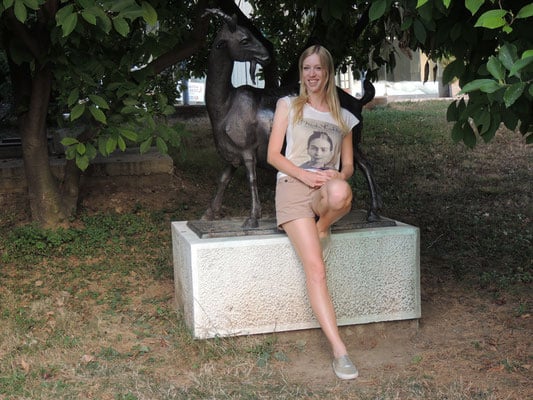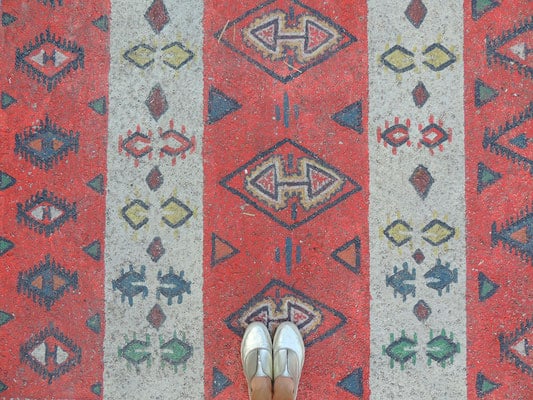 ---
I hope some of these, admittedly very personal, highlights of my visit to Tuzla, Bosnia could convince you to include the beautiful north in your travel plans.
Read also about the Best Day Trips from Tuzla, Bosnia
Have you been in Tuzla, Bosnia? Did you enjoy it? I would love to hear about the things you loved (or loved less) in the comment form.
---
Map: Highlights of Tuzla, Bosnia
---
Before You Go: Top Tips for your Trip
***
In order to get more information on tourism in Tuzla, Bosnia, I recommend the site of BHTourism, Tuzla
---
---