Trinidad & Tobago: 12 Fun Things To Do in Trinidad Island
Travel guide to all the best things to see and do on Trinidad Island, Trinidad and Tobago
One of the most fascinating and surprising countries that I've visited on my boat-hitchhiking trip across the Atlantic was definitely Trinidad and Tobago. I immediately fell in love with the combination of the Caribbean lifestyle, Indian heritage, and European legacy.
There were so many amazing and fun things to do in Trinidad and Tobago. For a second, I could even imagine to live & work here for a longer time. If I could, I might just move there and start a Trinidad and Tobago travel blog!
What is it that makes Trinidad and Tobago so irresistible but still a not so known travel destination?
Read on why you should definitely include a visit to Trinidad island of the 2-island state in your upcoming travel plans.
Trinidad & Tobago consists of 2 islands and I only got to visit the main, larger one: Trinidad which holds the capital Port of Spain and the business hub of the country. Many travelers overlook Trinidad island and head straight to Tobago because of its paradisiac beaches.
But there are so many places in Trinidad to visit that skipping it is a mistake!
Thanks to affiliate links, I pay my bills. If you make a purchase through them, I may receive a small commission (for which I'm deeply grateful) at no cost to you. All opinions are always mine. Merci!
Useful Travel Information About Trinidad Island
✈ Book cheap flights to Trinidad with Skyscanner or Kayak

✔ Book tours in Trinidad with GetYourGuide

➳ Find the best hotels in Trinidad with TripAdvisor

❖ Rent a car with the best discounts with DiscoverCars

☘ Get the best discounted outdoor gear (outlet) at REI.com

✎ Never leave without travel insurance. I get mine at SafetyWing. It is easy to set up, cheap and reliable.

$ Withdraw money without hidden fees and avoid exchange rates with Revolut (you'll get a free card on top!)

⚘ Get a travel guide in order to prepare your trip. I recommend the Lonely Planet (get a 10% discount with the code "PAULINA10")
---
What is the Best Time to Visit Trinidad?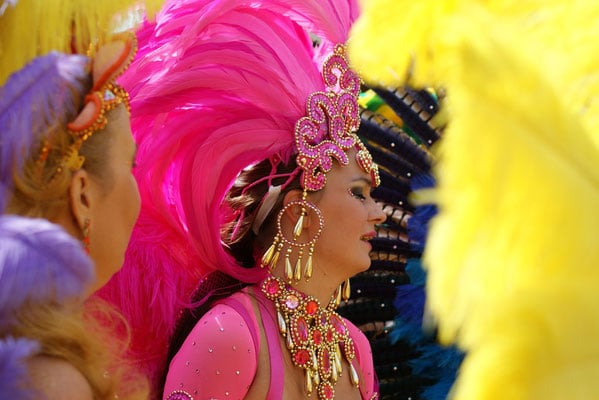 It is best to visit Trinidad between January and May as the weather is perfect, not too hot and little rain. January is also the start of Carnival season, which is definitely worth experiencing.
From June to December it is rainy season. However, this does mean hotel rates are cheaper.
Also, in September there is the 'petit carem' – a period of clear blue skies and bright sunshine. So if September is when you are planning your Trinidad and Tobago visit, there should still be a pleasant period.
Fortunately, despite any rain you might face, every night in the Trinidad and Tobago islands is warm all year round.
---
Where to stay in Trinidad, Trinidad & Tobago
Budget
Hotel Normandie Limited ***
Inn at 87 ***
Culture Crossroads Inn ***
Mid-Range
Trinidad Gingerbread House
Kapok Hotel ***
Courtyard by Marriott Port of Spain ***
Luxury
Hyatt Regency Trinidad ****
Hilton Trinidad & Conference Centre ****
How Trinidad is different from Tobago?
However, both islands couldn't be more different:
Trinidad island is all about executive business, the oil industry and the language strongly vary between the 2 islands.
Trinidad island is a real cultural melting pot due to historical upbringings and heritages. One-third of its population is Hindu. You'll find hundreds of Hindu temples and mosques along the roads, right next to churches.
Tobago is mostly Christian and famous for its pristine beaches and lush nature. However, there are many reasons why you shouldn't skip Trinidad island.
There are also many other islands near Trinidad, so if you have time, why not go island hopping?
1. Trinidad Carnival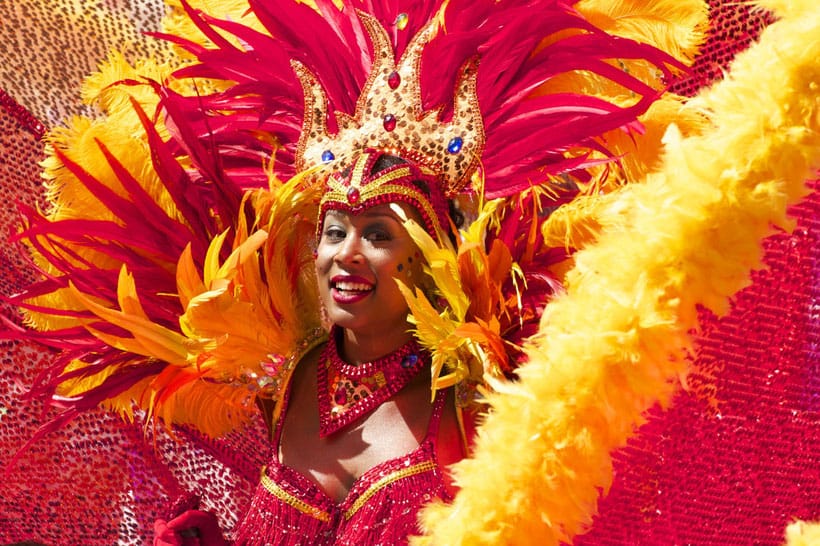 Carnival is the largest festival in Trinidad and Tobago with thousands of people attending each year. It was introduced by the French and was strongly influenced by the culture of African slaves who turned it into a vibrating party.
Especially the music (Soca, Pan, and Calypso) was strongly influenced by the African community on Trinidad island.
Carnival season usually starts in January and finishes at Ash Wednesday. The most important events within the Carnival season in Trinidad include Steel Pan competitions ("panorama"), Kings & Queens competitions, and parties for the kids.
J'Ouvert Day – Trinidad Carnival
The official start makes "J'ouvert", where people wear old clothes and dance from 3 am the entire day. The red and blue devils blowing out fire are typical of Trinidad's J'ouvert.
Mardi Gras Day
The most important day of Trinidad's carnival is Mardi Gras, Carnival Tuesday where the girls parade in the most colorful and spectacular costumes. Months of preparatory work went into each costume and they vary from year to year.
Dancers and music groups take over the street and fill it with a positive energy nobody can resist.
Going to Carnival is by far on the top things to do in Trinidad island. You will want to plan your Trinidad and Tobago visit around the festivities!
If you want to attend the carnival, read on this in-depth guide on "How To Play Carnival in Trinidad & Tobago" from a dedicated Trinidad and Tobago travel blog.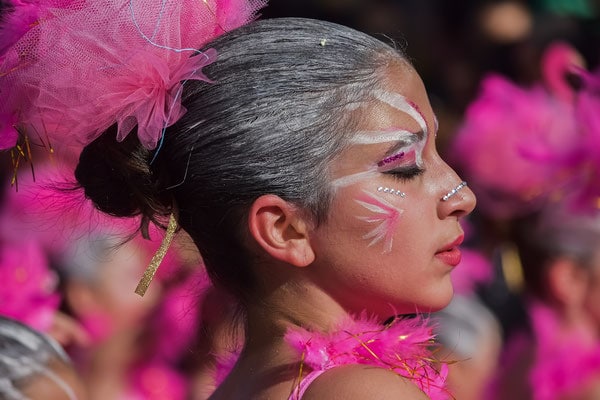 2. Beaches of Trinidad Island
Who says that all the beautiful beaches are in Tobago island?
Indeed, Trinidad has many gorgeous beaches too. What I loved about them is that they all have a very different vibe and character. Hanging out on the beach quickly became one of my favourite things to do in Trinidad island.
Maracas Beach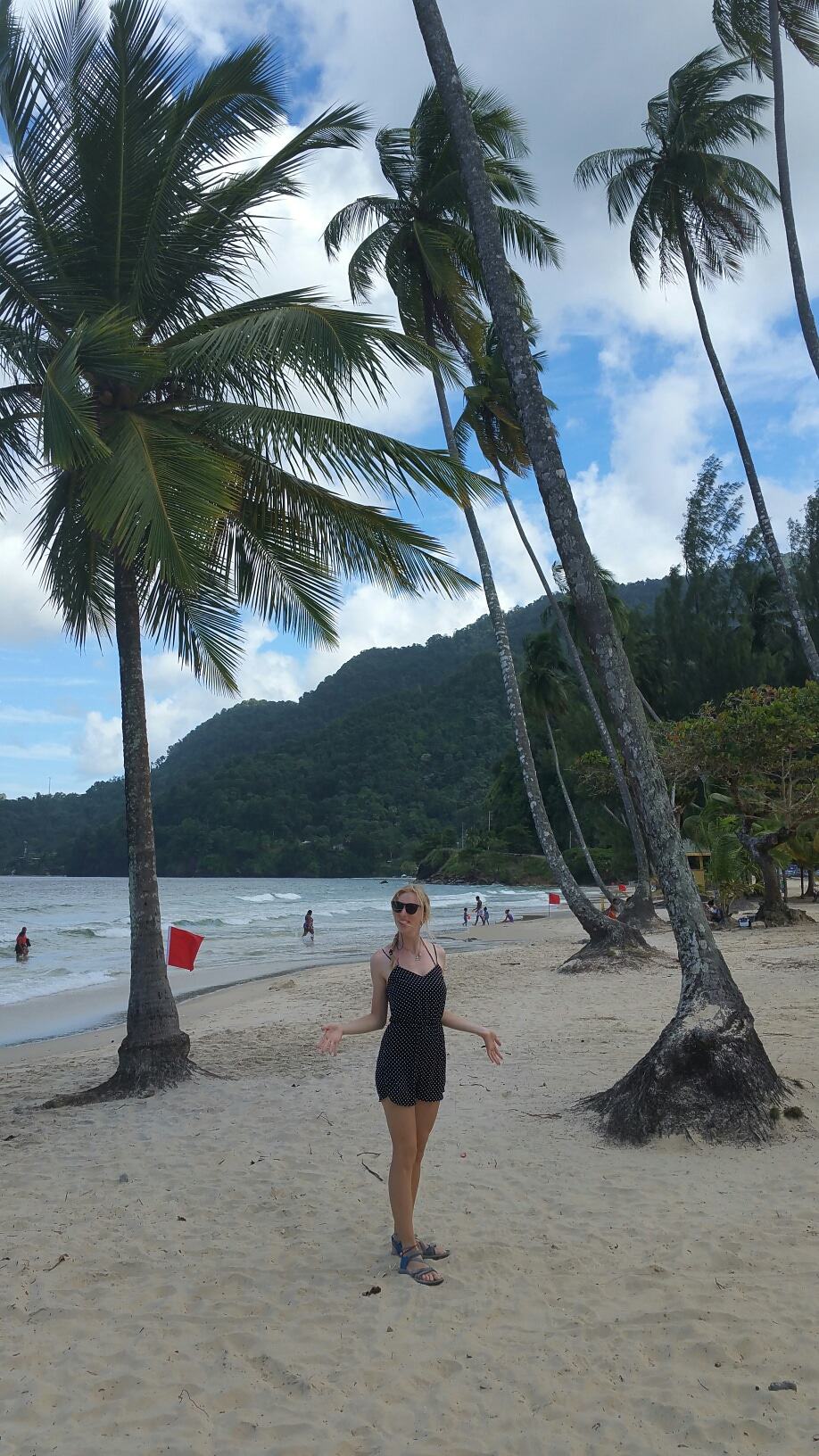 Maracas Beach, the most famous one, is known for its party mood and delicious "Bake'n Shark" sandwiches. (Nowadays most sandwiches have kingfish or flying fish for sustainability reasons).
There are plenty of activities that make this beach the perfect get-away with kids: ducking, body-surfing, jumping and boogie-boarding.
When heading to Maracas Beach, you'll surely pass along the Maracas Bay viewpoint, where you can enjoy delicious fresh fruit snacks.
Buy here your tour to Maracas Beach
Las Cuevas Beach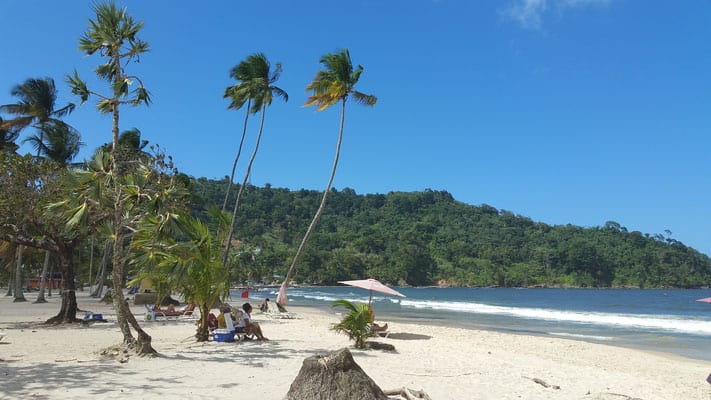 Las Cuevas Beach is right next to Maracas Bay, but has a more laid-back and pristine vibe than the sister beach. Waves may be quite strong sometimes but the natural surrounding invites for long walks along the beach.
It's the perfect place to spend a lazy, relaxing day swimming and reading books about adventure.
Buy here your tour to Las Cuevas Beach
Blanchisseuse Beach
The beaches near Blanchisseuse figure among the most scenic one of Trinidad island. They are quite secluded and if you decide to go for a hike from Blanchisseuse you may end up finding a totally empty beach as I did in Paria Bay.
But please be careful with the strong tides! The beaches near Blanchisseuse are characterized by a rugged shoreline.
Chaguaramas Beaches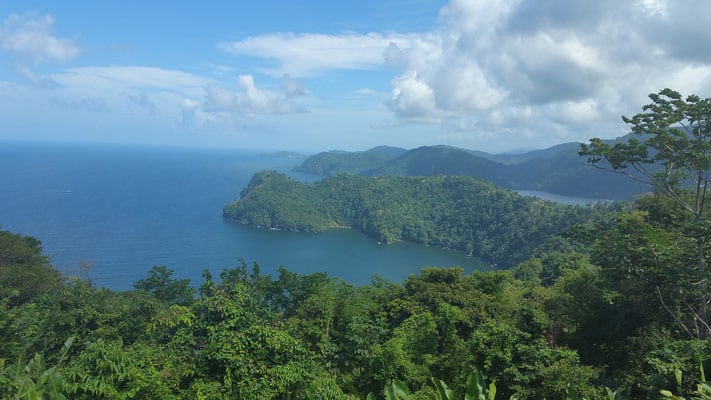 Even though the beaches of Chaguaramas peninsula may seem very attractive due to their proximity to the capital and is surrounded by forest, you should keep in mind that the peninsula hosts the main harbor of the country and several large fabrics.
Petrochemical and oil industries may contaminate these beaches.
Macqueripe Beach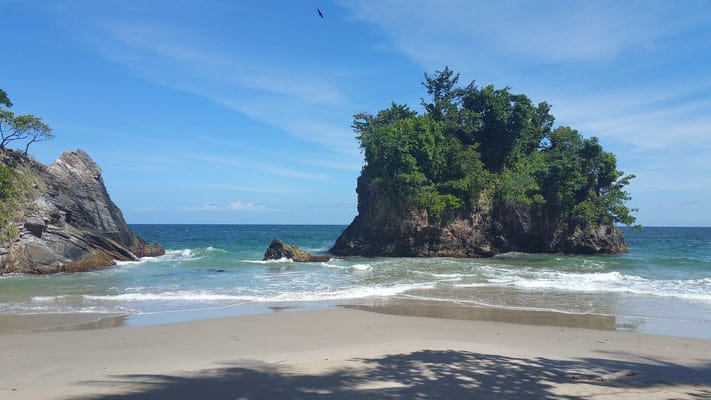 The only exception is Macqueripe Beach, which is tiny but very secluded thus protected from eventual pollution. There is an entrance fee and the beach was quite full when we visited.
On clear days you can even spot Venezuela. There is a fun activity of zip-lining at Macqueripe Bay as well.
Beaches of South Trinidad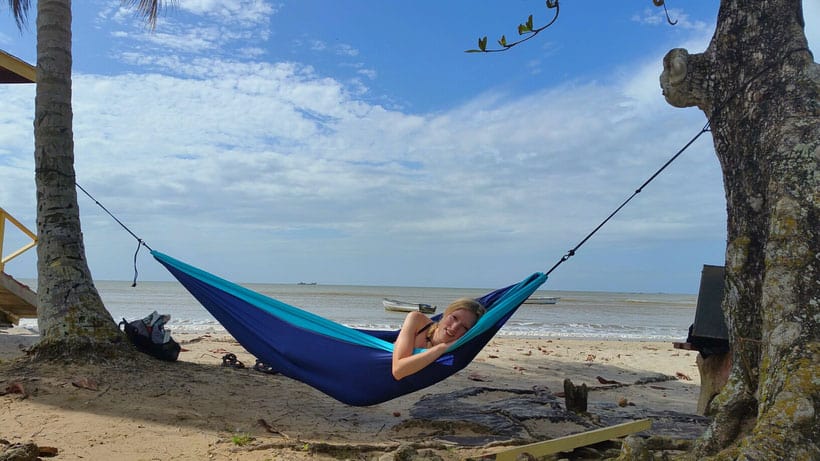 The most popular beaches in the Northeast are Balandra Bay, Sans Souci, and Grande Rivière. The south of Trinidad island is usually calmer than the northern part of the island. I really liked the laid-back vibe of Vessigny Beach.
Further south, you'll have the beautiful beaches of Columbus & Cedros bay which are absolutely stunning with views to Venezuela.
Make the most of your time and visit South Trinidad with a guided tour.
3. Trini Food
The food of Trinidad and Tobago should have a full post on its own! Trini food is so varied and delicious that I cannot compare it with any food I ate so far on my travels.
Part of the richness of Trini's rich food culture are numerous cultural influences. The Indian and Pakistan people, the African and Europeans (mostly French & Spanish) brought the best of their very own gastronomy blending it all to a firework of tastes.
Trini food is very affordable, uses a lot of fresh products and is the best at the numerous food stalls that you can find along the road.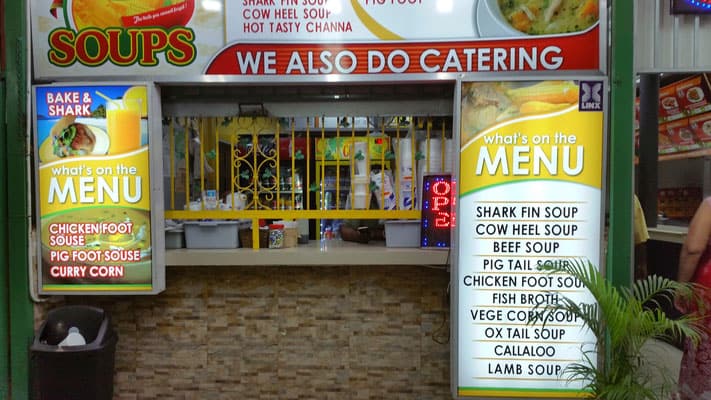 Here some of the food that you MUST try when visiting Trinidad Island:
Doubles: they have light bara bread sandwiching tender curried channa (chickpeas) finished with tamarind and a variety of chutneys, including coconut or mango, and some pepper. It's usually eaten for breakfast and probably the most famous Trini food.
Chow: chunks of fresh fruit mixed with lime juice, hot pepper, salt, garlic, and cilantro. Highly addictive and healthy snacks. One of the most popular kinds is mango!
Saheena: A roll-up of callaloo (similar to spinach) and split-pea batter, deep-fried, with a spoon of tamarind or mango chutney on top
Bake'n Shark Sandwich: Can mostly be found at Maracas Beach. Consists of a fried flatbread ("bake") filled with fried pieces of shark meat and various other ingredients and sauces. Before frying, the shark meat is either seasoned with a herb blend and breaded. You can optionally add some topping like lettuce, coleslaw, tomatoes or pineapple. Nowadays shark meat is often replaced by more sustainable alternatives such as kingfish or flying fish.
Chicken Roti: One of my favorites too! Roti is an Indian flat-bread brought over by the Indian workers in the 1880s. It is very light and you take it to wrap around all kinds of food like beef, chicken, potatoes, pumpkin and dip it in delicious chutneys. You can taste it during this Mini island-tour.
Soups: I am a huge soup lover, especially for dinner and you'll be spoilt for choice in Trinidad when it comes to soups. Cowheel soup, corn soup, dumpling soup and of course the traditional, mouth-watering callaloo soup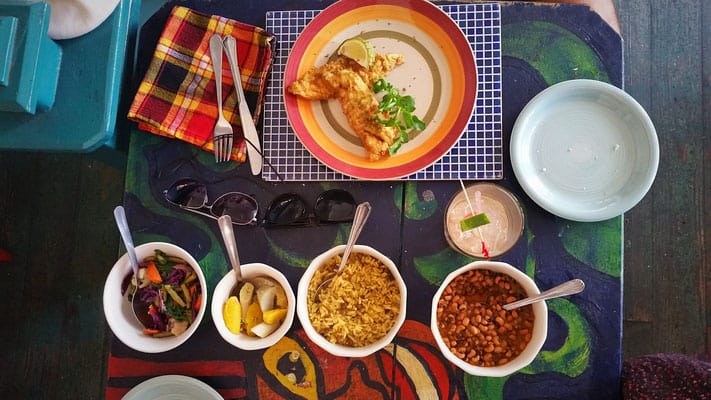 4. Waterfalls of Trinidad Island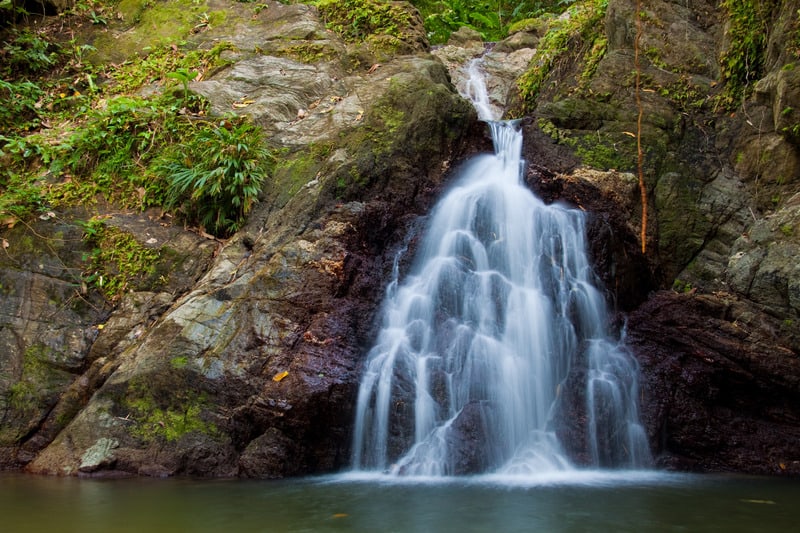 The island of Trinidad is full of waterfalls and beaches and every single one is stunning! There are dozens of waterfalls here and each time we spoke to a local, they pointed out a new one. The waterfalls of Trinidad are the perfect hiking destination.
The hikes and the waterfalls themselves differ a lot throughout the island and there seems to be a waterfall for every taste.
Here some of the waterfalls you shouldn't miss when traveling to Trinidad and Tobago.
Maracas Waterfall: Otherwise than suggested by the name this waterfall is not directly located at Maracas Beach or the bay. You need to take the Eastern Main Road, opposite the Mosque in St. Joseph. Abercomby Street becomes the Maracas Royal Road. After approx. 8km you turn to Waterfall Road and drive to the end of the road at the car park. From here, it's only a 2,4 km hike to the waterfall
Avocat Waterfall: Close to the peaceful Las Cuevas Bay and only a short hike through the rainforest, you'll arrive at the 100-foot (30-m) Avocat falls, a sight so beautiful it might as well have been plucked from your dreams. It's pure bliss to swim in the large pools around the falls. – Check tours here
Angel Falls: is located in the foothills of the El Tucuche mountains and the waterfall is about 15 m high. The water does not fall directly into a plunge pool but cascades along the rock into 2 basins. It is perfect for non-swimmers and kids. Looking up from the rocks, the reason Angel Falls gets its name becomes very clear: sunlight shines through the mist at the waterfall's top, an almost celestial glow is produced against the backdrop of the lush surrounding vegetation. Getting to Angel Falls requires a one-hour hike from Zorro Trace just off the North Coast Road, between Maracas and Las Cuevas.
Paria Waterfall: Only experienced hikers can get here, but the waterfall is absolutely worth it. The hike starts in Blanchisseuse and takes you along the breathtaking shoreline and beautiful Paria Bay. It's in total 3-4hours to the waterfall
Rio Seco Waterfall: Probably the most scenic waterfall in Trinidad island, even though it is no the tallest. It is most loved for its wide deep basin filled with emerald green water, which is ideal for swimming and photography. The hike to Rio Seco is only 35 minutes and the path is very clear.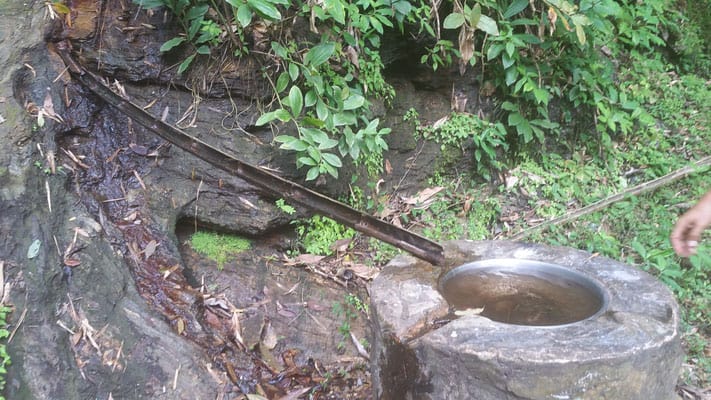 5. Pitch Lake in La Brea
The Pitch Lake in located in the South of Trinidad island near the village of La Brea. It was a highlight of my visit and I think one of the best things to do in Trinidad island!
If you want to make the most of your time, I recommend booking a tour in advance.
Get here your guided tour to South Trinidad
Asphalt Lake is one of the largest natural deposits of asphalt in the world, being one of only three natural asphalt lakes in the world.
It has been created thousands of years ago when the Caribbean continental plate was forced under another one. Since its discovery, more than 10 million tons of asphalt have been extracted. Its pitch was even used to asphalt Westminster bridge and the terminal of JFK airport.
Visiting the Pitch Lake of La Brea (pitch in Spanish) village is a fun activity. Although the smell is quite terrible, many people swear to take a swim in the lake due to its therapeutic effect.
You can also play a bit by putting a stick through the liquid asphalt and remove the liquid tar. My guide even told me about the prehistoric trees and other objects that had been found in the pitch lake.
Although you can walk on the black, viscous, and semisolid pitch surface, we decided to go with a guide. There were just too many stories of people that got caught in the pitch lake and couldn't get out anymore…
The guide is provided at the entrance door of the pitch lake and costs about 10 €. Book your tour here.
Get here your guided tour to South Trinidad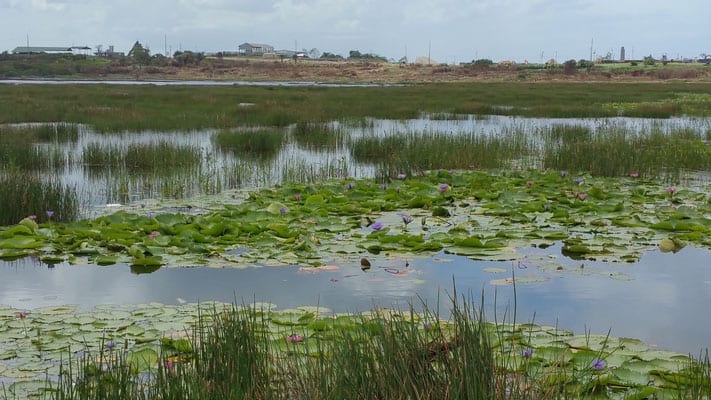 6. Hindu Temples of Trinidad
The Hindu temples and the culture of Trinidad island are probably the main reason why I fell in love with Trinidad and Tobago. There are so many things to see in Trinidad, but these should be top of your list!
It is just such a surprising thing to see colorful temples and the shape that you usually associate with India and not with a Caribbean country.
Book here your Trinidad Island tours
Like most Caribbean countries, Trinidad and Tobago is a melting pot of several cultures and heritage of the African, Caucasian, Chinese and Amerindians. But the Indian influence definitely adds the space to the cultural mix of T&T.
Most Indian people in Trinidad and Tobago are descendants of the workers that were brought from East India by the British in the 1880s.
Besides colorful festivals and the food, the Indian influence becomes obvious when driving on the roads of Trinidad island. The Indian temples are full of intricate details and often very colorful. My recommendation is that you must visit the Temple in the Sea, which is as cool as it sounds.
Some of the most prominent Hindu temples on Trinidad island are the following:
Dattatreya Yoga Centre in Carapichaima with 85 ft. Hanuman Murti statue, the tallest outside India
Temple in the Sea in Waterloo close to the Dattatreya Yoga Centre
Triveni Mandir in Gasparillo in South Trinidad
Lakshmi Narayan Mandir Temple in central Trinidad
Book here your Trinidad Island tours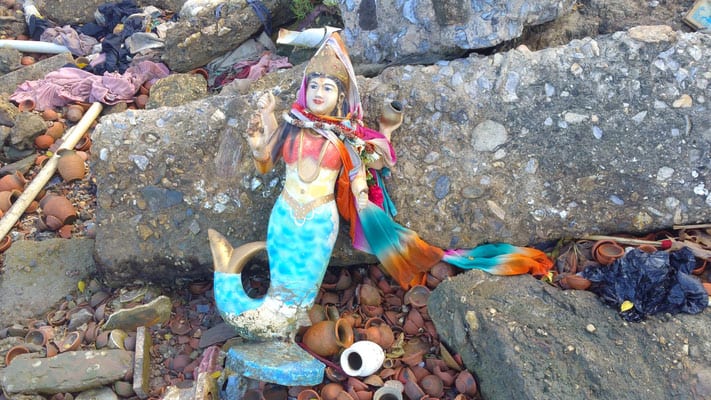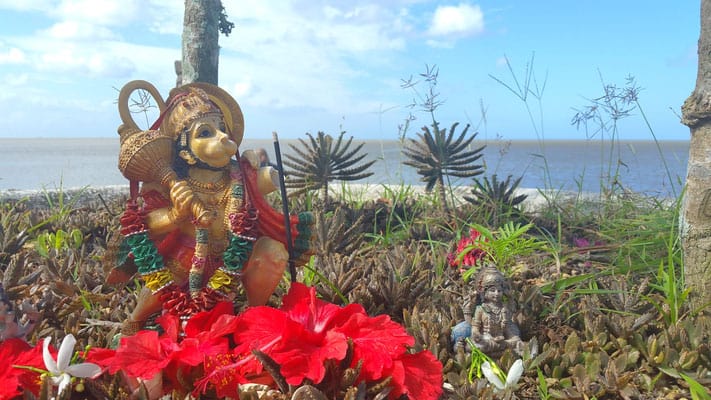 7. Visit SteelPan Panorama
A panorama is a music competition of steel bands in Trinidad and Tobago which are usually held in carnival time.
The steelpans or steel drums is the national instrument of Trinidad and Tobago and are a legacy of the African culture. As African drum music got banned by the French colonialists, they took pans and oil barrels to make music.
Buy Here Your Steel drum Experience in Trinidad
There exist hundreds of steel bands on Trinidad island who can have over 100 members. They all gather together for the annual musical competitions during the carnival period.
They consist of 3 rounds: the preliminaries, the semi-finals, and the final round.
During the panorama, the bands come in and play in front of the crowds and the jury. They play an arrangement of a current calypso. The sound is very particular and will definitely make you dance.
They are open to the public and you can buy your ticket at the entrance door. People usually pay good money to assist a panorama. We assisted a preliminary round, but tickets were sold out already.
But no worries: many Trinidadians take a panorama as an opportunity to lime', chilling in the park where the panorama is taking place.
You want to attend a panorama or want to experience the steelpan?
Have a look at this steelpan & Calypso experience.
8. Visit former Plantations & Cocoa estates
If you're interested in history, a visit of a former plantation on Trinidad island is definitely a must!
Trinidad and Tobago have a significant slavery history and I think it's important to learn about what happened decades ago. After all, it makes us understand cultures and see current problems from a different point of view.
The land of Trinidad island is very fertile, thus loads of different fruits and vegetables could grow here in a large scale. The French people started the sugar industry which was finally exploited by the British.
After slavery was abolished, the British brought laborers from the East Indies, China and the Madeira in 1845. It was the sugar cane industry which is mainly responsible for Trinidad's melting pot as we can still experience it today.
Sugar Heritage Village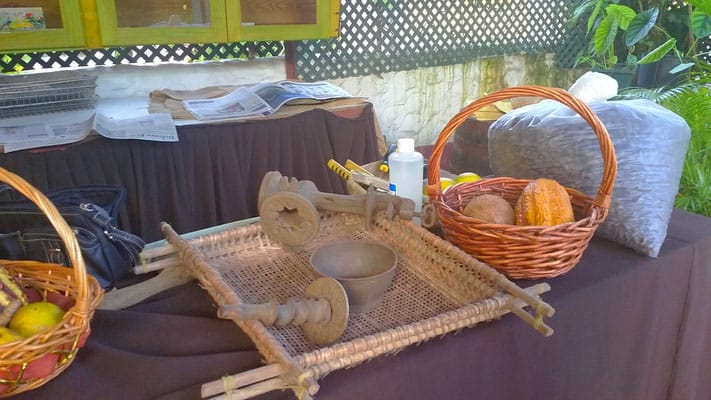 The most prominent one is the Sugar Heritage Village in Couva/Point Lisas which aims to preserve the memory of T&T's sugar industry by incorporating sporting, recreational, environmental, educational and commercial facilities.
The Sugar Heritage Village can be visited today but is still under construction.
It includes a Heritage Village, a museum, a cultural center, sporting facilities, a petting zoo, restaurants, and guest houses.
I really recommend a visit to at least one plantation as one of the best things to do in Trinidad Island to understand history.
Chocolate producers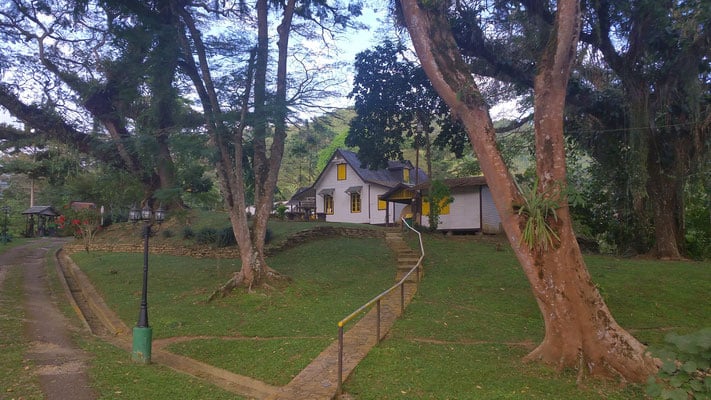 Cocoa beans were another important export of Trinidad island. Still nowadays some of the best cocoa is grown on the 2-island state.
There are several chocolate shops that make unique chocolate creations, but you can also visit one of the numerous cocoa estates which respect a fair-trade, ethical business model.
Where to go in Trinidad and Tobago to learn about the chocolate-making process:
Velaja Estate in central Trinidad
Manchuria Estate in Brasso Seco
San Antonio Cocoa Estate
Lopinot, 10km in the north of Arouca. The estate house has been made into a small museum and is surrounded by a very scenic park. The village of Lopinot is quite secluded and I love the absolute tranquility here. When in Lopinot you can't leave without visiting the
Mariposa Gardens. This family house turned into a restaurant is a true oasis of peace with hundreds of colibris flying around. They only serve slow-food with fresh herbs and fruits straight from the surrounding garden. They incorporate the cocoa beans in many of their meals and it was definitely one of the most creative/delicious meals we had on Trinidad island.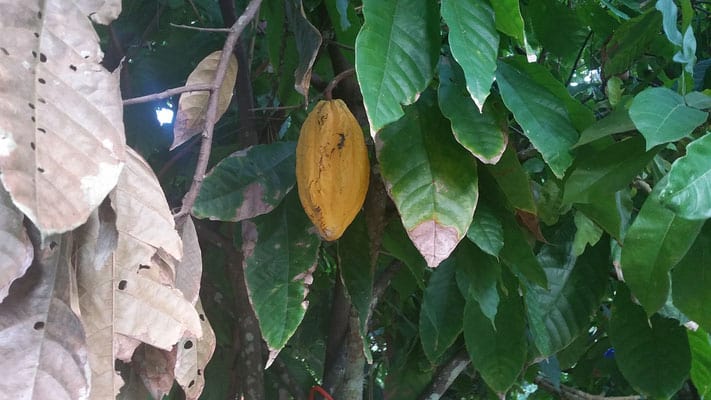 9. Birdwatching in Trinidad
Are you wondering what to do in Trinidad and Tobago for animals lovers? How about some birdwatching!
During many years, birdwatching was one of the main reasons why travelers visited Trinidad island. Even though birdwatching is quite a niche in the travel sector, Trinidad island managed to attract birders from all over the globe due to its extremely large variety of bird species.
After all, there are more than 500 recorded bird species.
Trinidad is an attractive birding destination all year round. The most prominent sites for birdwatching are the Asa Wright Nature Centre, the Caroni Bird Sanctuary and the Pointe-a-Pierre Wildfowl Trust.
Buy here your Birdwatching Tour in Trinidad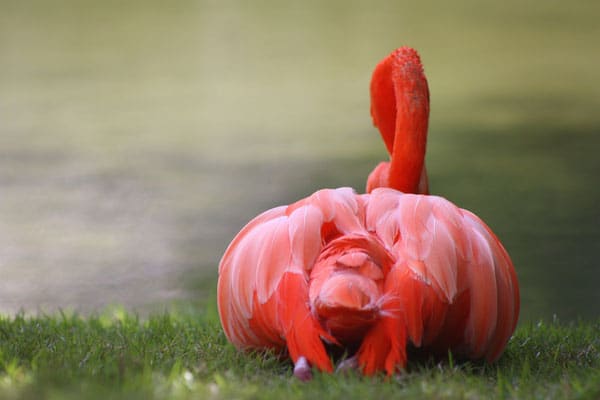 The Asa Wright Nature Centre is nestled in the mountains and rainforest of the northern part of the island and is very popular for it numerous hummingbirds and its diverse flora including wild orchids.
The Wildfowl Trust is located in a wetland habitat within an oil refining complex.
One of the most important areas for birding is the Caroni Swamp and Bird Sanctuary. It is home to the national bird, the scarlet ibis. It is a magical experience to watch the scarlet ibis fly over to Venezuela at sunset.
The Caroni Bird Sanctuary is located at a stone's throw from the capital Port of Spain.
You can also spot boas in the trees, different snails and crab species. Other bird species that can be seen in the Caroni Swamp (there are more than 100 species here!) are the tropical screech, common potoo, flamingos, osprey or the red cap mask cardinal.
Even though I am just a novice when it comes to birdwatching, I really enjoy it for being such a relaxing experience. It's all about watching how nature happens.
Buy here your Birdwatching Tour in Trinidad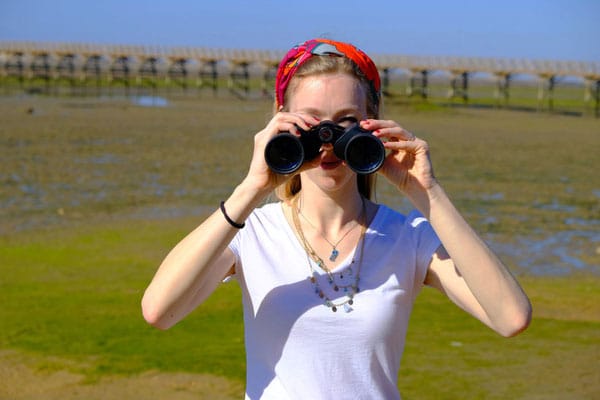 10. Trini Fashion in Port of Spain
The fashion scene of Trinidad was one of the most surprising things when visiting the island.
Book here your Port of Spain tours
Indeed, the fascinating cultural mix resulted in a unique, bold and vibrant fashion scene that is hard to find in the rest of the Caribbean. Most of the local designer can be found in Port of Spain.
The fashion of T&T is wearable and most of the items combine bright colors. The fashion of T&T is a celebration of life and the cultural melting pot mixing ethnic designs from many cultures. Of course, the Carnival of Trinidad is always a major source of inspiration for new designs.
Many efforts have been made to support local fashion designers.
In this context, the Fashion Week of Trinidad & Tobago was created in 2008 and showcases local designers. In 2013 the Trinidad Fashion Company Limited (FashionTT) was created in order to facilitate and stimulate the export the work of fashion designers of T&T.
Some of the hottest bands from Trinidad are Meiling, Heather Jones, Claudia Pegus, the Cloth by Robert Young, Zadd and Eastman Designs, House of Jaipur, and the Wadada Movement.
Book here your Port of Spain tours
11. Visit Tobago Island
A visit to the 2-island state wouldn't be complete without visiting the "little" sister island of Trinidad: Tobago. It only holds a 4 % of the Trinidad & Tobago population. And the ferry from Trinidad to Tobago makes this trip so easy!
Many authors have written about the differences between the 2 islands and apparently Tobago is the perfect complement of Trinidad island.
Tobago is all about the laid-back Caribbean vibe, pristine beaches, no hustling, whereas all the executive business, industries and city life are stationed in Trinidad. Pace of life is calmer in Tobago and there seems to be a peaceful co-existence with nature.
Tourism is also the most important sector in Tobago whereas Trinidad is still a bit "rough" when it comes to receiving tourists. Locals explained me that for a long time, Trinidad didn't really see the point of investing in tourism as they already had so many oil resources.
Indeed, many people were surprised to see me, traveler, in some parts of Trinidad and often, I had to make long detours to find the places that I wanted to visit.
Tobago is famous for its gorgeous beaches and some of the most popular ones are Pigeon Point, MT Irvine, Bucco, Grange, Story Bay and Canoe Bay.
In Port of Spain there is a direct Trinidad to Tobago ferry. You can also go on a guided tour.
Check day trips to Tobago here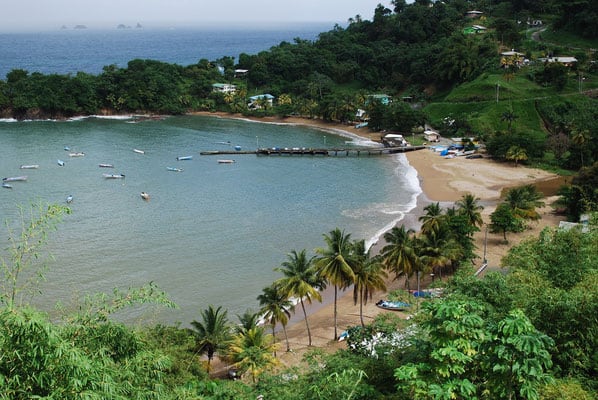 12. Visit Trinidad for the Water Activities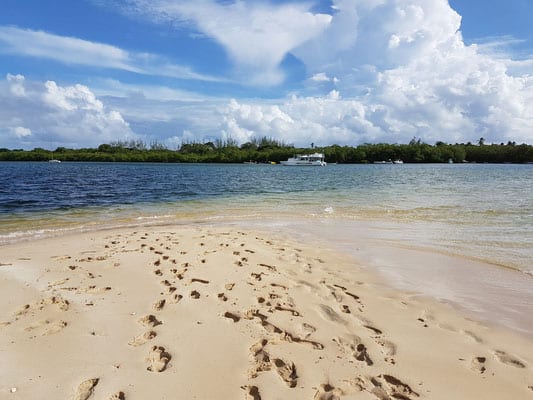 On both Trinidad and Tobago island, there are many great water activities, but Trinidad is the best!
Scuba diving, parasailing, windsurfing, sailing and sea kayaking are all available, as well as snorkelling, wakeboarding and more.
Many of these fun things to do in Trinidad island are family friendly, and courses are available for all skill levels.
For those heading under the surface, there are numerous reefs and wrecks to explore. There are also glass-bottom boat tours if you want to enjoy the water while staying dry.
---
I hope some of these, admittedly very personal, highlights of my visit to Trinidad Island, could convince you to include a visit to the gorgeous Trinidad and Tobago in your travel plans.
Have you been in Trinidad and Tobago? Did you enjoy it? I would love to hear about the things you loved (or loved less) in the comment form.
---
General Info to Visit Trinidad and Tobago
Geographic situation: twin island sovereign state that is the southernmost nation in the Caribbean. High-income economy, a primarily industrial economy with an emphasis on petroleum
Language: English. But main spoken language is either of two English-based creole languages (Trinidadian Creole or Tobagonian Creole)
Currency: Trinidad and Tobago dollar (TTD)
How to get there: By airplane to Port of Spain Airport. I recommend renting a car as public transport hardly exists. Check prices on rental cars
Activities: One of the wealthiest in the Caribbean. The economy is strongly influenced by the petroleum industry.
Tourism and manufacturing are also important. Tourism is growing, although not as important as in many other Caribbean islands. Agricultural products include citrus and cocoa.
Get more information on tourism in Trinidad and Tobago, at the site of WikiTravel Trinidad&Tobago and on my Trinidad & Tobago Section
---
Map: Highlights of Trinidad Island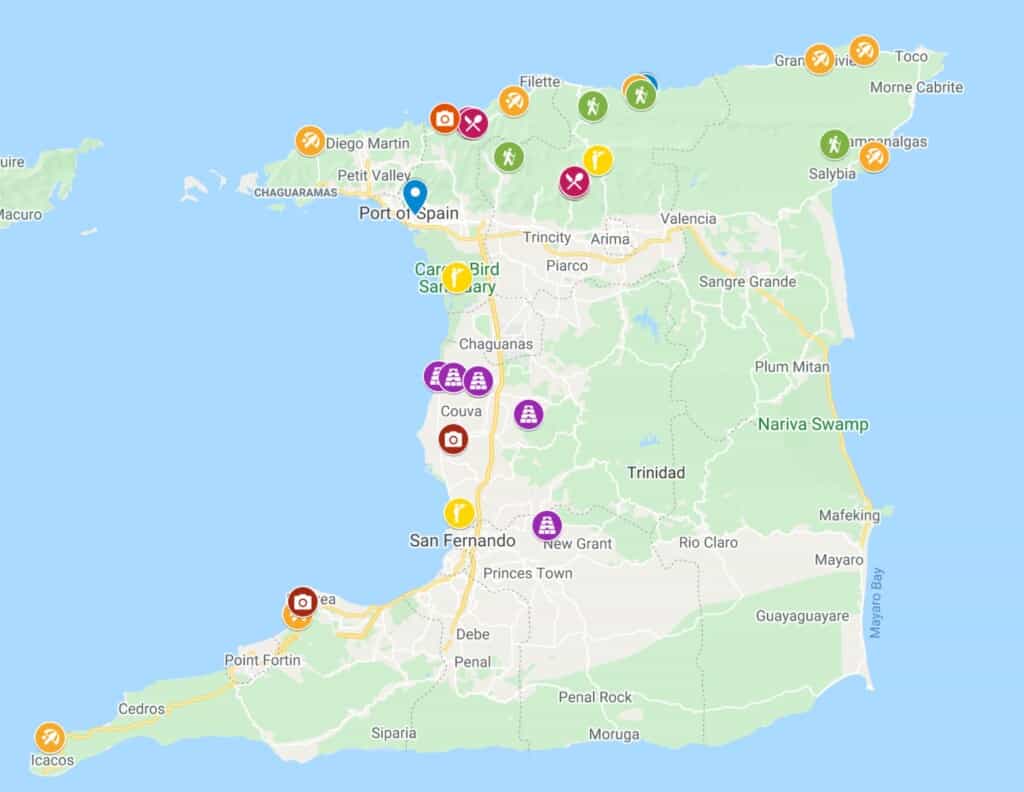 ---
Before You Go: Top Tips for your Trip
Don't forget to pack a pair of lightweight and comfortable hiking shoes and hiking gear.
Be environmentally conscious and practical with these amazing backpacks from recycled materials.
You'll be snapping tons of photos during your trip. Rather than relying on your mobile phone to capture the sights, upgrade to an actual camera for higher quality photos. I travel with my Action Camera GoPro HERO5 Session (takes beautiful photos in the most extreme situations, sim & lightweight) – all of the cameras are wifi enabled so you can share your trip pics to social media in real-time!).
Travel insurance is essential! If you haven't already obtained travel insurance for your trip, travel protected against all odds with World Nomads.
---
Short FAQ
Why is Trinidad and Tobago called a twin island republic?
Trinidad and Tobago are part of the name nation, but are also very different and separate. There is both a president and a prime minister of Trinidad and Tobago, and a democratically elected parliament. Trinidad has more control and elects more parliamentary members, but both share control of the government, while still remaining separate.
What time of year is it best to visit Trinidad and Tobago?
Between January and May as the weather is best!
Where is Trinidad located?
Trinidad is part of the island nation Trinidad and Tobago in the Caribbean. The islands are located 7 miles off the coast of Venezuela.
---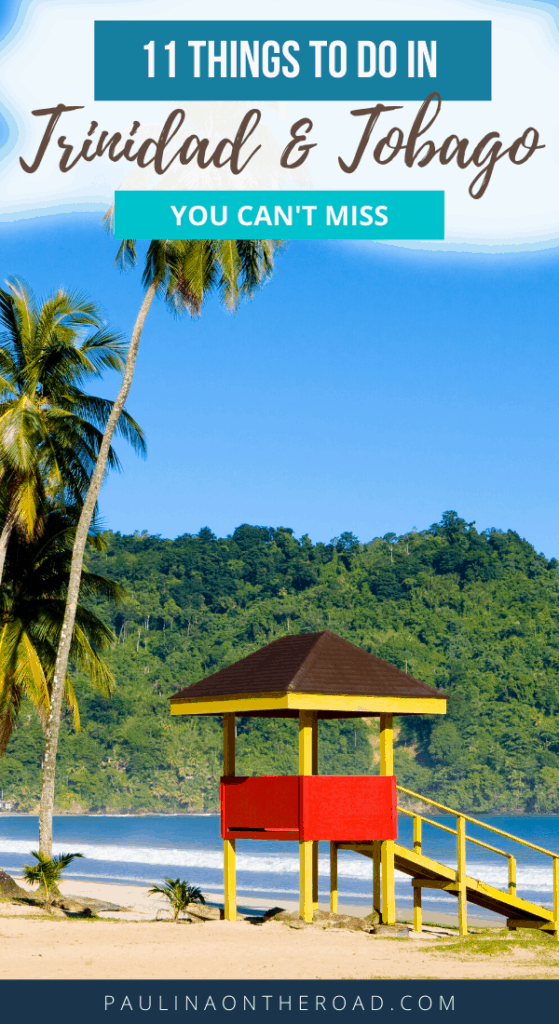 ---