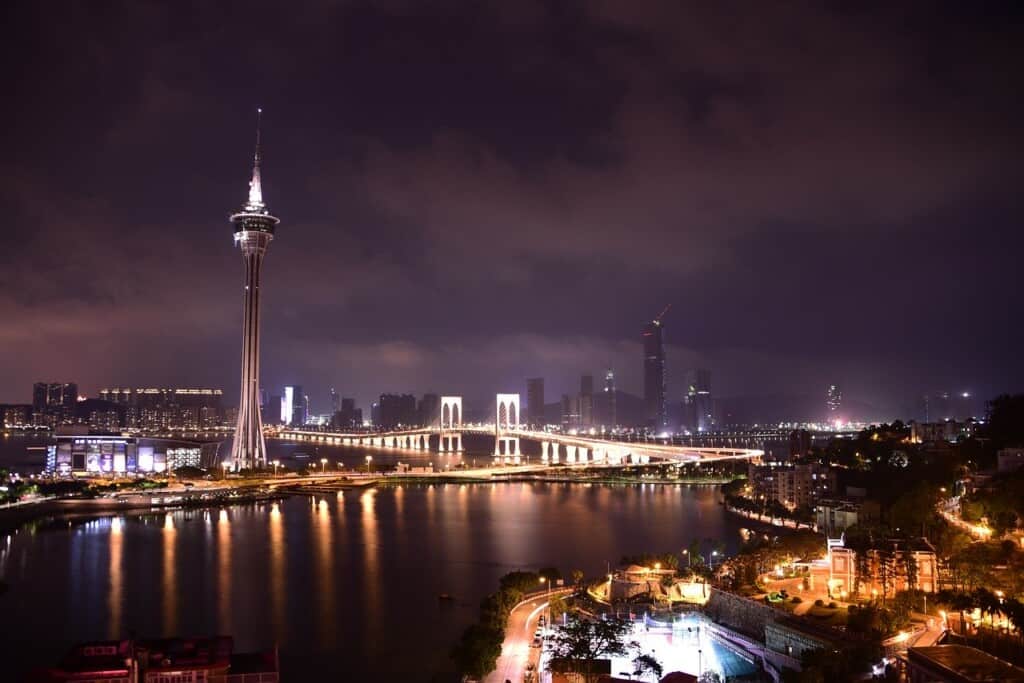 Check out any travel blog and it's pretty unlikely that you'll find too many articles on Macau. The Chinese self-governed territory isn't quite what you would call a tourist hotspot for European or North American residents. But for people living in Asia, it's a must-visit location.
This beautiful island has so much to offer with its warm and friendly people, incredible architecture, and rich culture and history.
With this in mind, here's a look at what's so enticing about Macau and what you should do if you ever find yourself on this amazing island territory.
Useful Travel Information About Macau
✈ Book cheap flights to with Skyscanner or Kayak

✔ Book tours in Macau with Viator

➳ Find the best Hotel Deals in with TripAdvisor Hotels – Macau

✩ Best tours and activities in with Tourradar

❖ Rent a car with the best discounts at RentalCars.com

☘ The best discounted Outdoor Gear at REI.com – Outlet

✎ Never leave without travel insurance. I get mine at WorldNomads
1. Take in a Show
As you may have heard before, Macau has actually been nicknamed the Vegas of Asia, and for a very good reason. There are casinos everywhere, with as many as 38 at last count!
Each tries its level best to outdo competitors with regards to the glamour and glitz usually associated with the real Vegas. Of course, you can join in the fun at the poker tables (more on that later), but first, why not take in one of the many shows on each and every night.
From incredible cabaret acts to magic shows, you'll find all kinds of entertainment on show at the casinos. There are water displays at the many fountains throughout the strip.
There are daily magic shows at the House of Magic. There's the most amazing cabaret show at the Crazy Paris Show. Honestly, the list goes on and on.
Your best bet is to ask your hotel concierge about what's going on during your stay. With luck, they might even have a few discounted tickets available at the hotel. There's no harm in asking, right?
2. Take your Chance at the Casino
Well, you didn't think that you'd come all the way to an island known as the Las Vegas of Asia and not visit a casino, did you?
Even if you're not all that into poker, slots or even blackjack, it's well worth taking a trip to the casino just to savor the experience.
Interestingly, three of the most expensively built buildings in China are, in fact, casinos in Macau. So, you might see where I'm coming from when I say that paying one a visit might be worth your while.
Most visitors who travel to Macau for the casinos are there for poker. It's by far the most popular poker destination in Asia, and the Hong Kong movie industry has based many of its poker-related productions on the island territory.
So yeah, Chinese poker or Texas Holdem is probably the game that you're going to give a whirl on your night out at the casino.
Now, correct me if I'm wrong, but it's a good idea to understand the basic rules of any game before you play it, right? So, if you're really serious about trying your hand at poker in the gambling capital of Asia, you might want to practice a little first.
You can set up a few simple home games with friends (if you have poker playing ones that are), or better yet you could join a free online poker tournament that doesn't cost a penny to enter. At least, this way, you can practice risk-free and you won't have to clean up after your friends leave!
3. Visit Venice in Asia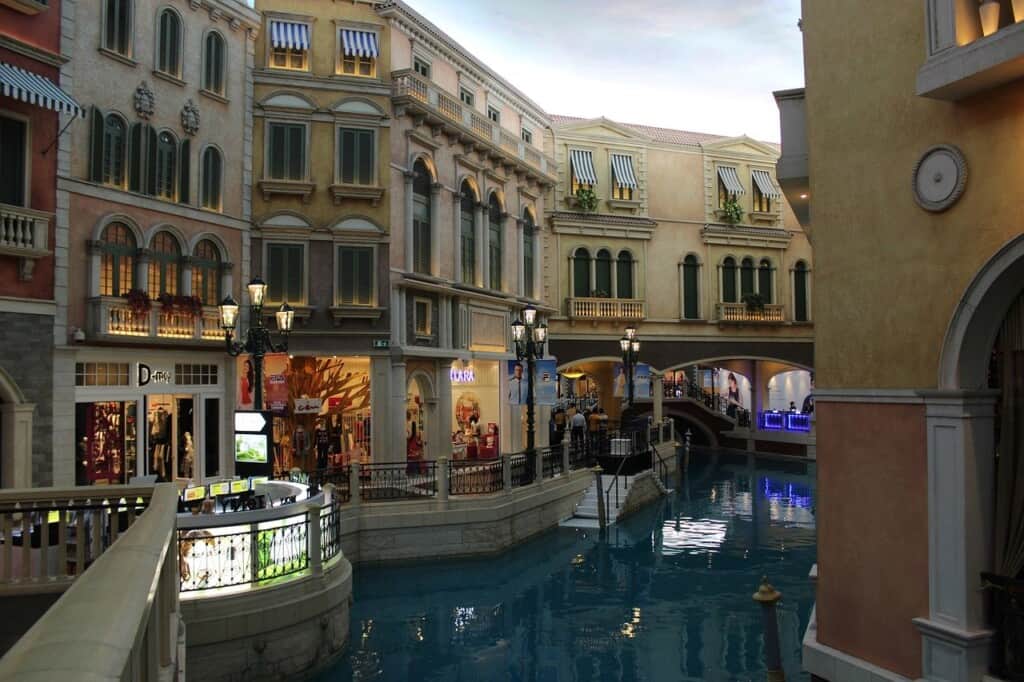 Yes, it sounds completely ridiculous, but there is a Venice in Macau. Remember those impressive and expensively built casinos mentioned earlier? One of those is the Venetian and it's so much more than a casino.
The complex includes the casino (of course) and a shopping mall that is modeled on the city of Venice. It's jaw-dropping to see the level of detail that they have put into this mall.
The streets between the stores are all paved with cobblestones.
There's also a canal running through the entire place, so you can sit on a gondola and listen to your boatman singing his heart out. It might not be the real thing, but it certainly is the next best thing.
Better yet is the fact that this colossal mall has pretty much every store you can imagine.
You can quite literally shop till you drop at the Venetian and you'll still have more stores to visit the next day. If shopping on holiday is your thing, then this place is a must.
4. Visit the ruins of St. Paul and climb Mount Fortress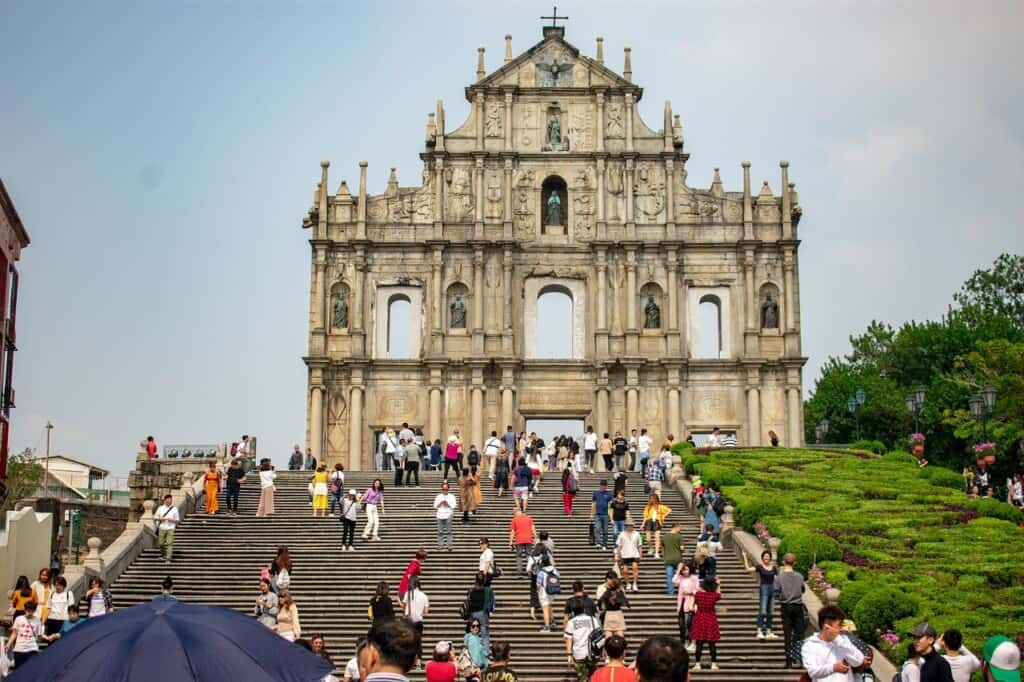 The ruins are located on the Senado Square (worth a visit itself) and they are the most famous historical tourist attraction in Macau.
Believe it or not, but this is a world heritage site, and rightly so! It's hugely popular and on any given day, there are hordes of tourists there. Even so, it's worth braving the crowds to get the lovely view of the square from the ruins.
For an even better view, you can climb to the top of Mount Fortress which is right next to the ruins. It's not actually all that high but it does give you a wonderful view of the area, which makes for impressive holiday snaps.
The climb isn't that difficult at all and any steps are easy enough to climb, so most tourists will be able to handle this particular activity.
While you're there, you can also visit a small temple that's located just behind the ruins.
It's dedicated to the local protection deity named Nezha, which is sometimes spelled Na Tcha. It's an interesting place to visit, but remember to be respectful of any worshippers at the temple.
One morning trip and you've visited ruins, a fortress, and a temple all in one go. How's that for tourist multi-tasking?
And those are just some of the interesting things you can do in Macau. There's also the Casa Do Mandarim Museum, the Seac Pai Van Park, or the always impressive Macau Tower.
So as you can see, Macau really is one of the most interesting and fun places you can visit in Asia. And remember, it's not just about the poker and the casinos!
While the real Vegas is on many people's bucket lists, for those of you planning on traveling to Asia, this is one destination you might want to add to yours.
---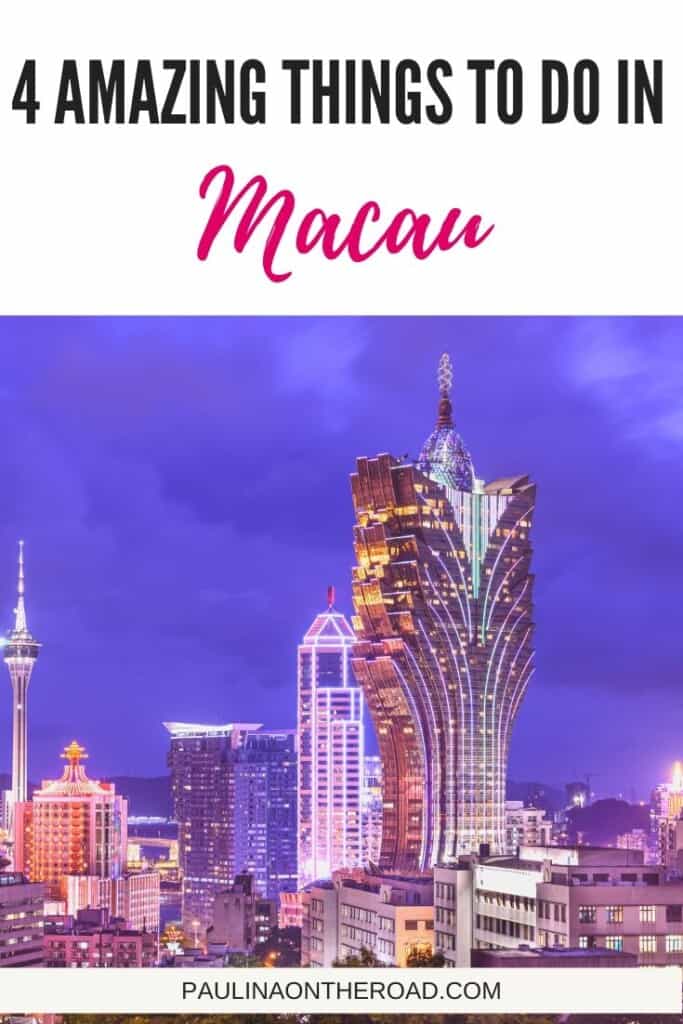 ---