A Packing List for Expats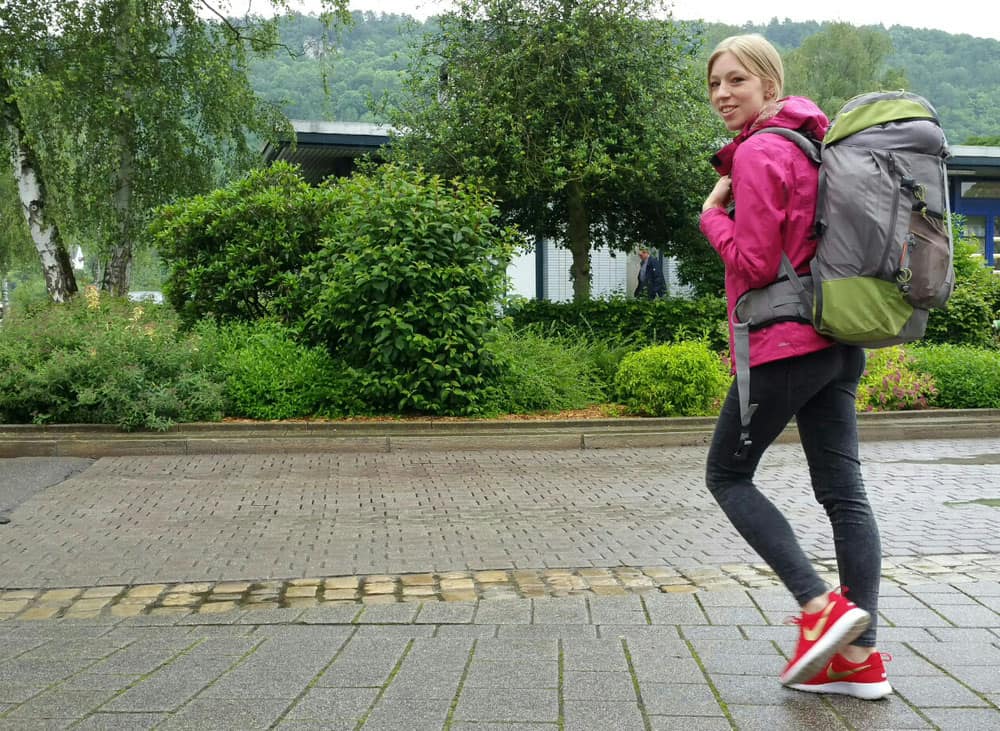 After having happily spent some quality time in Luxembourg with my family and friends, I can't wait for the next travel experience to begin! For the next months I'll be working for an important tour operator in Tenerife . This will be already the 7th (!!) time that I'll start from scratch in a new place.
[Versión española abajo]
After so many new starts, most people think that I'm a packing expert for expats. Yet the opposite is the case! Already weeks before departure date, I start panicking about the idea I might forget something! In most cases I end up packing too much stuff. Even if this time the flying company allows me to bring 30 kg (!), I want to keep it to a minimum. That's why I state that all you need for a short expat experience can fit in 1 backpack of 40L!
Okay, I have to admit that my future employer will provide me a furnished living space and a working uniform. Consequently no need to pack business clothing or household appliances… and more space for bikinis!
If you love outdoor sports and hiking, you should have a look at these outdoor gifts for hikers.
I am a big fan of making packing lists before you start in order to keep an overview. It will basically prevent you from trying to stuff your entire wardrobe in your backpack! Before you start packing, think about WHERE you'll move (like I won't pack my winter clothes for Tenerife!) and WHAT you'd like to do: hiking, water sports, sailing… and pack accordingly!
After deleting and adding several items, I think this might be the perfect packing list for a short Expat experience:
Essentials
☀ Passport and required travel documents (don't start searching on departure day! I'd also make several copies of your relevant travel docs)
☀ Handbag + A crossbody travel purse
☀ Tenerife: The finest Walks on the Coast and in the Mountains (yeah, I know it may be out-of-date, but I can't travel without them! I always buy one for each country/city I visit and enjoy to thumb through the memories when back home!)
☀ Sunglasses
☀ Lots of Sunscreen (always better buy it in your home country than at your travel destination… it can be super expensive or even FAKE!!)
☀ First Aid Kit
☀ Sewing Kit
Clothing
☀ Working Uniform (6 t-shirts and 2 shorts)
☀ 2 Trekking Trousers for long hikes
☀ Trekking Shoes Quechua (to climb to Spain's highest mountain Teide… at least that's the plan!)
☀ 1 Nike Sneakers + Socks
☀ Normal Sandals
☀ 1 Jean
☀ 2 casual dresses + 1 party dress
☀ 2 Shorts
☀ 2 Skirts
☀ 5 Tops
☀ 1 Long sleeve shirt
☀ 3 Pyjamas
☀ Feel-good clothes for at home
☀ 1 waterproof windbreaker with a removable fleece jacket (also from Decathlon)
☀ Underwear
☀ 3 Bikinis
☀ Scarf (Protection against cold and sun in
one!)
☀ Accessories: necklaces (some that are easy to combine), earrings
Hygiene Products
☀ Moisturizing body lotion (bring enough supply until you are sure you have no allergies to the products sold in your destination country)
☀ Waterproof Mascara (For professional reasons I'll spend most of the day in the pool!)
☀ Makeup (Get informed if they have your products in the country you'll travel)
☀ Cleansing Tissues
☀ Dental Hygiene
☀ My Jean-Paul Gaultier Parfum (this is a bare minimum of luxury! 😉
☀ Hairbrush
☀ Shampoo, Conditioner
☀ Nail polish + remover
☀ Nail Clippers
Do your best to stick with your list! Don't fall into the trap of packing needless stuff out of fear you might maybe need it. In case of emergency you still can buy most things at your travel destination.
Small Hint: I never put all my stuff straight into my bags. Before packing I make hillocks with the things I plan to carry and than again, I sort out what is really necessary and what not. It's an easy but effective way to double-check and to avoid to end up with too much luggage.
What are your packing tips and experiences? Let me know by the comments or by sharing it with the social media links. Don't forget to follow Paulina on the road on Facebook, Instagram and Google+.
---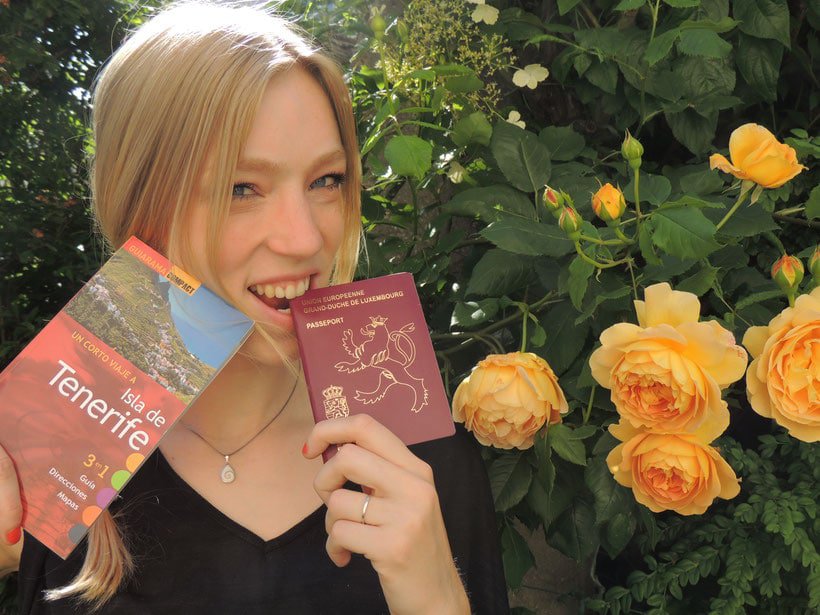 Después de haber tenido la suerte de pasar un mes en casa en Luxemburgo con mi familia y amigos, no puedo esperar a que empiece la siguiente etapa! Trabajaré en Tenerife durante algunos meses para un tour operador importante. Será ya la séptima vez que empiezo desde zero en un sitio nuevo!
Tras empezar tantas veces desde 0, mucha gente piensa que soy una experta en hacer maletas. ¡Es justo el contrario! Ya semanas antes de salir, ¡me dejo llevar por el pánico de que podría olvidarme algo! ¡En la mayoría de los casos acabo con llevarme demasiado! Aunque en este caso la compania aérea me permite 30 kg (!!) de equipaje, quiero limitarme al estricto mínimo indispensable. ¡Por eso declaro que todo lo que necesitas para una estancia breve como expatriado cabe en una mochila de 40l !
Okay…tengo que admitir que mi futuro empleador proporciona una vivienda amueblada y un uniforme de trabajo. Con lo cual menos ropa de trabajo y aparatos domésticos… y más espacio para bikinis!
Soy una gran fan de hacer listas antes de empezar a hacer las maletas. ¡Es genial para mantener el control y impide que intentas guardar tu armario entero en la mochila! Antes de empezar, piensa donde te vas a mudar (no llevaré ropa de invierno a Tenerife!) y QUE querréis hacer: senderismo, deportes nauticos… y adapta tu equipaje!
Tras añadir e eliminar algunas cosas, llegué a la conclusión que la perfecta lista para expatriados podría ser la siguiente:
Lo imprescindible
☀ El pasaporte y otros documentos de viaje (¡no empieces a buscarlo el día antes del viaje! También aconsejo de hacer copias de cada documento)
☀ Bolso de mano
☀ Guía de Tenerife (si, lo sé, son anticuados, ¡pero no puedo viajar sin ellos! Compro uno para cada país/ciudad que visito y al volver, me encanta hojear los recuerdos)
☀ Gafas de sol
☀ Mucha crema solar (siempre es mejor comprarla en tu país, porque la pueden vender muy caro en tu país de destino y ¡¡puede que es hasta FALSA!!)
☀ Botiquín
☀ Kit de costura
Ropa
☀ Uniforme de trabajo (6 camisetas y 2 pantalones cortos)
☀ 2 Pantalones de senderismo
☀ Botas de montaña Quechua (para subir al monte más alto de España: el Teide. ¡…por lo menos es el plan!)
☀ Sandalias de senderismo Quechua
☀ Mis zapatillas rojas de Nike + calcetines
☀ Sandalias normales
☀ 2 Vestidos informales + 1 vestido de fiesta
☀ 2 Pantalones cortos
☀ 2 Faldas
☀ 5 Tops (Blusas, camisetas…)
☀ 1 Camisa de manga larga
☀ 3 pijamas
☀ Ropa cómoda para estar en casa
☀ Una cazadora impermeable con polar extraíble (también de Decathlon)
☀ Ropa interior
☀ 3 Bikinis
☀ Pañuelo (sirve de protección contra el sol y el frío)
☀ Complementos: pendientes, collares (unos que se dejan combinar con todo)
Productos de Higiene
☀ Loción hidratante (asegúrate de tener suficiente suministro hasta que estás seguro de que no tienes alergias a los productos en tu país de destino)
☀ Rímel impermeable (pasaré la mayoría del tiempo en la piscina… ¡¡por motivos profesionales!!)
☀ Toallitas de desmaquillar
☀ Higiene dental
☀ My perfume de Jean-Paul Gaultier (¿está permitido un mínimo de lujo, no?)
☀ Cepillo para el pelo
☀ Champú + Acondicionador
☀ Esmalte + quitaesmalte
☀ Cortauñas
Technología & Electrónica
¡Intenta siempre de quedarte con tu lista! No caigas en la trampa de llevarte más cosas por miedo que TAL VEZ las necesitas. En la mayoría de los casos los puedes comprar también en tu país de destino.
Un truco: nunca coloco todo directamente en las maletas. Siempre hago pequeñas colinas con la ropa que pienso llevarme. Luego hago otra vez una selección de las cosas realmente necesarias. Es una manera fácil e eficiente de revisar e evitar de acabar con demasiado equipaje.
¿Cuáles son tus trucos de hacer maletas? ¡Me encanta leer tus comentarios! No olvides de seguir a Paulina on the road en Facebook, Instagram and Google+.
---
Disclaimer: This posts contains affiliate links. In case you purchase one of the items, I'll receive a small commission. The price remains the same for you.
---