My most unforgettable trips of all time!
Post written by Kazim Raza

There is no denying that every trip changes a little bit from us. It is impossible to travel to a different place, to try new things, to live incredible adventures and then to return to the routine as if nothing had happened.
But there is no denying that some trips are more remarkable, some moments make you rethink your life and take your breath for a few moments.
I can remember all these experiences, maybe some in less detail … But it is impossible to forget what I felt at those moments, the way my heart beat and the mixture of feelings that ran through my veins.
The first unforgettable moment was my first plane trip. I honestly do not remember when I was at that time … But I remember well the rest. We got the seats on the bottom of the plane … Which gave me some fear!
At the time of takeoff, I was soooo worried that all the people would fall on us … And at the time of landing, I remember to tighten my beeeeeeeem belt, terrified of flying over people. Live the children's imagination!
For a long time, I could not forget that feeling … and not Senna's snack, which TAM served on board!
The second memorable trip was to Foz do Iguazu. I should be about 8 years old …
If I close my eyes, I can still see that immensity of water in Iguazu Falls, I can remember how my brother and I had fun with the quatis and the thrill of having such a different animal near us.
I also remember walking on the paths and feeling that fine water that came from the waterfalls getting me wet.
After that, I made my first international trip … to Paraguay, but I think that counts, right?!
The third most remarkable trip of my life was a road trip that my family made when I was about 12 years old.
We traveled by plane from Curitiba to Salvador, where we spent a few days with our relatives and rented a car for a trip along the northeast coast. My parents opted for a side road that bordered the sea, but it was full of holes.
We went through all the capitals until we got to Natal. From there, we went to the dunes of Genipabu … The buggy ride with "emotion" can give me a little chill in the belly until today!
My next unforgettable trip only came to happen a few years later.
In 2011, my mother and my brother came to visit me in Germany. We had a few days and a lot of desire to get to know new places … So together with some friends, we decided to buy a Eurail ticket and make a backpacking in Europe.
It was 15 days of a lot of speed and a lot of discovery … We went through several hot flashes and also moments of pure joy! I can remember every city we visit, every night on the train … Moments that will last forever in our memory.
And the last time I felt this emotion, it was already in 2015, in the Cliffs of Moher in Ireland.
I'm always a little afraid to visit places that I dream of and ended up creating a certain expectation. But in the Cliffs, there is no way to be disappointed. The view is unbelievable and the closer you get to the cliffs, the more you feel how small we are in the face of the immensity of this wonderful world!
Unforgettable moments just happen! We cannot predict them or program them … But the more you travel and experience different things, the greater chance of living something like that!
What about you? What moment has marked your life? What is your unforgettable journey?

---
About the author…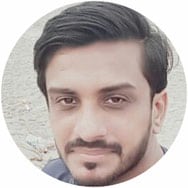 Kazim Raza is a Digital Marketer and Search Engine Analyst. He loves socializing and playing soccer. One of his targets is to guide people how to earn a living via online marketing. There is a proper method to do this, and once you learn what that is, you become unstoppable…
You can follow him on Facebook.
---