Golf Isn't Fun? How My First Lesson Changed My Mind
After writing mostly "useful and resourceful" posts in the last time, it was about time to write something more reflective again. Sometimes I just feel this urge to write, especially when I notice a change within myself or when traveling changed my perspective on things.
That's exactly what happened when I had my first golf lesson, while being convinced that I'd totally hate golf. And ending up enjoying it. A lot.
---
Like it? Pin it!
---
So I went on a trip with #ItalianLeisureWay to Lake Garda and a complete morning of the program was dedicated to…drum rolls… GOLF!
How was that supposed to work with my niche of slow and eco-friendly traveling? Slow, maybe yes, but eco-friendly? Couldn't we just go hiking? Weather was gorgeous and autumn foliage made nature shine bright in all imaginable red, orange and yellow tones. I was really craving a hike in that spectacular setting.
Later on I learned that considerable efforts have been made to make golfing a more eco-friendly sport. Golf resorts are increasingly using a very specific type of grass, which consumes until 80% less water. Did you know that you can buy "golfing grass" just like in a catalogue? Additionally, many tilts are now dissolvable and durable, golf balls are getting recycled or biodegradable, no synthetic pesticides, fertilizers or herbicides are becoming more popular…
For those of you that know me, I adore sports, but it has to be something active and fun. Golf seemed like the slowest "sport" ever…
But I also have full respect for the program that #ItalianLeisureWay put together, thus I didn't nag when my alarm rang at 7am to have my first golf lesson at Verona Golf Club.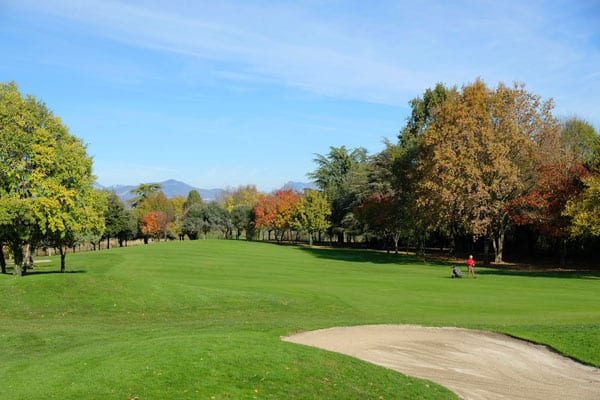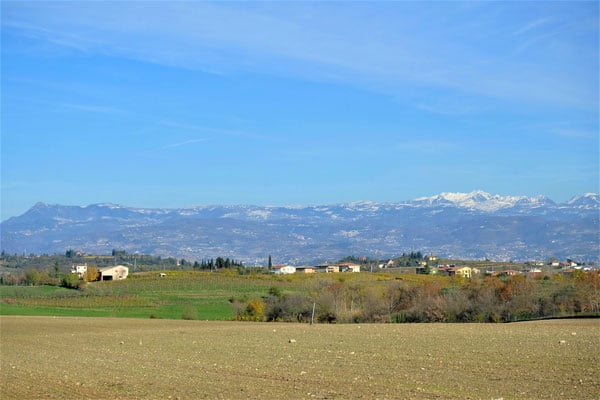 So far my idea of golfing was that it's a sport for snobbish, elderly or/and bored people or the British.
Hell, I couldn't be more wrong!
First of all, there were our 2 instructors: one from SKY TV Italy and the other one used to work for Armani. Both very Italian signori. I mean, Hello?! That's already a very good basis to start liking golf…
Another very positive surprise was the Golf Club itself. Verona Golf Club is set in an rustic, very Mediterranean house covered by vine leaves shining in all imaginable colors. They had a little golf shop inside and their restaurant looked so cozy.
Slowly I started thinking more positively about hitting balls with sticks (what's golfing apart from this?)…
I love being outdoors and sometimes it doesn't matter what I do, as long as it's outdoors. So why shouldn't I give golfing a try?
Putting: It's all about reading the green
We started with Putting, which unluckily confirmed my idea of golf as a veeeery slow sport. Putting is all about precision and slow-speed strokes. You need to calculate the most efficient way to get that ball in the hole taking into account slope, winding and whatever.
Pros call it "read the green" : they examine the grass between the ball and the hole. If the grass appears shiny, the ball will go faster. A downhill slope and a dry green will also make the ball go faster. Putters notice contours in the green, to see if the ball will break to the right or to the left when it is hit.
There's just so much thinking taking place before taking action… My putting strokes were always too strong so that the ball always went min. 2 meters further than this hole.
Soon I got the surname "terrorist" and Mr. Armani & Mr. SKY TV Italy kept reminding me to be "More gentle and kind. Softer please!". All underlined of course with thy typical Italian hand gestures.
Oh man, I really like sports, but this was too frustrating: you had to calculate slopes, curve progression, angles… All this sounds more like a draining math class. (And I'm too bad in maths…)
Long shots: Get that ball as far as you can!
Finally Mr. Armani & Mr. SKY TV Italy announced that we would proceed to the long shots. For total newbies, long shots are the part where you try to shoot the ball as far as possible. Shooting a ball as far as you can with a stick? That already sounded much more fun!
Of course I missed my first ball, and as a result I turned a nice pirouette with all the energy I had prepared to shoot this ball to the moon.
After Mr. Armani showed me the right posture and technique, I was ready for my second long shot.
Carefully and consciously, I applied each step: bend your knees, bend over the ball, never loose sight of the ball, even when striking out…
And… BOOOOOM my little golf ball went in a great arc through the sky, until I lost sight of it!
That's when I was hooked: I didn't stop doing long shots for next 2 hours. The liberating sensation of putting all your focus and energy into that ultimate golf swing had such a decompressing, even relaxing effect.
I got absolutely hooked to this very satisfying feeling to see my ball flying higher and further. I really liked this…
The Moral of The Story
If this experience had a moral to me, then that you should never judge something before having tried it. Be always ready to learn!
Because since my muscle soreness after my first golf lesson, I don't take golfing as a sport for softies anymore. And after playing with Mr.Armani & Mr. Sky TV Italy, golfing is definitely not only for grey lords from the UK.
To round up the day, we had a little competition at… putting!
Needless to mention that I failed gloriously.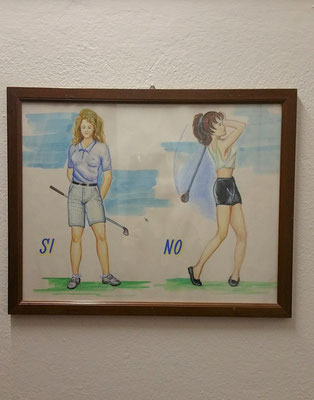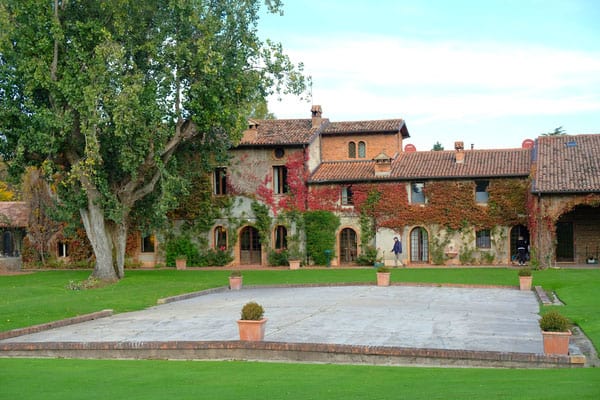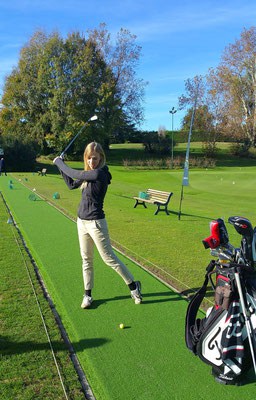 ---
Sharing is Caring!
---
You might also like…
[/fusion_text][/fusion_builder_column][/fusion_builder_row][/fusion_builder_container]