El Rocío, Spain: a craddle of Andalusian folklore
El Rocío or the place where people dance all day long, where horses are the first means of transportation and fervid Andalusian rhythms sound at each corner!
El Rocio village is not only one of the legendary Andalusian white villages (most famous ones are Mijas, Arcos or Vejer), but also has a high importance for the Andalusian culture and tradition.
It's also a perfect destination for backpackers in Spain since costs are relatively low and the natural surroundings are stunning.
At first sight, this place seems to be the incarnation of the Andalusian cliché: religious fervor, shops with flamenca dresses and haughty Caballeros on their Andalusian horses. And I couldn't loose the impression until the end that this actually IS a place which shaped the Andalusian identity.
The hermitage and the venerated statue of Our Lady of El Rocío attract each year on Pentecost one million pilgrims from all over Spain. The festival and the pilgrimage last for several days. The atmosphere is absolutely unique: fierce and festive at the same time.
El Rocio is thus a perfect option when looking for day trips from Seville.
Many do the cumbersome way on their horses, by carriage or by foot. During the night they sing and dance at the campfire the traditionally cheerful Sevillanas Rocieras, songs about the pilgrimage and the Virgin.
On Saturdays and Sundays people come to El Rocío to celebrate life. They bring the traditional Rociero instruments: the drum, a flute and guitars.
Together they sing and dance in the streets while the horse carriages pass along and the next mass is being celebrated inside the hermitage. Streets in El Rocío are not paved: you better bring your country boots unless you come by horse to visit this magical place.
View on the surrounding marshland – Vista a la marisma
Limited Offer: Enjoy Up to 15% Off + Kids Stay Free + Free Cancellation – Iberostar Hotels in Europe, Cuba, USA & more – Check deals here
Español
El Rocío, o el lugar donde la gente baila y canta, donde los caballos son el primer medio de transporte y ritmos aflamencados suenan en cada rincón!
A la primera vista este sitio parece ser la encarnación del tópico andaluz: fervor religioso, tiendas con vestido de flamenca, caballeros orgullosos en sus caballos de Pura Raza Andaluza.
Y hasta el final no me podía deshacer de la impresión que El Rocío ES un lugar que modeló y sigue modelando la identidad andaluza.
La ermita y la virgen de Rocío atraen cada año un millión de peregrinos de toda España. Muchos hacen el duro camino en caballo, en carruaje o a pie. Durante la noche cantan y bailan sevillanas rocieras cerca de la hoguera.
Los sábados y los domingos la gente acude al Rocío para celebrar la vida. Traen a los instrumentos rocieros tradicionales: el tambor, la flauta y guitarras. Juntos bailan en las calles arenosas mientras que los carruajes pasan y la siguiente misa está celebrada en la ermita.
Las calles del Rocío no están asfaltadas: traed vuestras botas camperas a menos que venís a caballo a este lugar mágico.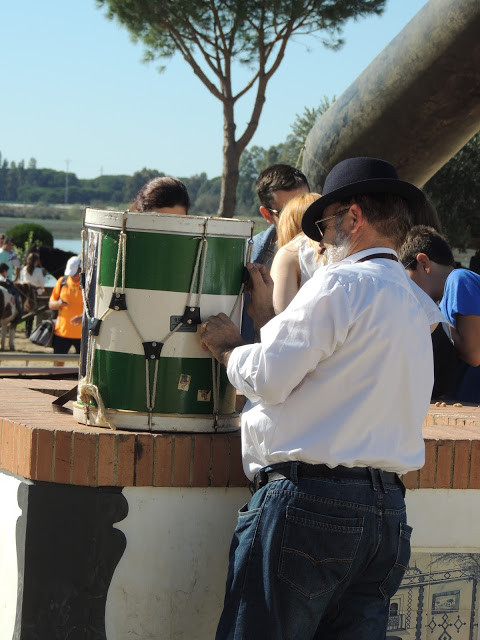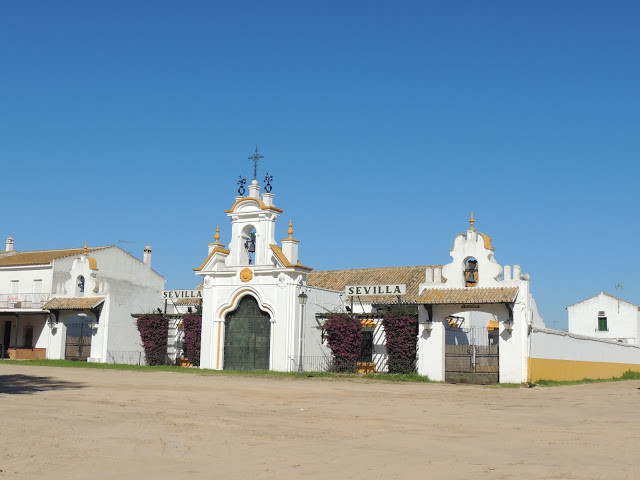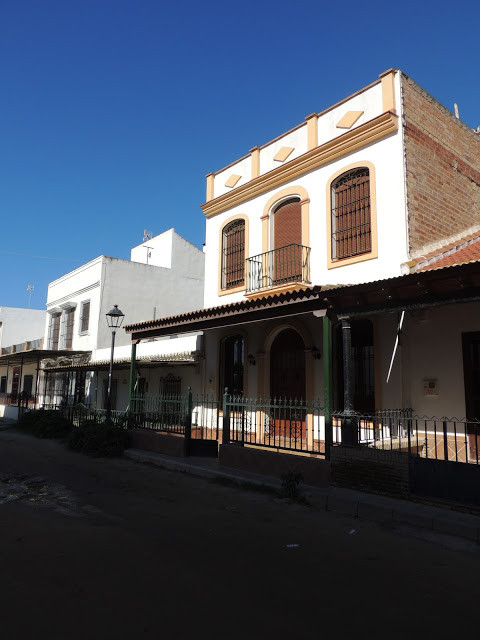 ---
Excursions starting from Rocío – Excursiones desde El Rocío:
Palos de la Frontera
Carmona
Sevilla
Huelva
***
For more information on tourism in El Rocío, I recommend the following webpage: Tourism in El Rocío
Para más información sobre turismo en El Rocío, os recomiendo la siguiente página: Turismo en El Rocío
***
---
Sp