I am just back from Abu Dhabi, the capital of the United Arab Emirates (UAE)… without expecting how much fun you can have there! Even though Abu Dhabi was supposed to be my gateway to Oman, I ended up staying 2 days in Abu Dhabi.
Before visiting, I was absolutely wrong about seeing Abu Dhabi as a pure business city or the less fun equivalent of Dubai. You can easily spend several days in Abu Dhabi but in this post, I'll share with you a fun 2 day itinerary in Abu Dhabi, including an epic desert safari!
In the 70s-80s, Abu Dhabi was nothing more than a larger village living from pearl fishing. In the 90s, the by-then capital of UAE was still nothing more than a larger town with a few 10-level buildings. By now, Abu Dhabi is a large, innovative metropolis and the country's business hub and political heart.
If you think that as a traveler or tourist, you can only have fun in Dubai (located at a 1h30 drive from Abu Dhabi), you couldn't be more wrong! In recent years, Abu Dhabi decked itself out with record-breaking attractions and activities that make it worth staying more than 48 hours in Abu Dhabi.
All attractions of Abu Dhabi are aiming at a certain superlative: the fastest roller coaster in the world, a monument that is one of the most visited ones in the world, the largest hand-knotted carpet in the world, … But still, you can experience the traditional lifestyle and values when traveling to Abu Dhabi by a fun desert safari.
This post contains affiliate links. if you buy via them, I'll earn a small commission which helps me to keep this blog running. I received services for free for an honest review. All opinions are my own.
Overview of what to do in Abu Dhabi in 2 days: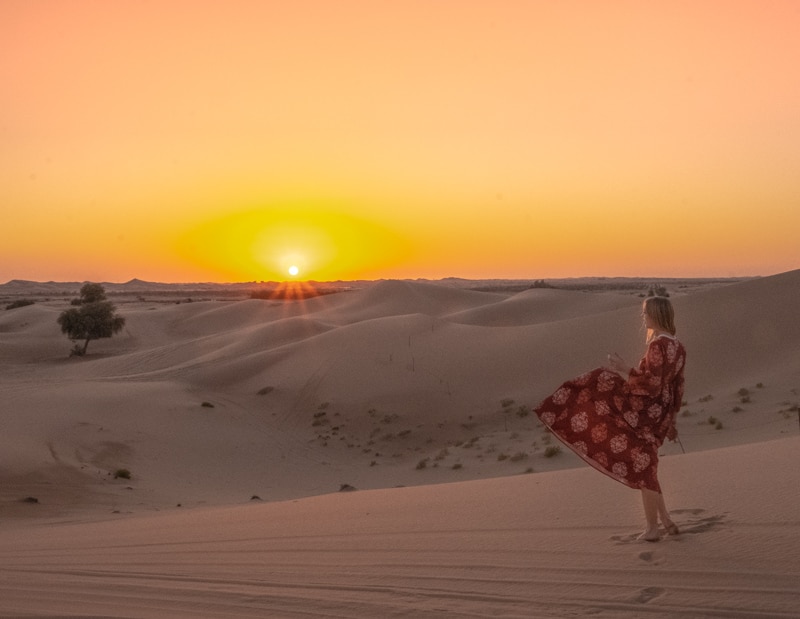 Let's dive into the perfect Abu Dhabi 2 day itinerary with a fun desert safari. This is what I am going to cover when it comes to the best things to do in Abu Dhabi in 48 hours:
Day 1:
Day 2:
a Golden Cappuccino in Emirates Palace
Street food night in Abu Dhabi
Useful travel information about Abu Dhabi
Book cheap flights to Abu Dhabi with Skyscanner

Book transfers between Dubai and Abu Dhabi with Viator

Find the best Hotel Deals in Abu Dhabi with TripAdvisor Hotels – Abu Dhabi

Best tours and activities in Abu Dhabi with GetYourGuide

Rent a car with the best discounts at Discover Cars

The best discounted Outdoor Gear at REI.com – Outlet

✎ Never leave without travel insurance. I get mine at WorldNomads
If you have a long layover in Abu Dhabi, be reassured, there are great shower spa facilities in Abu Dhabi Airport.
Visa Regulations
EU citizens, as well as US-Americans, don't need to apply for a visa. You will get a free visa upon arrival. If you have a different nationality, click here to find out if you need a visa.
Where to stay in Abu Dhabi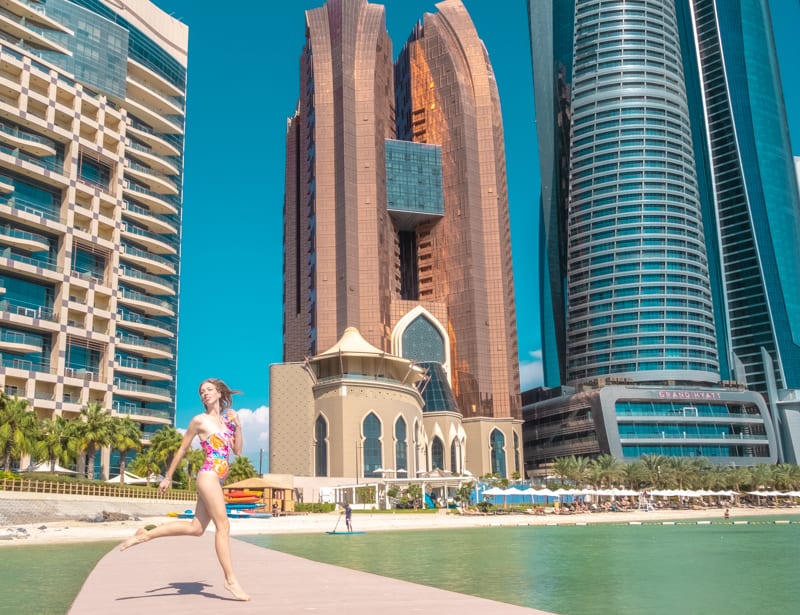 If you are wondering where to stay in Abu Dhabi, you should first determine the goal of your Abu Dhabi trip.
Do you want relaxing beach holidays or be active and make the most out of your time in Abu Dhabi? The Corniche area is perfect for those who want to be close to the main attractions of Abu Dhabi. If you want to spend more relaxing holidays in Abu Dhabi, have a look at the hotels in Yas island or Saadiyat island.
My personal recommendation to unite the best of the 2 worlds: the Bab Al Qasr Hotel *****
The Bab Al Qasr hotel ***** is located in the Abu Dhabi Corniche area (the best area) and faces the legendary Emirates Palace and the Presidential Palace. Thus, depending on your room, you'll enjoy literally majestic views!
Besides the ideal location, I loved the fabulous hotel lobby (feeling like a royal!) with its sweet treats and the private beach. The rooms are very spacious and the service of the dedicated staff is unparalleled.
To me, the Bab Al Qasr Hotel ***** is a perfect oasis of peace to explore exciting Abu Dhabi and combining the trip with some lazy hours at the hotel's private beach. On top, you get, in my opinion, extremely good value for your money when considering that this is a 5* hotel located just in front of the Emirates Palace, another major Abu Dhabi attraction.
Abu Dhabi Itinerary – Day 1
Morning: visit the Sheikh Zayed Grand Mosque
No matter whether you stay 48 hours in Abu Dhabi, a week or only 24 hours… a visit to the breathtaking Sheikh Zayed Grand Mosque is an absolute must-do!
The bright white mosque is not only considered as being one of the most beautiful mosques in the world but on top, according to TripAdvisor, it is the most visited landmark in the world after the Vatican. With its area equivalent to 4 football fields, it is the third-largest mosque in the world.
Please make sure to respect the Abu Dhabi dress code.
These facts about the Sheikh Zayed Grand Mosque are further reasons to visit this epic landmark:
It took 12 years to complete the mosque
The prayer hall has the largest handknit carpet in the world which was achieved by 1200 workers
The chandeliers are made with Swarovski crystals and are some of the largest in the world
Count up to 82 domes
The light system at night varies according to the moon phase
Opening times of the Sheikh Zayed Grand Mosque:
9:00 am – 10:00 pm from Saturday until Thursday and on Sundays, and 4:30 pm – 10:00 pm on Fridays
During the Ramadan, consider that the opening times change to 9:00 am – 2:00 pm from Saturday until Thursday and on Sundays, and the mosque is completely closed on Fridays.
I recommend visiting as early or as late as possible in order to avoid the crowds.
Entrance fee of the Sheikh Zayed Grand Mosque:
The entry fee of the Sheikh Zayed Grand Mosque is free and you can even sign up for a free tour every hour. I didn't do the tour, but I certainly regret it because it takes you to parts of the building that most visitors cannot access.
Calculate 1-2 hours for your visit and there are many restaurants (even a major fast-food restaurant) that sell drinks and food.
Dress Code:
Dress appropriately when visiting the mosque. That means long trousers and covered shoulders for men and covered hair, legs and arms for the ladies. Ladies can rent abayas for free at the entrance of the mosque.
The staff of the Mosque is really strict on the fact that everything is covered. I got reprimanded several times that I should cover more my hair.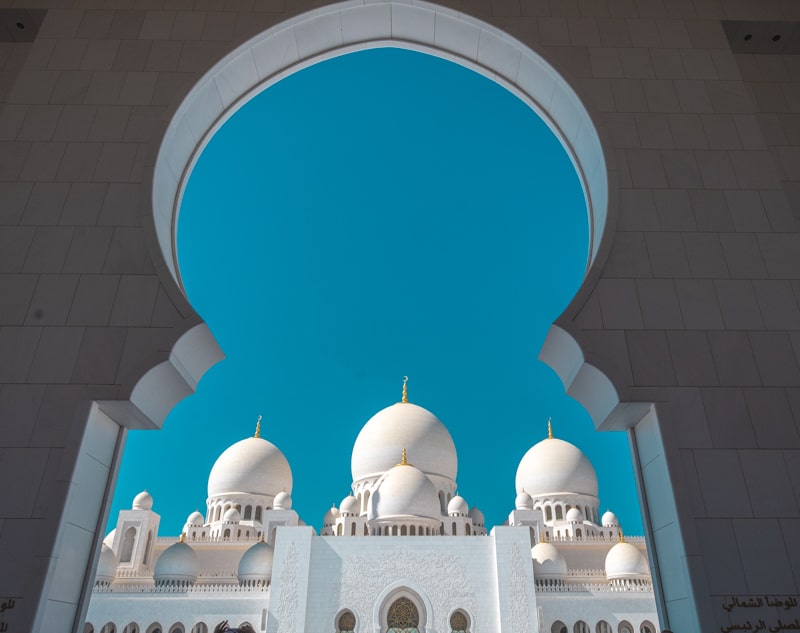 How to get to the Sheikh Zayed Grand Mosque:
I went by car and you can enter the parking at gate 6.
How to get to the Sheikh Zayed Grand Mosque by public transport:
By public transport, from the Al Wahda Bus Terminal. Plan here your journey.
How to get to the Sheikh Zayed Grand Mosque from Dubai:
Take a bus from Dubai to the Abu Dhabi Al Wahda Bus terminal. From here, you can take a local bus to the Mosque.
The route between Dubai and Abu Dhabi is covered by the E100 departing from the Dubai Al Ghubaiba Bus station and line E101 departing from the Ibn Battuta Bus Station.
Book here a day tour from Dubai to Abu Dhabi including the Sheikh Zayed Grand Mosque.
Book here a tour from Dubai to Abu Dhabi including the Sheikh Zayed Grand Mosque
Before lunchtime: ride the fastest roller coaster in Ferrari World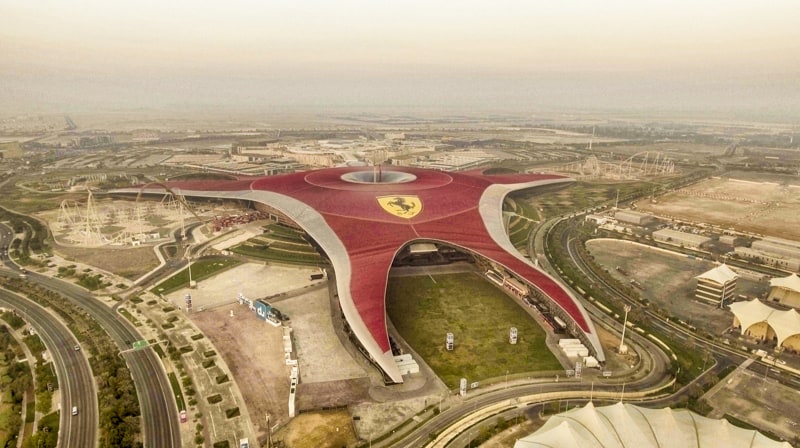 After enjoying a cultural matinée at the Sheikh Zayed Grand Mosque, you are more than ready for an action-loaded, speed activity! Did you know that Abu Dhabi is home to the fastest rollercoaster in the world? The rollercoaster is part of Ferrari world, one of the major attractions in Abu Dhabi.
Book here your ticket for Ferrari World
Located on Yas island, Ferrari World is a theme park that comes with several Italian dining options and there are 37 exciting rides to do. Among the most popular roller coasters figures the world-famous Formula Rossa roller coaster and the Racing Aces.
The Formula Rossa is the fastest rollercoaster in the world and the Racing Aces boasts the highest roller coaster loop in the world. The Formula Rossa roller coaster will speed you up to 240 km/h in less than 5 seconds. Thus, if you are looking for an adrenaline kick, you'll find it most surely at Ferrari World.
Other activities in Ferrari world are:
Kart racing
Turbo Track with its zero-gravity fall
Junior Grand Prix for kids
Ferrari Gallery showcasing the evolution of the Ferrari design
Racing simulators for kids and adults
Shows
Ferrari World holds something for travelers of any age. It remains a theme park though, just that you can spot the iconic horse brand everywhere. You can easily spend an entire day at Ferrari World, but if you have only limited time, make sure to take a ride on Racing Aces and Formula Rossa.
As there are excellent dining opportunities in Ferrari World, you can opt for lunch in the theme-park. On top, the location is located indoor, thus the perfect place to escape the heat in summer.
Opening Times Ferrari World:
11:00 am – 8:00 pm
Schedules are subject to change, especially during the Ramadan.
Book here your ticket for Ferrari World
Afternoon desert safari with barbecue, camel riding, campfire, and belly dancing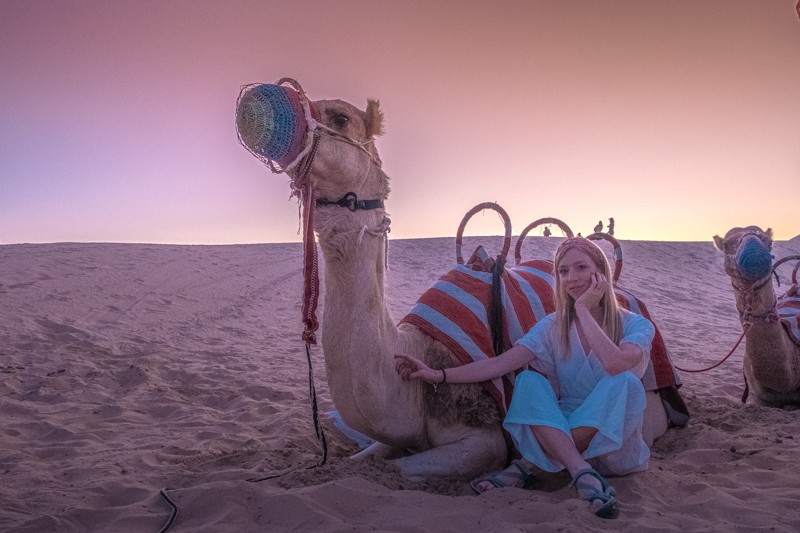 After lunch, it is time to go into the wild with a desert safari. Indeed, it would be a pity if you'd only stay in the city of Abu Dhabi when you have in its close surroundings some of the most beautiful desert landscapes. In my eyes, the desert is pure magic and on top, it has an important cultural value in the UAE.
A desert safari that is much more than a plain safari! When you book a desert safari, in most cases, the following activities are included:
Dune bashing with a 4WD
Sandboarding
Camel riding
A delicious traditional barbecue in a traditional desert camp
A henna painting and clothing workshop
Belly dancers and so much more
In short, a desert safari includes everything it takes to spend an unforgettable afternoon away from the city!
I booked my desert safari with DoTravel and everything went very smooth. After receiving the booking confirmation on my phone with detailed instructions, I was in touch with our guide for the tour. They pick and drop you in a cool 4WD at your hotel, thus it couldn't be more convenient.
As the desert camps are not accessible to the public and as dune bashing is rather risky if you don't have excellent driving skills, I recommend booking your tour with DoTravel in order to travel worry-free. The tour costs 56 € and guarantees you up to 6 h of great fun and entertainment.
Book here your Abu Dhabi Desert Safari
Abu Dhabi Itinerary – Day 2
Morning: Louvre Abu Dhabi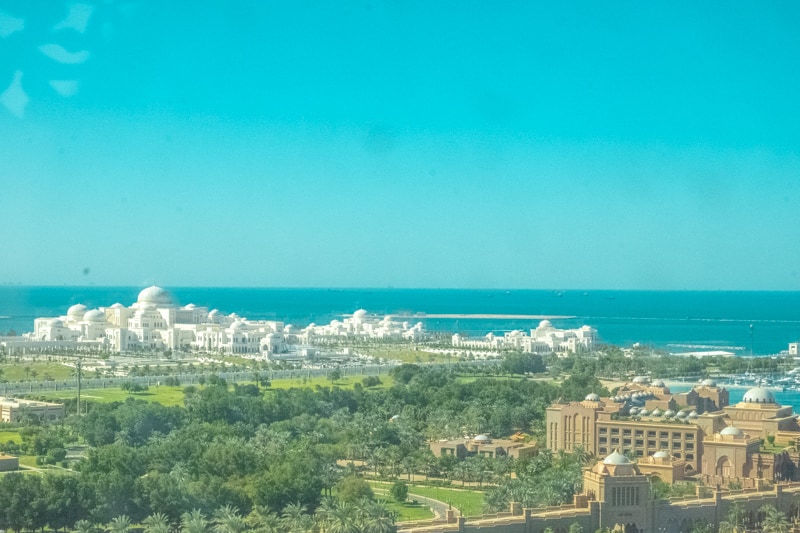 Even if you are not an art buff, you'll enjoy a visit to the Louvre in Abu Dhabi. Why? Because it's one of the most impressive buildings in the Middle East from an architectural point of view.
Located in the heart of the cultural district Saadiyat, the Louvre Abu Dhabi is home to artworks of great historical and cultural value. Some of them have been loaned by prestigious French museums such as the Centre Pompidou, the Musée du Louvre or the Musée d'Orsay.
Book here your tickets to Abu Dhabi Louvre.
The exposed artworks come from several regions, multiple periods and cultures. The visitor is thus prompted to reflect on what is art and its universality.
However, the building itself is a masterpiece! Bright white and designed by Jean Nouvel, the landmark was inspired by the traditional Arabian water irrigation system, the falaj. This ancient tradition was used to bring water from the underground to the surface.
This means that water is a key component of the entire museum as it is part of the concept of the Louvre. It runs throughout the museum.
Another highlight of the construction by Jean Nouvel is the roof inspired by interlaced palm trees. If you'll stand below it, you'll enjoy a play of light that's an artwork in itself.
Book here your Abu Dhabi 2 day tour
Qasr Al Hosn: the oldest building in Abu Dhabi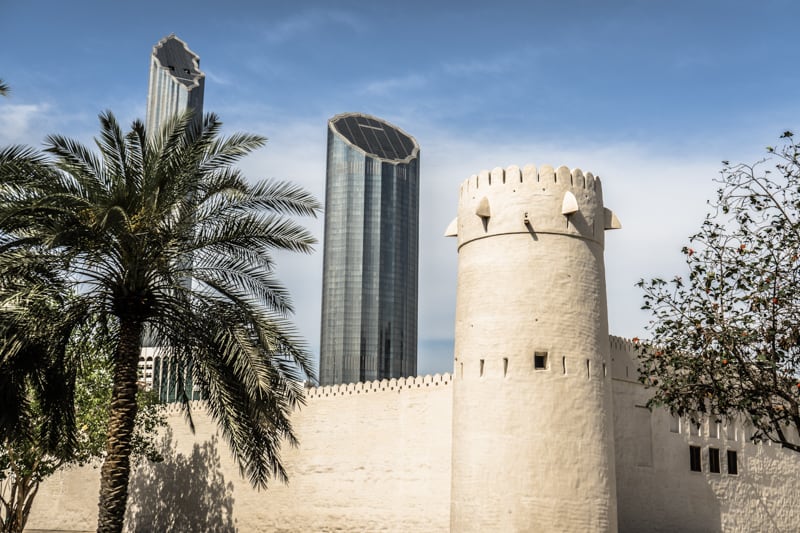 Did you know that Abu Dhabi was until the 70s-80s just a small fishing village? If you want to travel back in time and learn more about the extraordinary ascent of Abu Dhabi, I recommend visiting Qasr al Hosn, the oldest building in Abu Dhabi.
Built in 1790, the building was used to control the coast and land from its watchtower. Already by then, the Emirates was a trading hub. Throughout history, the building had several functions: the seat of the ruling family, a national archive, the seat of the government, …
Converted into a museum, Qasr Al Hosn depicts the spectacular journey from a town reliant on fishing and the pearl industry to one of the most innovative metropolis in the world. The exposed artifacts include weapons, paintings and more. Some of them date back to 6000 BC!
This is a must-do for any Abu Dhabi 2 days itinerary!
Book here a ticket to Qasr Al Hosn
Optional: Heritage Village Abu Dhabi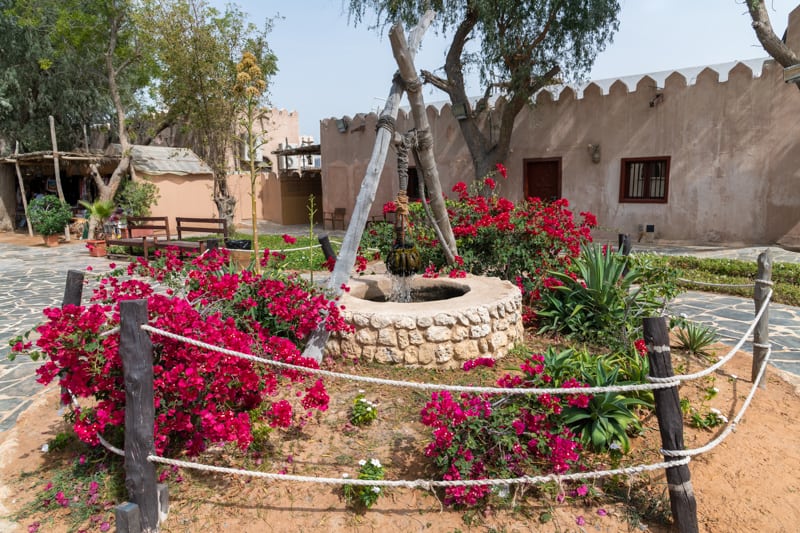 If you enjoy history and want to dive in it, I recommend having a look at the Heritage village. Located close to the Emirates Palace, the Heritage Village is a great place to enjoy the traditional Bedouin lifestyle that characterized Abu Dhabi before it became a global metropolis.
Including a souk, a mosque, and several workshops, the visitor is invited to learn the skills of the craftsmen at the Heritage Village. Be ready to tune your weaving, spinning and pottery skills!
The entrance to the village is free and it's worth a visit alone due to the lovely spice shop! It's definitely a highlight of any Abu Dhabi itinerary.
Afternoon: high gold cappuccino at the Emirates Palace
After visiting the Abu Dhabi of the pre-oil era, let's dive into the fancy, shiny and abundant part of the town. The luxurious and wealth of Abu Dhabi couldn't be better demonstrated than by the imposing Emirates Palace and its 114 domes, 1002 crystal chandeliers and 1,3 km of private beach!
The horizontal equivalent of the Burj Al Khalifa in Dubai sets new superlatives when it comes to hotels You don't have to check-in the hotel in order to get a glimpse of the Emirates Palace. Nowadays the hotel works as a cultural hub to the city and is one of the main attractions of Abu Dhabi.
I recommend wandering through the majestic (I am running out of words to describe the superlatives of the Emirates Palace) lobby and check out the different foyers. If you don't have the budget for a 150 € steak or to book a room at the Emirates Palace, but you still want to have a royal moment, I recommend enjoying the world-famous Palace Cappuccino sprinkled with 24 real gold flakes. It comes at the glitzy price of 60 AED (= +/- 15 €).
If you have the budget, go on a splurge and stay in one of the sublime rooms. Even their standard room feels like a royal suite! I was told by locals that the hotel has several special offers throughout the year which makes this VIP experience affordable to a larger public.
Dress Code:
No shorts, no tank tops!
Even if you only have two days in Abu Dhabi, a visit to the Emirates Palace is a must and one of the most epic places to go in Abu Dhabi.
Book here your Abu Dhabi 2 day tour
Observation Deck at 300 – Jumeirah at Etihad Towers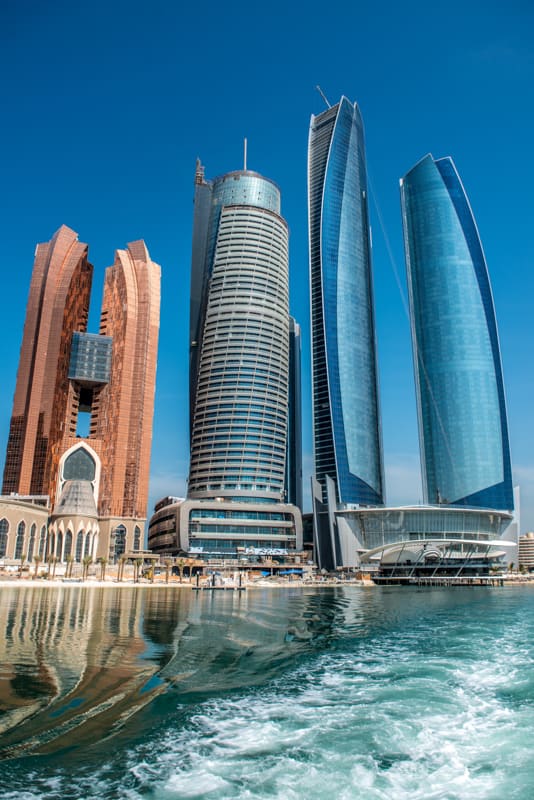 After going wide with the Emirates Palace, it's about time to go really high with the Observation Deck at 300 – Jumeirah at Etihad Towers. Are you wondering what to see in Abu Dhabi in 2 days? Well, the Observation deck at 300 – Jumeirah at Etihad Towers is an absolute must-do!
The highest vantage point of the UAE capital is located at 300 m above the ground and will provide you with exceptional views over the Corniche, Abu Dhabi, and the whole Arabian Gulf.
On the same Observation Deck at 300 – Jumeirah at Etihad Towers, you can enjoy a high tea or one of the bar's signature mocktails. High noon tea starts last from 2:00 pm until 6:00 pm and costs 250 AED (= +/- 62 €).
A credit voucher is usually attached to the entrance fee that you can redeem during your visit.
Book here your entrance ticket
International street food night in Abu Dhabi
After splurging throughout the day, are you ready for a real street experience? Why not spend a night out in Abu Dhabi's Al-Danah neighborhood and enjoy street food from all over the world?
Indeed, Abu Dhabi has an extremely large percentage of expats and all of them brought their gastronomical highlights with them. Thus, be ready to enjoy seafood as in Asia, pizzas in the best Italian style and fancy Lebanese bars. Food bar hopping is one of the most fun things to do in Abu Dhabi at night.
My favorite place to enjoy a lively dining night out was definitely the Al Danah district. Not only will you find plenty of restaurants but also cinemas, shopping centers and more.
Some of the best places to dine out in Al Danah and enjoy cool street food are:
Itinerary: 2 Days in Abu Dhabi Map
---
Before You Go: Top Tips for your Trip
You'll snap tons of photos and I love to take my GoPro in order to shoot even in extreme situations.
Make sure to wear comfortable walking shoes and hiking sandals when traveling to warm countries.
Sunscreen is key! I always take with me my eco-friendly sunscreen by Thinksport.
I always carry a light rain jacket, just in case.
Travel insurance is essential! If you haven't already obtained travel insurance for your trip, travel protected against all odds with SafteyWing.
---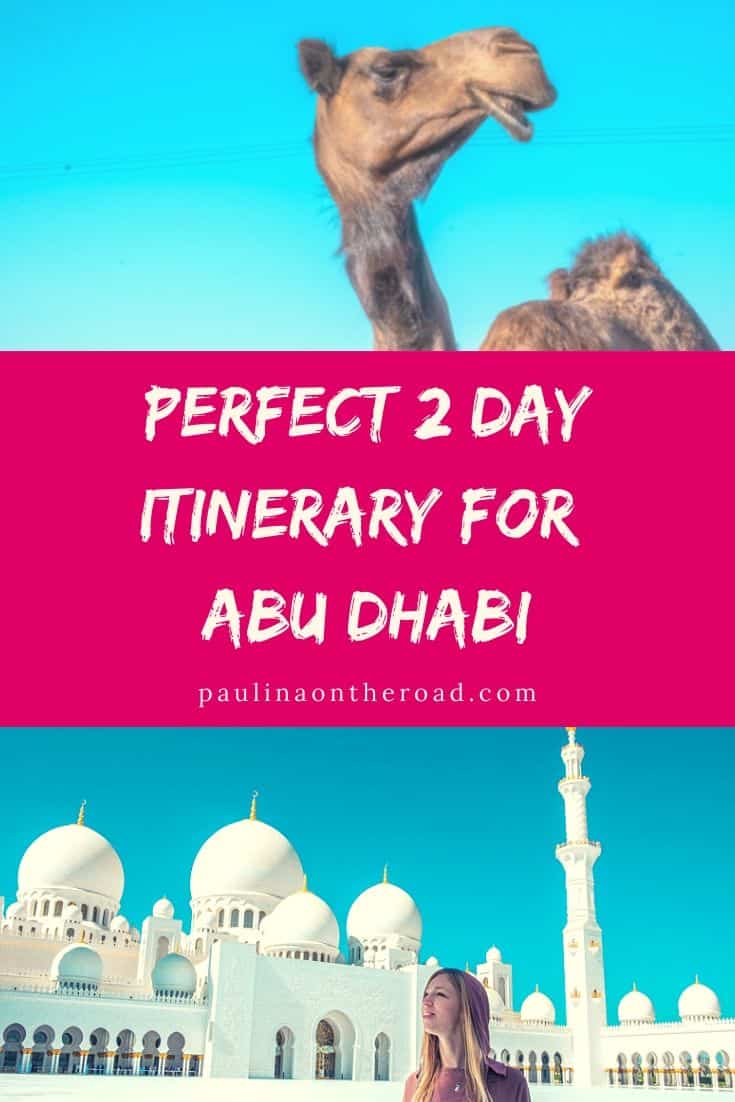 ---