A Day Trip from Seville to Carmona, Spain
Carmona, only 30 minutes away from Seville, impresses with a manifold history. Stronghold during the time of Julius Caesar, occupied by the Moors and finally captured by the Castilians, Carmona is an architectural melting pot of 3 cultures.
Located at only 30 minutes by bus, Carmona is the ideal day trip from Seville. Seville can get really hot in the summer months, so if I didn't go to the coast, I sought refreshment in smaller towns like Carmona.
On top, Carmona boasts one of the top hotels in the region: the Parador de Carmona. It is the perfect location to relax while being surrounded by historic walls and very Andalusian atmosphere.
All-in-white houses with Mudéjar details, my dress red as blood and the Spanish bulls black as ebony made me feel as in a Moorish version of Snow White.
The town has more than 5000 years of history and what seems like a sleepy provincial town, will end up surprising you.
How to Get from Seville to Carmona by bus
Several buses depart per day from Seville to Carmona. The bus from Seville departs at Plaza de Armas and arrives 30 minutes later in Carmona. You can thus easily go in the morning and come back at night, in case you stay in Seville.
Carmona is thus the perfect day trip from Seville.
Relaxing in the Parador of Carmona
The most impressive sight of the city is the Palace of King Pedro, a former Arab fortress which is home to the Hotel Parador de Carmona. Staying at the Parador is definitely a highlight: an oasis of tranquility, beauty and the feeling of being thrown back into Moorish times.
The swimming pool is located in the midst of exuberant gardens with exotic fruits.
Even if you are not getting accommodated at this 4-star hotel, you should at least enjoy a meal in the castle's dining room with impressive views on Sierra Morena and the countryside.
Carmona's delicious local dish "Espinacas con garbanzos" (spinach with chickpeas) will evidence even more why Carmona is a hidden jewel of the Sevillian province.
Things To Do To in Carmona, Spain
You can easily stay more than one day or night in Carmona. I definitely recommend staying in Carmona at least until nightfall as the town is absolutely enchanting during the night. The atmosphere is very mysterious and I loved wandering through its narrow streets.
So what is the best way to visit Carmona?
Visit the ancient walls
The town is not very large and the most important sights are located within the fortification walls. I definitely recommend visiting the Gate of Seville and the Gate of Cordoba which is richly ornated. The Gate of Cordoba is close to the Moorish fortress Alcázar del Rey Don Pedro, home of the Parador.
I recommend starting your tour at the Gate of Cordoba as it is located in the higher part of the town and you can easily park your car at the parking close to the Parador de Carmona.
The ancient walls make Carmona one of the most beautiful places to visit in Spain.
Have a break in the Parador
Even if you're not staying in the Parador, just have a coffee inside and get a glimpse on the BREATHTAKING views on the plane land of Sevilla province.
Visit the Jewish Quarter
From here, I recommend strolling through the narrow, cobbled streets of Carmona. You shouldn't skip the Jewish quarter San Blas with its truly mystic atmosphere.
Visit the Farmer's Market
A highlight of any trip to Carmona is a quick visit to the farmer's market… which is located in the patio of a former convent! The market is also one of the best places to stock up on local products and to buy artisan souvenirs.
Buy Sweets in the Convent
There are still several convents existing in Carmona, as the picturesque St. Claire. Spanish nuns usually prepare delicious sweets which I love to bring for my friends. Often each Covent its very own typical sweet.
You will find an extensive guide with Carmona's most important sights and best restaurants on the website of Visit Carmona. Check it out to prepare your trip in detail!
---
Versión Espanola
Carmona, a solo 30 minutos de Sevilla, impresiona con su historia muy variada. Bastión durante el tiempo de Julio César, ocupado por los Moros y finalmente conquistado por Fernando III de Castilla, Carmona es un verdadero crisol cultural arquitectónico de 3 culturas. Casas blancas con detalles mudéjar, mi vestido rojo como la sangre y los toros negros como el ébano, me hacían sentir como en una versión morisca de Blancanieves.
El monumento más impresionante de la ciudad es el alcázar árabe del Rey Don Pedro que ubica el Parador de Carmona. Alojarse en el Parador es una experiencia inolvidable: la corona de la ciudad es un oasis de tranquilidad, belleza que te dará la sensación de volver a los tiempos moriscos. La piscina del hotel está situado en medio de jardines con frutas exóticas.
Aunque no te quedas a dormir en el hotel, deberíais por lo menos disfrutar de un almuerzo en el antiguo refectorio del hotel con vistas increíbles a la llanura andaluza y la Sierra Morena al fondo. El plato tradicional de Carmona, espinacas con garbanzos, no os lo podrá dejar más claro que Carmona es una joya escondida al lado de Sevilla.
Para tener una guía completa sobre los monumentos más importantes y los mejores restaurantes de la ciudad, os recomiendo la página de Visit Carmona. Es perfecta para preparar vuestro viaje a Carmona en cada detalle!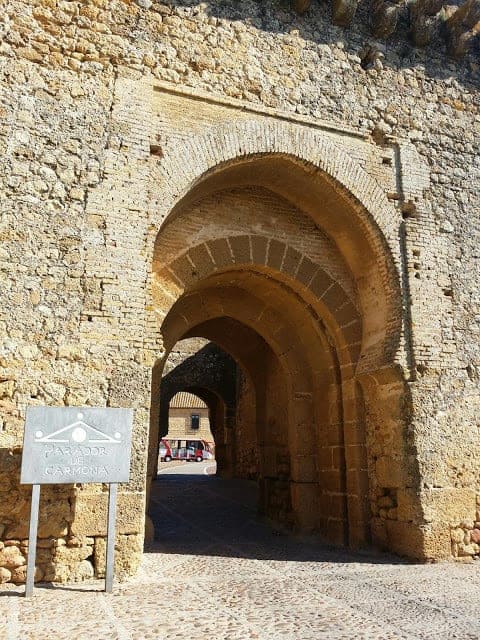 ---
***
For more information on tourism in Carmona, I recommend the following webpage: Tourism in Carmona (English)
Para más información sobre turismo en Carmona, os recomiendo la siguiente página: Turismo en Carmona
***
---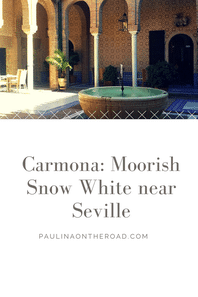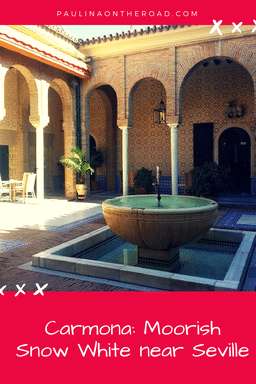 ---