Post written by Carol Trehearn
The ubiquity of American films means that landmarks and cities often make their way onto our 'must-see' travel list. The sheer size of the United States means that it has plenty of bucket list items on offer. Almost too many to pick from. So, what are the best once-in-a-lifetime experiences in the land of the free?
Make sure to read these tips on how to plan your trip from scratch.
1.Statue of Liberty, New York
There are a number of bucket list choices in New York but if you're there for only a short time, be sure to visit the infamous NYC icon that is the Statue of Liberty. The Empire State Building is pretty iconic too but you certainly can't wear a headdress to dress up like it.
You can even view New York from its crown.
When visiting the Statue of Liberty, be sure to also explore its surroundings.
There are Sea the City Jet Ski tours, the Liberty Island Museum, and the Ellis Island National Museum of Immigration. The latter explores how far people went to make a better life for themselves.
You will walk down quiet halls from 1892 to 1954 so that you can learn about the 12 million immigrants who were present in this building.
2. Mardi Gras, New Orleans
Gold, green and purple: the official colors of Mardi Gras. You'll see them strewn in garlands, painted on floats and sugar powdered over King Cakes.
While you're in New Orleans, be sure to grab yourself a slice of King Cake. Nothing pairs better with the party atmosphere and some cocktails than the taste of icing and brioche.
New Orleans' gorgeous architecture means that there are plenty of places to stay. So, head to www.VacationRenter.com, where you can enjoy the French-style balconies.
3. The White House, Washington DC
Washington DC is worth visiting in its own right. It prides itself on its extensive culinary range, with every food under the sun available in this cosmopolitan city. It even prides itself on its beautiful spring season, when trees are in full bloom.
Many only get to view The White House on television but going to see it in person is a real bucket list big-hitter. You can tour the White House or visit the surrounding attractions.
You can find the Washington Monument, the World War II Monument, the Martin Luther King, Jr. Memorial as well as beautiful National Park services like the Rock Creek Park and the Kenilworth Park and Aquatic Gardens.
The latter allows you to explore nature and is ideal for families.
Related: 20 National Park Coffee Table Books
4. Grand Canyon National Park, Arizona
Everyone knows how vast, impressive and stunning the Grand Canyon is. But truth be told, it is something you have to see in person. There are helicopter tours and walks that allow you to get a sense of just how impressive a sight it is, particularly at sunset.
Before heading there, make sure to take a long look at a map of the Grand Canyon when planning your sessions. Mark the most notable views and experiences, such as the Skywalk and hiking routes.
There are many tips to keep in mind when visiting the Grand Canyon. For instance, be aware of the altitude-related problems, the long drives, and the walks (this isn't a day trip), and stock up on gas before arrival. The last thing you want to do is run out of gas!
Along with hiking in Sedona, exploring the Grand Canyon is a must on any travel bucket-list to the US.
If you are not a fan of large crowds, you should definitely consider taking a day hike to escape the crowds.
5. Las Vegas, Nevada
Las Vegas is one of those cities that has to be seen to be believed. A replica of the Eiffel Tower, the gondola rides and the endless rows of neon and glittering lights: Las Vegas specializes in elaborate.
Even if you're not into gambling, you'll have famous stars doing residencies along the strip, brilliant restaurants and some of the best bars and clubs in the world.
Why not discover Las Vegas in a different way with an RV? Get here the best deal for RV rentals with RV rental Las Vegas.
6. Hollywood Boulevard, LA
If you're a film or pop-culture lover, then visiting Hollywood Boulevard is a must. The literal star-studded paths have garnered just as much press attention as some of the celebrities themselves.
Notable Hollywood stars on the Walk of Fame include:
Amy Adams (known for American Hustle and Sharp Objects)
Julie Andrews (The Sound of Music)
David Bowie (Labyrinth)
You can even get snapped with your favorite stars – albeit at the famous stars doing residencies
From here it is just a short drive to the Bodie State Historic Park, which is considered one of the coolest, abandoned places in USA.
7. A Rodeo, Texas
There's nothing quite like seeing a rodeo in person. Grabbing yourself a snack (potentially fried), a beer and cheering on some local cowboys will leave you feeling like a true American. Rodeos aren't just an evening full of bucking broncos.
They're an evening of barrel racing and even, sometimes, dirt-bike competitions.
If a rodeo doesn't sound like your type of fun, though, don't despair; Texas has much more to offer.
Camp out at the Enchanted Rock, the nation's second-largest granite dome. This rock has a long backstory, with native tribes once believing the rock was haunted and had magical powers. They also claim that anyone who stays overnight will become invisible!
When in Texas, you will also want to experience a proper Texas barbecue, complete with cult favorite dishes like hand-stuffed jalapeno cheddar sausages and incredible brisket. You won't leave this state hungry.
***
One of the best ways to complete a bucket list in the United States is to organize a road trip. Whether you end up hitting Route 66 as part of your bucket list or break up your trip for convenience, you'll need more than a week's annual leave to complete this list.
Block out a few weeks, plan your route, and get sightseeing.
---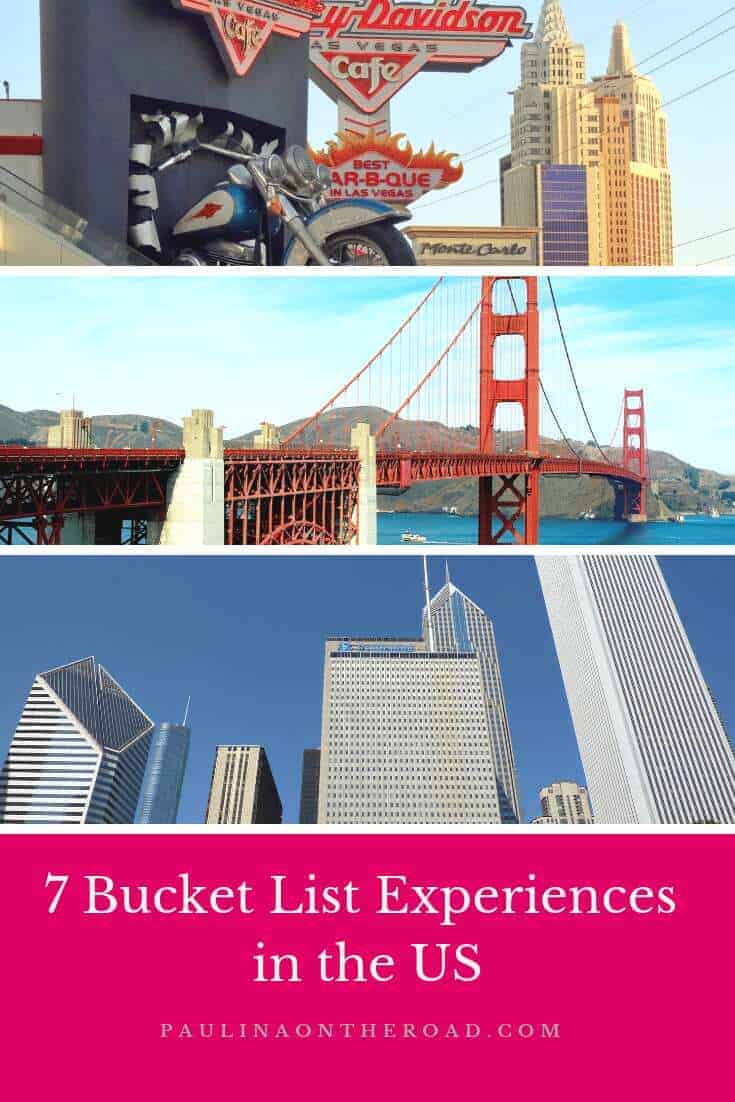 ---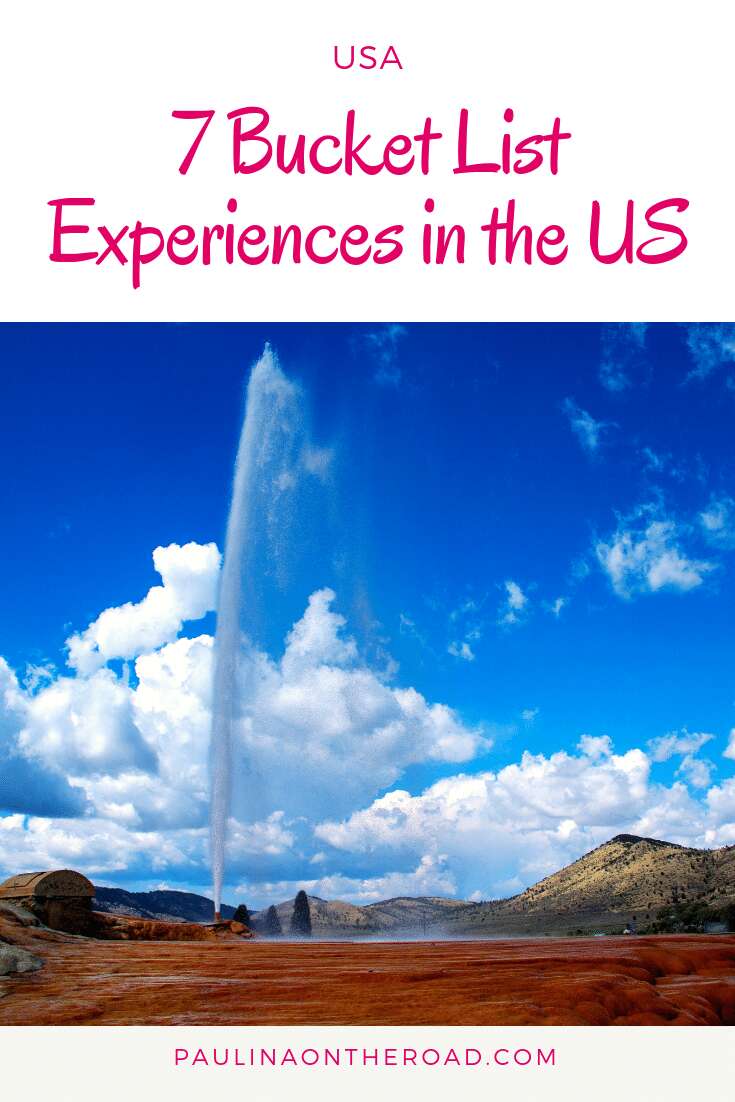 ---